It was much warmer for the Moto3 class as they made their way out on the track at the Red Bull Ring in Austria to participate in the last Free Practice session before qualifying.
There was hardly a cloud in the sky meaning the temperatures were much higher, and Red Bull KTM Ajo rider Brad Binder's domination continued at his team's home circuit setting the fastest time again in the final Free Practice session.
Brad Binder continues to dominate Free Practice at team's home GP
The circuit is new to the calendar as the MotoGP has not visited here since 1997; however Brad Binder's experience and knowledge of the track has certainly benefited him as he clocked the fastest time of 1:36.548.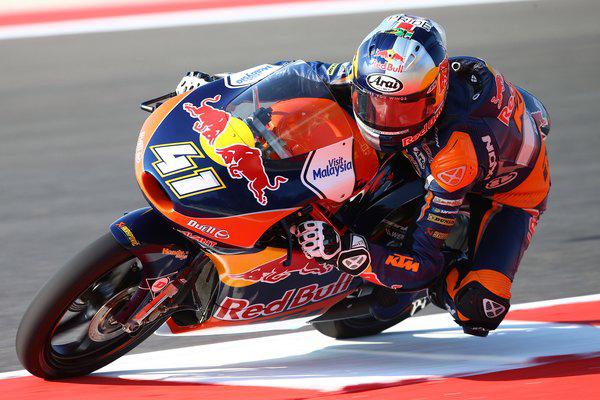 Riders continue to be penalised
The biggest issue for riders, bar the weather on day one, was the 'track limits' and several riders were penalised for 'overuse of the track' and had lap times cancelled as a result. Fabio Quartararo (Leopard Racing) seemed to be the one who felt fault to this most and unfortunately he had to settle for third fastest.
Following Friday's Safety Commission meeting (that takes place every meeting at the end of day one) riders were advised that a white line had been painted at turn ten to help them to identify where the track limits are.
Turn 10 appeared to the one that was catching the majority of riders from all classes out all day. As is common in the Moto3 class though, several riders continued to exceed the limits and have laps cancelled.
Is there any stopping the championship leader?
Brad Binder led at the end of FP3; the final session before qualifying. However, the Moto3 riders' youth is very beneficial in circumstances like this weekend where a new track is added to the calendar as they learn quick.
The Leopard Racing Team seem to be going very well in Austria and rookie Joan Mir was able to improve his time from day one by over a second and finished FP3 in second position ahead of his teammate Quartararo.
Teammate to Brad Binder, Bo Bendsneyder (Red Bull KTM Ajo) claimed fourth; his time left him as the last of only four riders to lap under 1:37 minutes. RBA Racing Team rider Gabriel Rodrigo who was also able to improve on his crash-filled day one time by over a second completed the top five.
Rookie Nicolo Bulega finished as the highest placed Sky Racing Team VR46 rider in sixth position ahead of Enea Bastianini (Gresini Racing Moto3), Andrea Locatelli (Leopard Racing), Fabio Di Giannantonio (Gresini Racing Moto3) and Jules Danilo (Ongetta-Rivacold) completed the top ten ahead of qualifying.
Qualifying was underway
The Moto3 class meant business as they took the track (under the warmest temperatures yet) for Qualifying ahead of the Nerodiardini Motorrad Grand Prox von Osterreich Moto3 race.
Andrea Migno appeared to have issues with his Sky Racing VR46 KTM as the mechanics appeared to be working on his clutch in the pit garage. It was unfortunate for the Italian who has proved to be strong so far at the Red Bull Ring.
Formation riding from Red Bull riders
Selflessly Brad Binder was being the great teammate he is as he led his teammate Bendsneyder around the track showing him the way. After Mir took the lead at first, it was not long before Brad binder made his way to the top and his quick lesson on track brought Bendsneyder up to third.
Several other riders challenged the South African during Qualifying though including Bastianini who briefly claimed pole before Brad Binder struck back.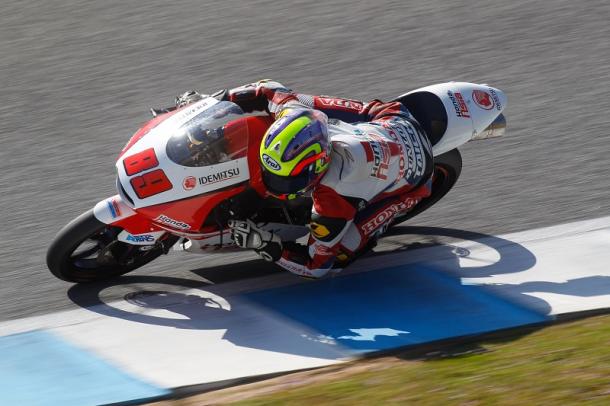 Ono crashes out
Honda Team Asia rider Hiroki Ono crashed out of the session with just over fifteen minutes remaining at turn ten; he was in seventeenth position at the time but was soon able to return to the pits and hoping to get back out on track before the session end to improve his time as other riders were knocking him down the ranking.
Mir copies Red Bull KTM Ajo strategy to go top
What better strategy than to copy Bendsneyder in towing the man who has dominated so much so far this weekend. Mir went to the top after a lap of following Brad Binder whose lap was also on schedule to take pole.
It worked completely to his advantage and he soon used the slipto make his way past Brad Binder as he they made their way up the hill; a move that would have also saved him time during the lap.
It all went wrong for Mir
But then as they approached turn four the two were head to head as they approached the corner, Brad Binder had the inside line and Mir was forced to go wide. He ran off into the gravel where he dropped his bike with just over seven minutes to go.
Mir had managed to keep the bike running though and he quickly picked it back up and returned to the pits; as did Brad Binder to check in with his team. It was an anxious wait as the Leopard Racing team looked over the bike quickly in the hope of allowing the Spanish rookie to return; he made it with four minutes remaining not long after Brad Binder had made his way back out.
Leopard Racing team continue to be penalised
On track the other two Leopard Racing team riders still seemed to be struggling to remain on track during a lap as their fast lap times were cancelled for continuously exceeding the track limits. The riders would not be penalised for this during a race unless it was excessive and playing to their advantage.
Brad Binder the pied piper of the Red Bull Ring?
The session was coming to the end and everyone queued up behind Brad Binder in an attempt to get a tow and learn from the South African who was currently placed in second.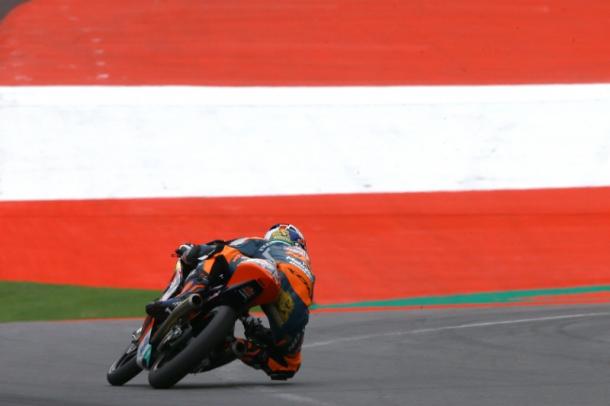 The pressure may have been too much as at one point he ran off onto the asphalt run-off area meaning he had to allow the huge group that followed him to pass. It would have been to his advantage to do a solo lap anyway.
When he re-joined he ended up with Sky Racing VR46 team rider Romano Fenati (who has little or no experience at the Red Bull Ring) behind him.
He was flying though indicated by three red bars on his time, he was set to take pole until another rider got in his way and forced him to run wide and spoiling his time. Luckily he had made it across the line before the flag had come out to end the session, he had one more chance.
Rodrigo spoils Binder's chances
But Rodrigo had other ideas, the two battled on track as they completed their final lap as if they were competing in their race which spoiled his chance of securing pole; he exceeded the track limit anyway later on in the lap and it would not have counted.
There was a possibility that Red Bull KTM Ajo could have appealed the incident with the other rider who spoiled his lap, but Mr Nice Guy Brad Binder did not seem to mind when he spoke after the race and he showed more concern for the fact he spoke to "the wrong guy on the slow-down lap".
Mir claims his first ever Moto3 pole position at the Red Bull Ring
Mir had done it, he had secured his first ever Moto3 pole with a time of 1:36.228 and made it a Honda starting the race from the front of the grid. Brad Binder had to settle for second and Bastianini completed the front row of the grid.
Rookie Aron Canet (Estrella Galicia 0,0) claimed fourth ahead of Quartararo and Bagnaia will start from sixth as the highest placed Mahindra. Rookie Bulega will start from seventh and will be joined on the third row by Schedl GP Racing team rider Philipp Oettl and Di Giannantonio.
Bendsneyder will start his team's home GP from the front of the fourth row along with Fenati and Danilo, and his teammate Niccolo Antonelli (Ongetta-Rivacold) heads the fifth row with Jorge Martin (Pull & Bear Aspar Mahindra Team) and Juanfran Guevara (RBA Racing Team).
Navarro has a lot of work ahead of him
Leopard Racing Team rider Andrea Locatelli starts from sixteenth. In seventeenth is Platinum Bay Real Estate Mahindra rider Darryn Binder, brother to championship leader Brad Binder, with his best grid position so far this season.
Second in the championship, Jorge Navarro (Estrella Galicia 0,0) has his work cut out if he wants to reduce the gap in the championship between him and leader Brad Binder as he is starting from eighteenth on the grid.
Difficult weekend summed up in qualifying results
Rodrigo will start from nineteenth ahead of wildcard Mahindra Racing team rider Marco Bezzechi in twentieth. Due to the faults with his KTM at the start of the session Migno will have to start from twenty-first.
Livio Loi (RW Racing GP BV) will lead the eighth row ahead of the other wildcard at the Red Bull Ring Stefano Manzi (Mahindra Racing) and Albert Arenas (Peugeot MC Saxoprint) who was the highest place Peugeot (which falls under the Mahindra category).
Drive M7 SIC Racing Team riders Jakub Kornfeil and Adam Norrodin make up the ninth row with Ono slotting in between them. Honda Team Asia rider Khairul Idham Pawi starts from twenty-eight ahead of the only British rider in the field John McPhee (Peugeot MC Saxoprint), and they will be joined by Stefano Valtulini (3570 Team Italia).
The only female in the class Maria Herrera (MH6 Team) who is nursing a broken wrist will start from thirty-first besides Morcas Ramirez who is replacing injured Danny Webb on the Platinum Real Bay Estate Mahindra. CIP-Unicorn Starker teammates Tatsuki Suzuki and Fabio Spiranelli, and Lorenzo Petrarca (3570 Team Italia) complete the grid.