Andrea Iannone (Ducati Team) takes a special pole position as he battles it out with his team mate, Andrea Dovizioso (Ducati Team), and Valentino Rossi (Movistar Yamaha MotoGP) in the last minute, seeing them all take a provisional pole at the same time in Moto GP.
But it was Iannone who came out on top to take his first pole position since the Autodromo Del Mugello circuit last year. Dovizioso had to settle for third place, whilst Yamaha man Rossi took the second spot in his last flying lap.
Marquez returns to FP4 after all clear at hospital
After his heavy crash in the Free Practice Three this morning Marc Marquez (Repsol Honda Team) was escorted to the hospital by ambulance for a check over. It didn't take long for the Spaniard to take to Twitter to assure his fans that it was 'just a scare', and it was then confirmed he would return to the Free Practice Four.
He took to the track in positive spirits slowly building up his time. He started off the session in the 1:25's putting himself in 12th position as he continued to try and keep consistent. He did work his way into the 1:24's working on his personal best, rather than putting in the quickest time.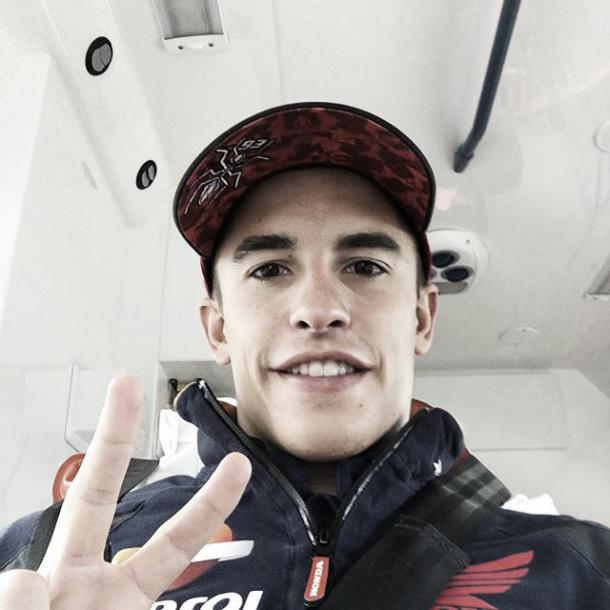 Ducati showed quick times, whilst Yamaha showed consistency in FP4
Dovizioso kicked off the session putting in another quick time with 1:23.872 leading the FP3. In the last minute he put in an even quicker lap, finishing on 1:23.796 in first position. Iannone also showed he continues to mean business, immediately putting himself in second place with 1:24.886. But finished the session with 1:23.932 in second place.
The majority of the field, apart from Dovisioso and Iannone, all stayed in the 1:24's seeming to be practicing their race pace. Jorge Lorenzo (Movistar Yamaha MotoGP) was a prime example of this, going back to his usual-self putting himself in the top spot at the start with 1:24.705. He continued to stay in the 1:24's finishing the session in seventh place with 1:24.528.
Valentino Rossi seemed to have continued to work on his pace, still unable to hit the 1:23's. He put in consistent 1:24's starting off in third, and kept putting in a personal best each lap. He ended the session in third place with 1:24.170, making him the next fastest rider behind the Ducati's.
All eyes were on Crutchlow as he entered the Q1
After appearing strong in the first of the free practices, but then having a difficult FP3 this morning, it was a shame to see Cal Crutchlow (LCR Honda) enter the Qualifying One this afternoon.
He started by slotting into third place with 1:23.596, but it seemed his run was disrupted so he set off to try again. On his second flying lap he went even faster, but touched the white line on the last bend which cost him, but managed to get into second place with 1:24.489. But then just moments later he had his lap taken away due to exceeding track limits at turn 10, putting him back into third.
Eugene Laverty (Pull & Bear Aspar Team) kicked off the very quick 15 minute session in first place with 1:24.514. This was quickly taken over by Danilo Petrucci (OCTO Pramac Yakhnich) who put in a time of 1:24.394, pushing him back to second. After Crutchlow's mistake on his quickest lap, this saw Laverty go back up into second place, looking like he could be heading for his first ever Qualifying Two session.
Laverty goes through to his first Q2
With just three minutes to go Crutchlow came back out from the pits, and put in his fastest time this weekend so far, and went into first place with 1:24.176, knocking Laverty back out once again. But Laverty was in the form of his life as he regained a top two position, going into second with 1:24.296 knocking out Petrucci. But then just a few seconds apart, Petrucci fought back again going back into first with 1:24.123. Crutchlow at this point was in second, but again only a few seconds apart, he put in yet another quick lap taking back first place with 1:23.970.
Just as it looked like Laverty had nothing left in him as he was pushed right down to fourth, he gave the performance of his life, taking first position with 1:23.961. Crutchlow and Petrucci run out of time and was unable to improve, making Laverty the fastest man of the session. Laverty and Crutchlow were put through into the Q2, whilst Petrucci took third putting him 13th on the grid.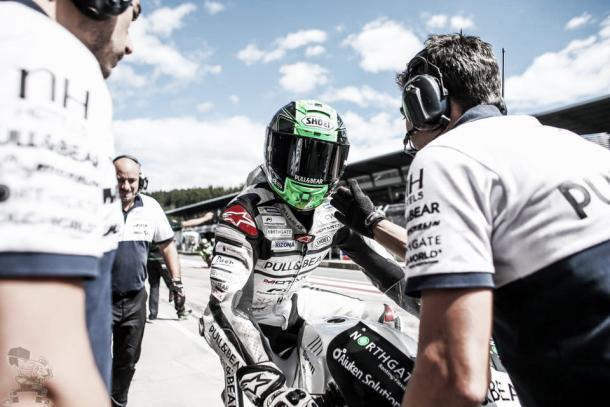 Dovizioso set the marker at the start of the Q2
It was clear that the marker to hit for the top times was the mid 1:23's as Dovisioso put in a time of 1:23.668 straight away, putting him in provisional pole.
After his disastrous crash this morning, it was interesting to see how Marquez would fare when he took to the track. He started off slowly only going to 10th with a time of 1:31.230, which is way off the pace. He did continue to improve reaching into the 1:24's, and nearly suffered yet another fall, but managed to save it with his elbow. He qualified in fifth position with 1:23.475, starting him from the second row of the grid tomorrow.
Yamaha showed to be even stronger than yesterday
Not only did it appear that Lorenzo may struggle here, but it also seemed that Yamaha were struggling to keep up in general. But it took to the qualifying for the Yamaha's to finally pick up a rhythm and put in some quicker times. Lorenzo started with a time of 1:24.614 which put him into fourth place. But then a bit later on in the session he finally hit into the 1:23's with 1:23.639 which put him on the front row of the grid, in second. But then with around six minutes to go, he put himself into provisional pole position with 1:23.361.
Rossi has shown to have a good pace for the race, but had yet to show a quick enough time leading up to the qualifying. He started off the session moving around in the top 10 putting in quick 1:24's, but it still wasn't enough to match the Ducati's who have led so far. With around six minutes to go, he showed that he can make the Yamaha do anything he wants, as he finally hit into the 1:23's with 1:23.435 putting him into a provisional fourth position.
It was a showdown in the final minutes as pole changed continuously
Whilst Lorenzo was sat in provisional pole with six minutes to go, it took a while for the Ducati's and Rossi to fight back. In fact, it took till the last minute for Iannone, Dovizioso and Rossi to realise that their time was nearly up, and used their last lap to put in their best time.
As they came over the line with just a few seconds to go, it wasn't enough to take over from Lorenzo in pole. Dovisioso came in second with 1:23.396, Iannone came third with 1:23.404 and Rossi came fourth with 1:23.435. But as they crossed the line just before the chequered flag was shown, this gave them one last attempt.
They were all in close proximity of each other as they flew around the circuit for one last time, in a final attempt to fight for pole as the flag was in sight. It was Dovizioso who finished first putting himself in pole with 1:23.298, but it was short lived. Rossi was next to cross the line and also put himself in first with 1:23.289, but this was also short lived as along came Iannone to take the pole with 1:23.142. This pushed Lorenzo into fourth position as he was unable to improve, meaning he will start just ahead of Marquez tomorrow on the second row.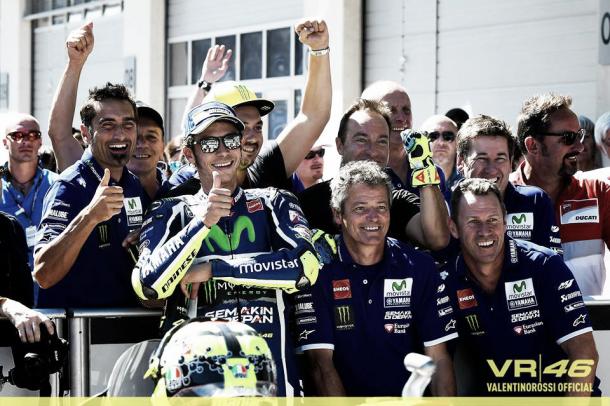 The rest of the field could only sit back and watch
Although the likes of Scott Redding (OCTO Pramac Yakhnich) and Laverty have been soaring through their lap times so far this weekend, when it came to the qualifying they were no match to the factory Ducati's.
Redding did manage to improve yet again from his time this morning putting in an impressive time of 1:23.777, seeing him sit in eighth position, his second best qualifying position so far this year. But it unfortunately did not see him reach the front row of the grid, which was highly anticipated from the fast Brit.
After Laverty's superb performance in Q1 earlier, and reaching into the 1:23's, it was thought that the Irishman could finally reach the front rows of the grid. Unfortunately he was only able to finish in 11th position with 1:24.218, but should be pleased with his best ever qualifying performance.
Dani Pedrosa (Repsol Honda Team) continued his sour weekend and was only able to come in 12th position, making him the third best Honda, behind Crutchlow who secured seventh place.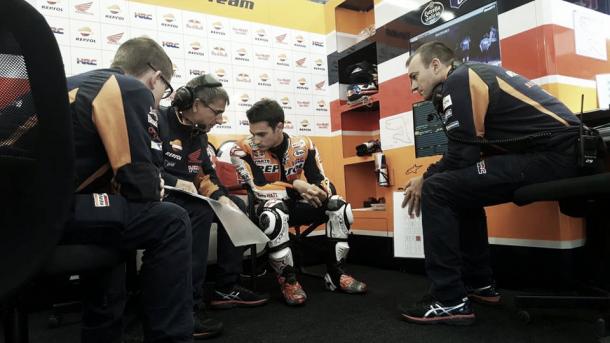 Moto GP Qualifying results

| | | | | |
| --- | --- | --- | --- | --- |
| Position | Rider | Time | Gap | Bike/Nationality |
| Q2 | | | | |
| 1 | 29 Andrea Iannone | 1:23.142 | | Ducati / ITA |
| 2 | 46 Valentino Rossi | 1:23.289 | +00.147 | Yamaha / ITA |
| 3 | 4 Andrea Dovizioso | 1:23.298 | +00.156 | Ducati / ITA |
| 4 | 99 Jorge Lorenzo | 1:23.361 | +00.219 | Yamaha / SPA |
| 5 | 93 Marc Marquez | 1:23.475 | +00.333 | Honda / SPA |
| 6 | 25 Maverick Vinales | 1:23.584 | +00.442 | Suzuki / SPA |
| 7 | 35 Cal Crutchlow | 1:23.597 | +00.455 | Honda / GBR |
| 8 | 45 Scott Redding | 1:23.777 | +00.635 | Ducati / GBR |
| 9 | 41 Aleix Espargaro | 1:23.813 | +00.671 | Suzuki / SPA |
| 10 | 8 Hector Barbera | 1:23.822 | +00.680 | Ducati / SPA |
| 11 | 50 Eugene Laverty | 1:24.218 | +01.076 | Ducati / IRL |
| 12 | 26 Dani Pedrosa | 1:24.263 | +01.121 | Honda / SPA |
| Q1 | | | | |
| 1 | 50 Eugene Laverty | 1:23.961 | | Ducati / IRL |
| 2 | 35 Cal Crutchlow | 1:23.970 | +00.009 | Honda / GBR |
| 3 (13) | 9 Danilo Petrucci | 1:24.123 | +00.162 | Ducati / ITA |
| 4 (14) | 38 Bradley Smith | 1:24.126 | +00.165 | Yamaha / GBR |
| 5 (15) | 44 Pol Espargaro | 1:24.265 | +00.304 | Yamaha / SPA |
| 6 (16) | 68 Yonny Hernandez | 1:24.472 | +00.511 | Ducati / COL |
| 7 (17) | 51 Michele Pirro | 1:24.593 | +00.632 | Ducati / ITA |
| 8 (18) | 53 Tito Rabat | 1:24.665 | +00.704 | Honda / SPA |
| 9 (19) | 19 Alvaro Bautista | 1:24.673 | +00.712 | Aprilia / SPA |
| 10 (20) | 43 Jack Miller | 1:24.852 | +00.891 | Honda / AUS |
| 11 (21) | 6 Stefan Bradl | 1:24.895 | +00.934 | Aprilia / GER |
| 12 (22) | 76 Loris Baz | 1:25.192 | +01.231 | Ducati / FRA |