The sun was shining and it was birthday boy Jonas Folger who led the way at the start of the final Moto2 Free Practice session before qualifying at the Red Bull Ring aboard his Dynavolt Intact GP Kalex.
Folger leads the way
His time was just within the 1:30 minute barrier and just short of the fastest time set by Garage Plus Interwetten rider Thomas Luthi on day one, but it was a great start and many riders were immediately on the pace looking to improve with plenty of time to go.
It was not long before Ajo Motorsport rider Johann Zarco was able to improve and set the fastest time so far on an almost empty track.
Britain's Danny Kent crashes out
With less than a quarter of the final practice session remaining British Leopard Racing rider Danny Kent crashed out at turn four. He was able to get his bike restarted and return to the pits aboard it.
Zarco fastest after FP3
Despite a last stitch attempt to set the fastest time in the final stages, Zarco's time of 1:29.598 was enough to keep him on top of the leaderboard at the end of the session.
Luthi's form continued as he took the second spot after he pushed birthday boy Folger down to third (the German rider had a lap cancelled in the later stages of the session).
Zarco lays down the gauntlet
Warmer temperatures meant the riders were straight on task and Zarco immediately took the top spot. After twelve minutes though, Estrella Galicia 0,0 Marc VDS rider Franco Morbidelli became his problem as he moved to the top of the timesheet.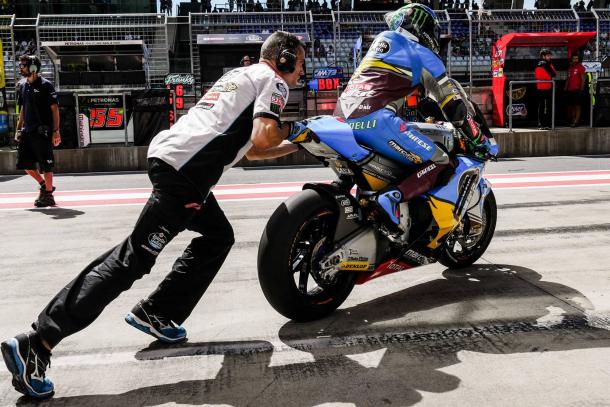 Crashes in qualifying
Hafitzh Syharin took to the gravel in the early stages of Qualifying but managed to stay upright and return to track aboard his Petronas Raceline Malaysia Kalex.
Axel Pons crashed momentarily later at turn four after braking too early, but ended up dropping it in the gravel. Both riders were unhurt and luckily it was only superficial damage for the AGR Team rider who remained out on track when he recovered.
Lap times cancelled
Race control announced that Paginas Amarillas HP 40 rider Edgar Pons lost his lap time after exceeding the track at turn three with thirty minutes remaining.
Losing his lap time was the least of his worries at the time though as he exceeded the track limits to avoid a crash and was able to prevent falling off.
Zarco secures pole ahead of Moto2 race at the Red Bull Ring
The Moto2 riders continue to improve as they worked on reducing their lap times. Zarco soon reclaimed the top spot and continued to chip away at his own time. The Frenchman managed to secure pole position with his last lap of 1:29.259.
This meant that Morbidelli had to settle for starting the race from second on the grid. The two will be joined by Luthi who claimed the third spot with a flying lap late into the session.
Leading the second row is Marcel Schrotter (AGR Team) in fourth who will be joined by Alex Marquez (Estrella Galicia 0,0 Marc VDS) and Axel Pons who gained sixth on the grid despite his crash.
Tough weekend so far for British rider Lowes
British rider Sam Lowes (Federal Oil Gresini Moto2), who does not look entirely comfortable at the Red Bull Ring starts the Austrian round from the front of the third row ahead of Takaaki Nakagami (IDEMITSU Honda Team Asia) in eighth and Rins in ninth.
Folger will start from tenth and Dominique Aegerter (CarXpert Interwetten), who looked set to steal ninth from Rins in the final stages had to settle for eleventh. They will be joined by Lorenzo Baldassarri (Forward Team) who recently announced he will stay with the team next season.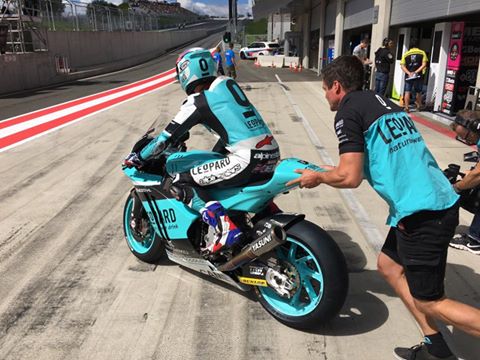 Brit Kent in fifteenth
Sandro Cortese (Dynavolt Intact GP) and Edgar Pons are joined by British ride Kent on the fifth row. Syahrin, birthday boy Mattia Pasini (Italtrans Racing Team) and Miguel Oliveira (Leopard Racing), who looked to be in contention on day one of a front row start, will start from row six.
Luca Marini (Forward Team), whose contract with his team was also renewed for next year will start from nineteenth on the grid. QMMF Racing Team rider Julian Simon will start from twentieth as the highest placed Speed Up rider. Ratthapark Wilairot (Idemitsu Honda Team Asia) completes the seventh row.
Simone Corsi (Speed Up Racing) starts from twenty-second and is joined on row eight by Remy Gardiner (Tasca Racing Scuderia Moto2) and Xavier Simeon (QMMF Racing Team).The highest placed Tech 3 rider is that of Isaac Vinales (Tech 3 Racing) in twenty-fifth.
Jesko Raffin (Sports-Millions-EMWE-SAG), Xavi Vierge (Tech 3 Racing) and Robin Mulhauser (CarXpert Interwetten) complete the grid.