Being the most experienced rider in the MotoGP class and also one of the only current competitors who has competed at the Red Bull Ring in Austria before, it was only right that Movistar Yamaha rider Valentino Rossi should make it to the front row during qualifying ahead of the Nerogiardini Motorrad Grand Prix von Osterreich.
Rossi has experienced racing at the Red Bull Ring before
The last time Rossi raced here was 19 years ago in the 125cc championships when he rode for Aprilia. The Italian nine times world champion spoke at the pre-race press conference where he confirmed that he felt the track had not changed much when it came to layout, but the new tarmac enhanced the grip.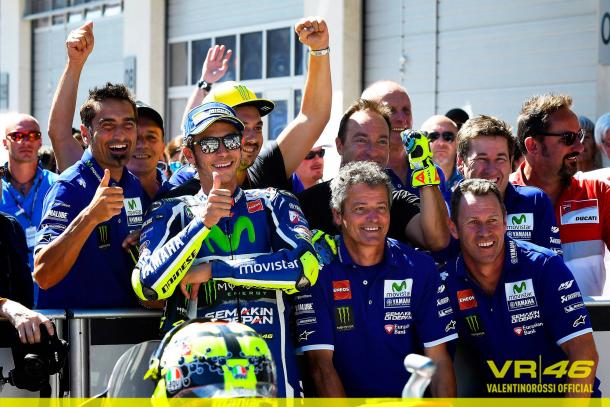 The Yamaha rider spoils Ducati's domination
Now everyone thought that Ducati would dominate here and they have been strong throughout Free Practice and Qualifying so far during the meeting.
But then during Qualifying, in the final stages with his last lap, Rossi managed to knock Ducati Team rider Andrea Dovizioso out of second place and claimed the position on the grid for himself.
Rossi will start the tenth round of the MotoGP season from the front row as the filling in a Ducati sandwich after his time of 1:23.289, which fell short of the pole position time set by his friend Andrea Iannone (Ducati Team) by just 0.147 seconds, was just 0.009 seconds quicker than Dovizioso but enough to squeeze himself into second.
Rossi feels strong on second half of the track
Speaking after the Qualifying session Rossi spoke of how he "tried to push where my bike is very good". According to the Yamaha rider he felt this was "in the last sector and in T3" which may play into his hands should it be a close finish in the first race in 19 years tomorrow.
Speaking about day two of the meeting Rossi said he and his Movistar Yamaha team "worked a lot today from this morning", he described practice as "difficult" and felt that over the day they "have improved a lot".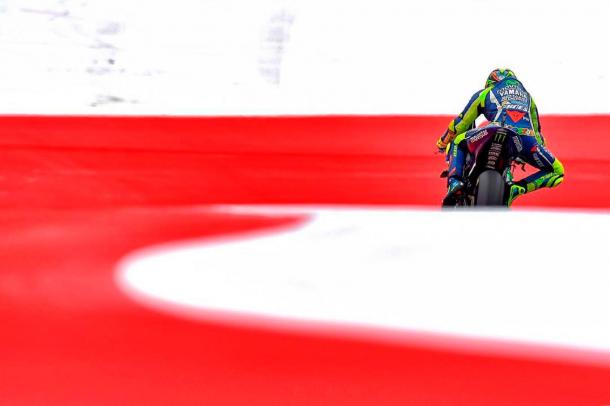 Target met by the Italian
He mentioned that after FP4 he was "third behind the Ducatis" but then he said "we were able to make another small step before qualifying". It definitely paid off for the Italian and he said, "To split the Ducatis was a great target." Speaking about gaining second on the grid at the Austrian GP he said, "I did a great lap and I'm very happy".