Repsol Honda rider Marc Marquez returns from the summer break with a comfortable lead in the championship. Like many of the other riders in the class the young Spaniard has not ridden here before as the Red Bull Ring has been included in the MotoGP calendar this year for the first time since 1997.
No testing completed for Repsol Honda Team
Now after the German GP the majority of the riders made their way straight to Austria to complete two days of testing, but the Repsol Honda Team did not attend.
Marquez and his teammate Dani Pedrosa have experienced the track earlier in the year though when they were filming on road bikes for the Honda Racing Corporation earlier in the year.
It was not long before he got to know the track, and after using data collected by LCR Honda and Estrella Galicia 0,0 Marc VDS in the test as a base line, Marquez finished FP1 in sixth but then dropped to tenth in FP2 understandably.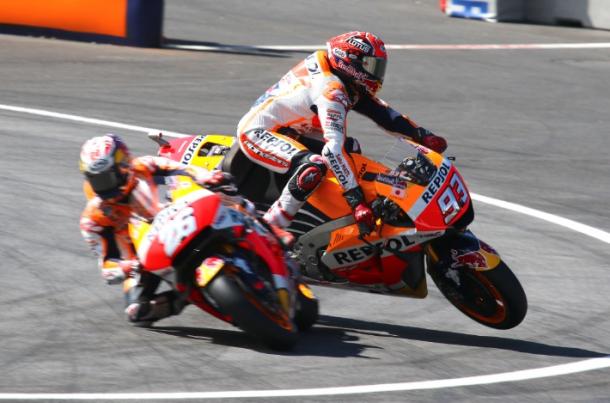 Tough day at the office for Marquez
The drama began on day two of the Austrian GP meeting ahead of the NeroGiardini Motorrad Grand Prix von Osterreich when Marquez crashed after braking late and managed to narrowly avoid his teammate during FP3.
He was clearly in pain with his left shoulder, which he turns out he had dislocated, as the Marshals helped him to his feet and he was taken to the local hospital via helicopter to have it checked.
Spaniard declared fit to race
Amazingly, he was cleared and declared fit to race and made his way back to the Red Bull Ring in time for FP4 and then went on to qualify in fifth on the grid ahead of the tenth round of the MotoGP.
His time of 1:24.265 turned out to be enough to keep him in the top three during FP3, which meant he automatically progressed to Qualifying 2.
VIDEO: @marcmarquez93's brutal crash after narrowly missing teammate @26_DaniPedrosa