Whilst most fathers of a new born baby are desperate for some sleep, the birth of Willow Crutchlow over the MotoGP summer break appears to have done nothing but motivate her Dad, LCR Honda rider Cal Crutchlow.
Many reasons to celebrate
He ended the first half of the season with his best result so far, second at the German GP. Quick stop at the Red Bull for two days of testing and then it was off home to be with his wife Lucy when she gave birth. Prior to this the MotoGP has not competed at the track since 1997.
Crutchlow returned to the Red Bull Ring in Austria ahead of the NeroGiardini Motorrad Grand Prix von Osterreich beaming and keen to celebrate the birth of daughter Willow. He had his leathers and helmet adapted as tribute to her and seems so content with his riding.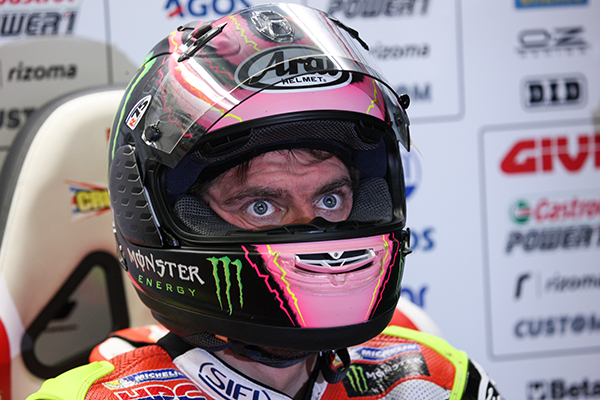 Crutchlow had work cut out for him after small crash in FP3
Now during FP3 on day two of the meeting he finished outside of the top ten after a small crash, meaning it was down to Qualifying 1 to finish in the top two, so he could be in with a chance of starting from the front four rows on the grid for the race.
What a performance in Qualifying
He did just that! Finishing second to Irishman Eugene Laverty (Pull & Bear Aspar Team) who also had his best qualifying of his MotoGP career so far, he progressed and went on to finish seventh meaning he will start from the front of the third row.
His position leaves him as the highest placed independent rider on the grid with his time of 1:23.597 being just 0.475 seconds of leader Andrea Iannone (Ducati Team). The next placed Independent Team rider was Octo Pramac Yakhnich Ducati rider Scott Redding who was 0.18 seconds slower than Crutchlow.
Great result despite Crutchlow admitting they are struggling
Crutchlow said, "The idea today was to just go out as hard as I could go, chew the handlebar and the screen and see where we could finish!"
He claimed seventh despite being "down on power this weekend" which he feels is "where we (LCR Honda) are struggling", as he feels there is "no acceleration and no top end".
The new dad claimed "it's really difficult out there" as he said they are "losing half a second per lap" because of it and felt "disappointed", but at the same time he "pleased" to be "the Best Independent Team on the grid".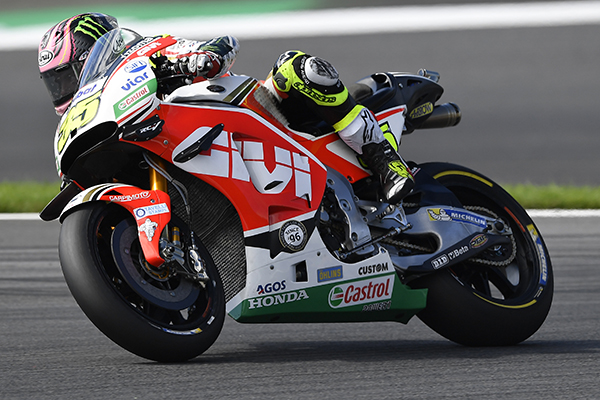 Plenty of praise for his team
The British rider said "I tried my best as always" and felt that they "did a good enough job as a team". He remained concerned though as he calculated "half a second every lap is 15 seconds over the race". To overcome this he said, "Maybe more so I will have to try my best tomorrow."
Praising his team he said, "LCR Honda team are doing a great job" and he feels that they are "doing everything possible to get the best set-up of the bike" in order to "try and improve". He also said that he felt "Honda are trying their hardest to improve the power of the bike."
Great to see Crutchlow so happy right now
Joking he said, "The only way we might get quicker is if I stop eating and drinking between now and the race".
Lucy and baby Willow will not be present for the race which means it will be only the third race that Lucy will have missed in nine years. Hopefully they can get an emergency appointment with the passport office and both can be there to cheer Cal on during the twelfth round at Brno.