A new track on the Moto3 calendar means that everyone has near enough an equal chance to do well, especially the younger ones in the Moto3 class. Today a rookie made history on an already historical weekend.
Rookie Mir claims first pole position of his career
Leopard Racing team rider Joan Mir claimed his first ever Moto3 pole position ahead of the NeroGiardini Motorrad Grand Prix von Asterreich Moto3 race at the Red Bull Ring in Austria. It is such an amazing achievement for a nineteen year old rookie to the world championship class.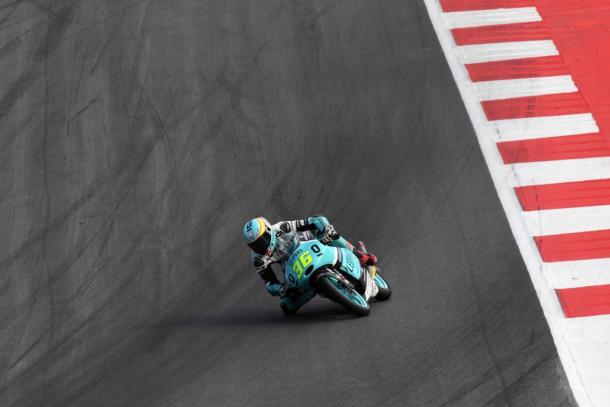 Competitors strong at home circuit
The Red Bull Ring is home to the Red Bull KTM Ajo team who have proved to be strong so far at the eleventh meeting at the season. Championship leader Brad Binder and his teammate Bo Bendsneyder are possibly the most experienced at the track in Spielberg, Austria.
Brad Binder has dominated all weekend, topping the timesheets and being the rider that everyone has wanted to follow, learn from or get a tow from so far this season. That's until Joan Mir came along and burst his bubble.
Great results so far this weekend from Mir
Mir finished FP1 in second, FP2 in tenth and reclaimed second in the final Free Practice session before qualifying. Track temperatures had increased in time for the session which worked to everyone's advantage, especially all three of the Leopard Team Moto3 riders.
While Fabio Quartararo continued to have lap times cancelled for exceeding track limits, and Andrea Locatelli was doing his best to improve, Mir remained focused. Despite Brad binder seeming to be the favourite to take pole position Mir claimed it first before the South African lapped fastest.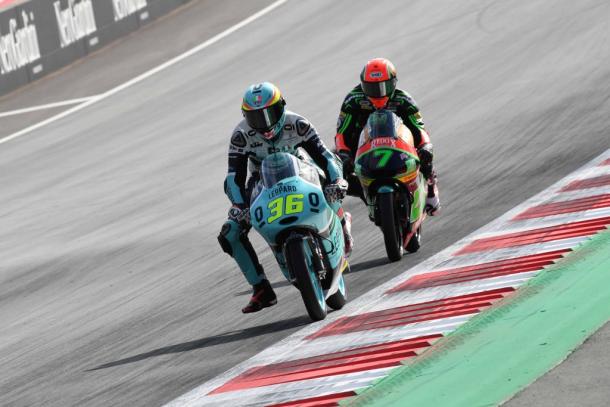 Tactics paid off
Mir continued to work hard and set the fastest time as he followed Brad Binder tactfully around the Red Bull Ring. He used the slipfrom Brad Binder's KTM to guide him up the hills and it left him with more power to accelerate away and claim pole.
The young Spanish rider then overtook the championship leader who appeared to battle back on track, but then as they approached turn four, Brad Binder had the inside line and Mir was forced wide and ended up in the gravel.
On Binder's next lap he went to hot into a corner and went off track; the gang of 'pupils' following had no choice but to continue past him. When binder re-joined he had one last chance to try and beat Mir's time but it was too late in the end and he had to settle for second on the grid behind the rookie.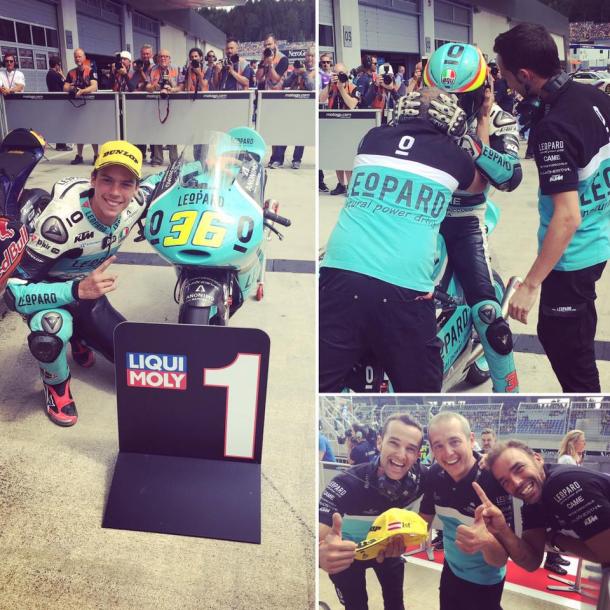 You aren't dreaming Joan!
A delighted Mir said "It seems like a dream but it's reality" when discussing "the first pole position in my life". He reflected on the last round at the German GP where after he qualified eighteenth he "fell at the third curve" and was "really disappointed".
The rookie said he "took advantage of the holidays to recharge my batteries and to work hard on the bike". He felt that as a product of his efforts, "The results are seen today."
Mir said he was "very happy" for himself and the team saying, "We needed this pole position". He feels that "tomorrow will be different from those before" as he feels that at this track he has "a good rhythm".
Mir hopes to take full advantage of his first pole position and said, "I'll try to get out front and see what we can get!"