Marc Marquez (Repsol Honda Team) still leads the Moto GP championship despite a difficult weekend at the Red Bull Ring in Austria. Undeterred by enduring a heavy fall in the Free Practice Three the day before, he took a fifth place as the Ducati's and Yamaha's soared off into the distance, giving himself a valuable amount of points.
Dani Pedrosa (Repsol Honda Team) also suffered a fall in the free practice on the Friday. Although it slightly disrupted his performance in the qualifying, he managed to pull back during the race and claim a well-deserved seventh place.
A podium looked unlikely on day one
As the riders headed out onto the Red Bull Ring for the first time for 19 years, the Honda's seemed unable to keep up with the Ducati's and Yamaha's.
In the Free Practice One it seemed all the riders were exploring the track as the times were way off what they went on to achieve later on. But already at this point the Ducati's were leading as Andrea Dovizioso (Ducati Team) and Andrea Iannone (Ducati Team) were placed in second and third, with Dovizioso being one of the first to reach into the 1:25's.
Marquez finished the session in sixth place with 1:26.337, which was 00.471 seconds slower than the fastest time. This meant that already he was almost half a second behind the top riders, so he knew he had a lot to work on.
During the session Pedrosa had a fall which occurred whilst he was braking in a straight line, sending his bike crashing into the barrier and bursting the air fence. Although the Spaniard was able to get up and walk away unhurt, he still finished the session in last place with only a time of 1:31.293.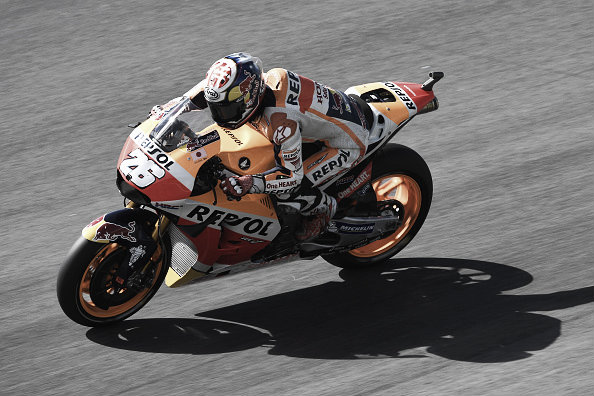 It seemed the Repsol boys were trying different settings
They still looked off the pace as they approached the next session, Free Practice Two, as once again the Ducati's continued to dominate. Dovizioso finished in first place after putting in a time of 1:23.617, making him the rider to challenge when it came to qualifying.
Marquez finished his Friday in tenth place with 1:25.039, this time sitting 1.422 seconds off the fastest time. But it did seem the championship leader was using the time wisely, to continue working on a setting that worked well for him. He assured everyone after that the only reason he did not put in a quicker time was because he was using old tyres, whilst everyone else put in a new set of tyres towards the end.
Pedrosa was even further behind in 19th place sitting an even further 2.513 seconds back, only managing a time of 1:26.130. But after his crash earlier in the day, it could have hindered his performance whilst he tried to regain composure.
Qualifying day went from bad, to slightly better feelings
It almost looked like Marquez's championship chances were in jeopardy, let alone his weekend, as he suffered a heavy fall during the morning practice. Not only this, but it looked like Repsol Honda had a disaster in store, as Marquez began to head for his team mate Pedrosa, almost taking him down with him. Luckily he was able to avoid him, but it was costly as the swerving motion caused him to lose control, and land heavy on his right shoulder.
Although it was his right shoulder that took a bashing, it was in fact his left shoulder that he held onto in pain. At this point it was clear the Spaniard was badly hurt, and after dislocating his shoulder in the past, this makes it very easy for it to happen again. It turned out he did dislocate his shoulder, but managed to pop it back in himself on his way back to his truck.
He was then shown leaving his box to attend the medical centre, to get assessed and have a decision made on whether he can continue with the weekend. More drama unfolded as it was later on reported he was going by ambulance to attend the Leoben Hospital, not just to check his shoulder, but because he explained he felt 'confused.'
To the relief of his fans, he later took to Twitter to announce that it was 'just a scare' and he would be continuing with the weekend. After only having a short time scale to put in some quick laps to secure a top 10 spot in the FP3 ready for the qualifying, he managed to scrape ninth place. He then went onto take fifth place on the grid during qualifying, making him the next best rider after the dominating Ducati's and Yamaha's. This was an achievement in itself after a stressful morning, and the Spaniard looked forward to competing in the race.
Although one Repsol Honda rider's weekend started to look up, it continued to be difficult for Pedrosa. He did manage to get into the top 10 during FP3, but it was incredibly tight as he finished on the cusp in 10th place. His qualifying unfortunately didn't get much better for Pedrosa, as he put himself to the back of the group in 12th place. But after regaining some confidence, he could only look forward to the race, and hope to improve.
Marquez and Pedrosa did not let Saturday destroy their race hopes
On the day of the race their fate took a different turn, as they secured not only a good position each, but good championship points too.
They both knew that it would be a task trying to keep up with the Ducatis, with Marquez later on admitting, 'I (he) would have taken fifth position if it were offered to me (him) before starting the race.' Putting his crash behind him, Marquez fought a battle to keep at the front, and take fifth place. Although he lost contact with the Yamaha's and Ducati's, he stayed focused on the championship and took the all-important points. He was under pressure from Maverick Vinales (Suzuki Ecstar), but held him back in order to finish just behind his championship rivals.
Pedrosa improved from his tiring weekend, and after starting from 12th on the grid, worked his way through the field to get in seventh place. This was well achieved after openly admitting that the Honda doesn't work well here, and that he was really struggling. After both missing the official test just a few weeks ago, they should be pleased with the progress they have made at the newly introduced track.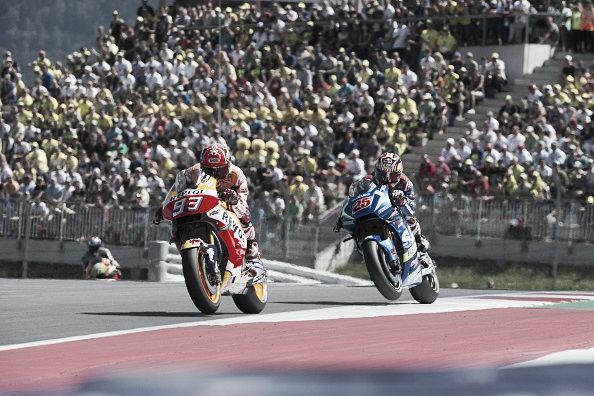 Marquez says outcome is positive, and his shoulder did not hurt
Although he was able to take fifth place Marquez admitted that, 'it was a difficult race' not only for himself, but 'all the Honda riders.' He explained this is because 'at this circuit we were struggling a lot as we were not able to use our advantage, in the brake points we recover a lot, but we were losing too much in the acceleration.'
After his crash it was pondered whether his shoulder would cause him grief during the race but he said, 'my (his) shoulder didn't hurt at any time during the race, so no excuses there.' He is really pleased with the outcome of the race saying, 'I knew the Ducati's and Yamaha were fast, so this was the best possible outcome.' The championship was an important aspect to him as he said, 'it's positive that we've only lost five points compared to Lorenzo. Given the difficulties we've had, it was clear that our objective was to think of the fight for the Championship.'
It was difficult to keep up with the front group as Marquez explains, 'I started aggressively, as it was the only way of trying to fight with the front group, but after making a couple of mistakes, I lost the slipand it was very difficult to recover from that.' But although this was the case he said the 'situation was under control' when Vinales was there, and he was able to 'end to be a little bit faster.'
Overall he says it was 'not a great race' but it's a 'great result for the championship.'
Pedrosa echoes Marquez's Honda concerns
After finishing in seventh place, Pedrosa made it look all too easy. But the Spaniard said that 'it was hard at the beginning because I (he) start from the back of the field.' Because of this he said he 'had to take care at the beginning in the first two hairpins not to mess up.'
It was clear the Spaniard had a plan for the race in mind saying 'I tried to take some pace but at the first laps, I was not very strong, so at the end when I start to get my pace I was in a lonely place.' Although he picked up his pace later on, he said he was still 'quite far from the front group, as Marquez and Vinales were five to six seconds ahead.'
He took the race as a lesson as he said, 'I tried to stay in my pace, tried to learn, and tried to get some feeling and give 100%.' But he expressed that, 'this is not the best track for Honda.' Despite this he said 'we went better in the race compared to the practice session, as we were putting in similar times to the riders out front' and that 'today we (they) took a step forward, and that's a positive.'
Overall he is pleased with the progress and understands they 'must carry on working to continue to progress at the next race, which will be next weekend in the Czech Republic.'
Marquez leads the way with 181 championship points, whilst Jorge Lorenzo (Movistar Yamaha Moto GP) is second with 138. With still another eight races to go, it is not over yet, but it is certain that he will continue to put on a fight.
Pedrosa is still in fourth place in the championship with 105 points, but Vinales sits only 12 points behind him with 93.