After losing his seat with aboard the factory Aprilia, Aprilia Racing Team Gresini rider Alvaro Bautista has confirmed he will be remaining in the MotoGP and he will be joining the Aspar Team; a team he has ridden with previously.
Bautista ridden for the Aspar Team previously
Having previously ridden for the team in the 125cc championships ten years ago the Spaniard is hoping to continue the success he experienced with the team previously when he won the 125cc championship.
Bautista remained with the team until 2009 (for three years); within that time he was promoted to the 250cc championship and in 2008 he finished the season in second.
The Spanish rider was promoted to the MotoGP class in 2010 when he joining Suzuki; two seasons later he was employed by Gresini where he has remained with the project up until now.
Lorenzo's move to Ducati sparked a lot of change
A lot of riders contracts' have come to an end this season so there has been a lot of movement in the paddock making the 2017 season extra exciting and are only just past the halfway mark of the 2016 season.
Some riders have chosen to remain with their current teams, but when Movistar Yamaha rider Jorge Lorenzo made the decision to more Ducati it caused a whole scurry of change as riders looked to secure factory seats.
Ducati released Andrea Iannone to make room for Lorenzo, he was snapped up by Team Suzuki Ecstar and they also took on Moto2 rider Alex Rins (Paginas Amarillas HP 40). Maverick Vinales (Team Suzuki Ecstar) will replace Lorenzo at Movistar Yamaha.
Both current Aprilia riders lost their place with the factory team
Then Aleix Espargaro (Team Suzuki Ecstar) needed somewhere to go, and his experience with a working project like the Suzuki team meant he was signed by Aprilia Racing Team Gresini with Sam Lowes (Federal Oil Gresini Moto2).
Bautista's teammate Stefan Bradl recently announced he will be moving to World Superbike where he will ride for Honda with former MotoGP rider Nicky Hayden.
The remaining factory seats were now filled as KTM signed up current Monster Tech 3 Yamaha riders Bradley Smith and Pol Espargaro. But the Pull & Bear Aspar MotoGP Team have been very competitive this year with Yonny Hernandez and Eugene Laverty making their presence felt this season.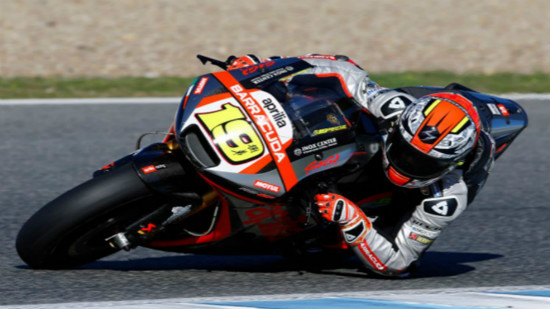 New machinery for the Aspar Team
Next year when Bautista joins the Ducati team be will be aboard a Ducati GP16. The team, like the other independent teams in the championship, have currently been running the Desmosedici 14.2 and several have called for more modern machinery as they feel they have done everything they can with the older Ducati; they have matched and improved on the times that the factory riders completed when it was the new machinery.
Bautista happy to be returning home for new adventure
Talking about his "new adventure" Bautista said he was "happy to be returning to what was my home for many years in the World Championship". With Aspar he said he "enjoyed" his "best results" which included the "125cc World Championship title" and he was able to fight for "another title in 250cc".
Bautista is "happy and motivated to be going back" and is looking forward "especially" to having another year in the MotoGP. He feels he has "grown a lot" over the years and has "much more experience now". He said, "I am confident that with this team we can be competitive in 2017".
Martinez taking great pleasure in reunion with Bautista
Jorge Martinez, Aspar Team, said, "For the Aspar Team it gives up great pleasure in every sense to welcome Alvaro Bautista back." They said that "as a team" they "picked up our first World Championship title with him in 2006" and that they "enjoyed some wonderful years together".
Martinez claims that they find their "professional and personal relationship" with Bautista "excellent" and he feels this is "great news" for both the team and sponsors. Martinez' "hope and desire" is that the decision to sign Bautista will bring "great results for Ducati" and Aspar.
Believing that Bautista can give Aspar "an advantage on track" he said, "It is important for us to have a Spanish rider with this record and professionalism."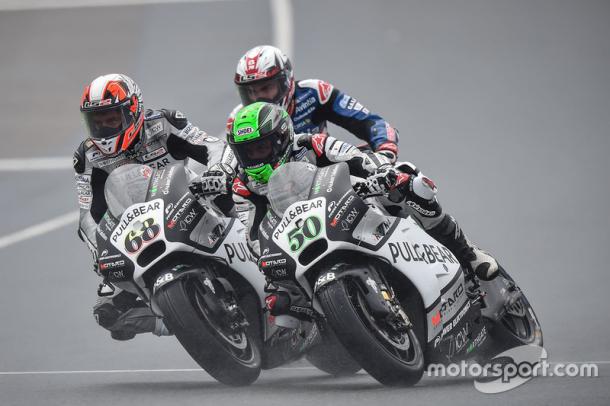 What happens next?
So now that Bautista has been signed for the Pull & Bear Aspar Ducati Team, we are left wondering who will join him and who will be let go. In a similar situation with the factory Ducati Team when Lorenzo was signed, there was a wait to see who would remain out of the current riders Andrea Dovizioso and Iannone.
We will have to wait to see who will remain alongside Bautista. Both riders have proved they can ride that Ducati well and Hernandez has been seen near the top of the timesheets at the start of the meetings we have seen so far. Hernandez is currently last in the championship on three points after receiving several DNFs or not finishing in the points.
On the other hand, Laverty is highest placed out of the duo in the championship in eleventh on 53 points, the same amount as Octo Pramac Yakhnich Ducati rider Scott Redding in tenth, and the Irishman is the fourth highest placed Independent Teams.
Like other teams though, Aspar may choose to look elsewhere and may even promote another rider from the Moto2 class…. We will let you know as soon as we find out.