It is understandable why so many are pessimistic on the choice of Paul Le Guen to lift the Super Eagles of Nigeria from its present ruins. The trust from the glass house has waned in the last year largely because Le Guen's predecessor – Sunday Oliseh was an absolute failure, perhaps due to the way the Nigerian Football Federation (NFF) celebrated and branded him as the messiah of Nigerian football. To add to the disdain, he was tagged as the Pep Guardiola of Africa- a phrase used by NFF President Amaju Pinnick during Oliseh's unveiling in Abuja back in July 2015.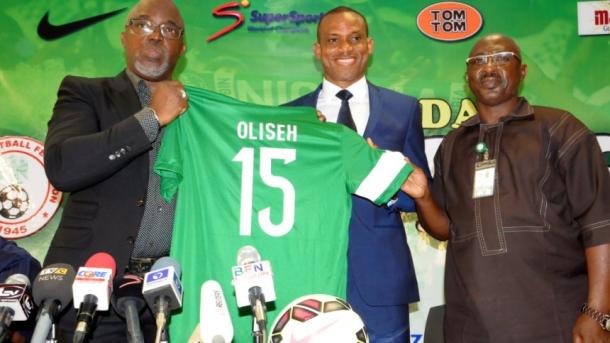 The Oliseh chapter, though brief, plunged Nigerian football down to unimaginable depths as Nigeria missed out on qualification to the 2015 AFOCN tournament in Equatorial Guinea 2015. The Eagles were also very unstable in the FIFA monthly rankings. That sad chapter has closed and another opened- this time, the NFF's 'think tank' has though it wise to go foreign and so announced Monday night that former PSG, Glasgow Rangers and Lyon coach, Paul Le Guen is the right man to tinker the 70th ranked Super Eagles to greater heights in world football. The French-born tactician emerged the choice of the technical committee though three candidates were shortlisted for the plum job.
In recent weeks building up to the announcement of Le Guen, the football community weighed in on whether to continue to appoint local coaches or gain the services of an expatriate. That debate, as odd as it sounds, delayed any meaningful progress towards the national team. The choice of Le Guen itself has been the worst kept secret in Nigerian football for some time now as it was gathered that the leadership of the NFF heavily favoured the former Les Bleus player- ending any hopes that any other candidate had a chance.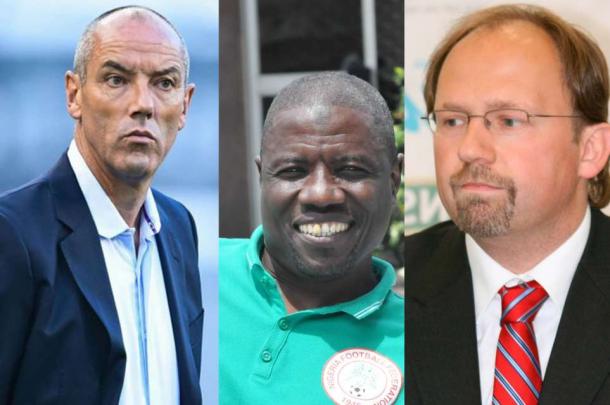 It is difficult to judge whether Le Guen will turn out to be a success or not looking at the resources and football structure he will have to work with. In time past, expatriate coaches have not done well in Nigeria not because the bunch of them aren't good or technically sound but because the way Nigerian football is structured makes it difficult for coaches (whether local or foreign)to excel and even when they do, such successes are short-lived. A typical example is the 2013 AFCON success of late coach Stephen Keshi. A year after leading the country to glory in the 2013 AFCON tournament in South Africa, Nigeria failed to qualify for the 2015 edition.
The last foreign coach to emerge successful in Nigeria was Johannes Bonfere who won the football event of the 1996 summer Olympic Games in Atlanta, USA. Now, that's 20 years ago and Nigerian football was regarded a lot better than what we have now. From Berti Vogts to Philippe Troussier, Bora Milutinović to Lars Lagerbäck, none spent more than two years as coach and during their time, they offered Nigeria little but were paid huge sums of money.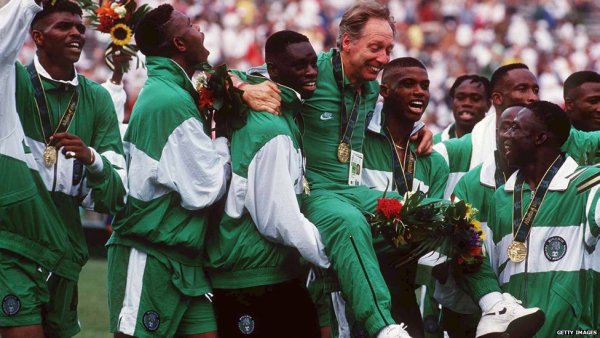 No doubt Paul Le Guen's coaching resume boasts of admirable success mostly in the French league but what remains bothersome is that the NFF has not employed the services of coach that is at the top of his game. Interestingly, it seems Le Guen is on the decline- coaching wise. At 52, Le Guen may still be energetic but the last few jobs he has handled do not give any glimpse of hope for the Eagles.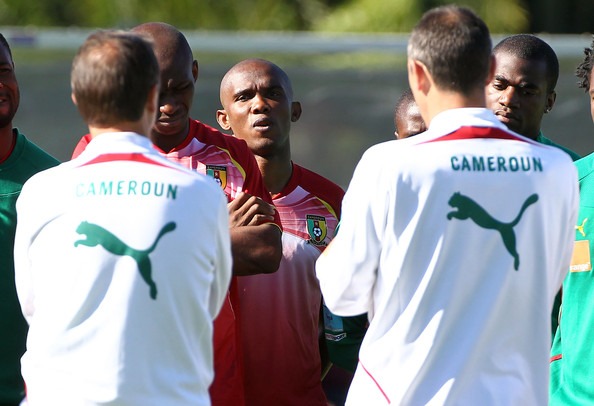 After leading Cameroon to the 2010 World cup in South Africa against all odds, Le Guen accepted the job to coach the Oman national team. He led Oman to qualification for the 2015 AFC Asian Cup after being absent in the previous edition in 2011, but his team were eliminated in the group stage with just one win and two losses. A bad start to the 2018 FIFA World Cup qualification campaign for Oman eventually led to his sack on 19 November 2015. If Oman feels Le Guen is doing a bad job with its 2018 qualification campaign then how possibly can he emerge successful with Nigeria most especially in the group that the Eagles have been drawn in? With matches set with the highest ranked African team Algeria, eternal rivals Cameroon and 2012 AFCON winners Zambia, Le Guen will have to be at his best game to guide the Super Eagles through to Russia 2018.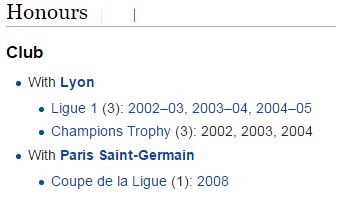 Le Guen's most rewarding coaching spell was when he coached Lyon (2002-2005). He played a total of 155 games, won 84, drew 43 and lost 28. He was also able to record a win ratio of 54.19%- his highest till date. His spell with Lyon also produced three Ligue 1 titles in succession: 2002–03, 2003–04 and 2004–05 and the Champions Trophy also three times 2002, 2003 and 2004 whilst also guiding Lyon to two champions League quarter finals in succession but that has been 11 years ago now.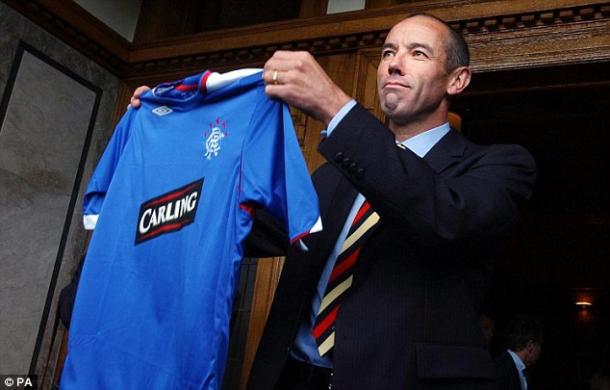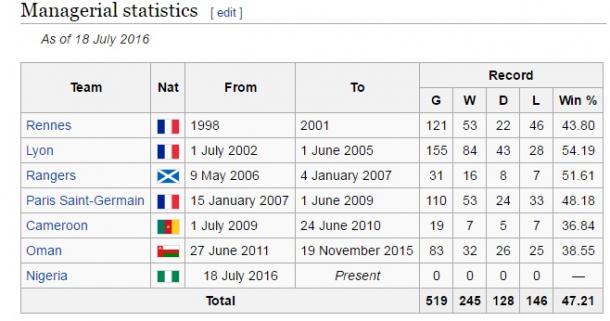 In a 2014 article by Jamie Murphy published by World soccer, Paul Le Guen's failure with Rangers was beautifully well captured and it mirrors what may happen to the French man in Nigeria.
"It was a curious situation. How was it that Le Guen had failed so spectacularly at Rangers when there appeared to be such opportunity for success? It seemed he had in fact failed to fully understand the mechanisms of Scottish football, revealing a wider ignorance of what was expected of him at Rangers. Similarly, it appeared that Rangers didn't fully understand what they were getting with Le Guen. It was in a way quite arrogant of Rangers to presume that by appointing an apparent up and coming European manager that footballing success would naturally follow, but not taking into account the changes that he would inevitably try and make.
There was no doubt that Le Guen was a confident man, an air of arrogance quite clearly apparent. Of course it would be wrong to assume that this is always a bad trait. It's not. And for Le Guen, coming into a club, where English and not French was the first language, was understandable. He had a philosophy to implement, a way in which he perceived that his team should play football on the pitch, but also how they should behave off it".
With his only African football experience coming from his time with the Indomitable Lions of Cameroon, his knowledge of African football most especially the mechanisms of how things work in Nigeria will prove to be a stumbling block. Le Guen's possession philosophy as good as it is, may not work in Africa because of its fast and energetic nature of African football which often times goes on in a rather wild and uncontrolled manner.
A coach with an air of arrogance about him may soon run into problems with the federation and most especially the players. Nigerian players, some, are known to have big egos and may find it difficult to submit to the will of Le Guen. Obviously Le Guen will come to effect many changes in Nigeria but time is always the nemesis of any Super Eagles coach. To cement his ideology and football philosophy, Nigerians will have to be patient but records and past events have shown that virtue is not what is available in Nigerian football.
It is not certain if Le Guen knows what he's getting himself into and also, how well the NFF knows the Frenchman. If this marriage is to work, both parties must be willing to be patient but most importantly, be matured as to settle the differences that will sure emerge from this union. Immaturity was what ruined the brief era of Sunday Oliseh and soiled the legacies of the late Stephen Keshi.