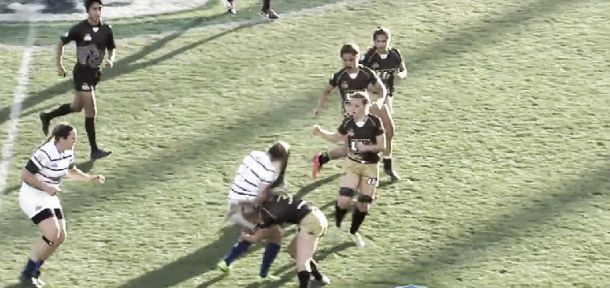 A video went viral this week of a rugby player battling on after breaking her nose in a tackle whilst playing for Lindenwood University, VAVEL had the opportunity to speak with Georgia Page.
The Australian took a nasty blow in the Collegiate Rugby Championship, before rising to her feet and dishing out a big hit against her Notre Dame University opponent.
"I've had a few bleeding noses from rugby before, this one just hurt a whole lot more," said Page. "I think it was more dedication to my team. We have worked hard for a very long time especially to get to that point in the tournament as well as season, I couldn't give up. If I was down, there would only be six defending against seven so I had to get there!"
Page has been given a few nicknames since the tackle, such as the "Rugby Wall Goddess" to "Rugby Hottie" and a "chick" who is "way hotter than you think." Page joked: "I honestly think it's hilarious. The first time I heard it I just started to laugh. Interesting nickname though."
USA Rugby Sevens posted a video of the incident on Facebook, which accumulated over one million views, sending social media into a frenzy.
"I was actually on a plane for 17 hours just as the video had been uploaded," Page told VAVEL. "I really didn't think too much of it except that it was cool that some of the women's stuff was finally getting some coverage, especially all my blood."
"The majority of people have been wonderful and have said great things, but in anything that goes viral there are the haters. I've seen some Nasty comments, like 'women shouldn't be playing sport like that,' etc."
The BBC are currently broadcasting every match of the FIFA Women's World Cup in Canada, increasing the exposure of women in sport.
"I feel like finally a few female sports are finally getting more coverage. Such as soccer and women's basketball, it's great to see. Hopefully women's rugby follows."
Page took up sport from a young age: "Since I was a little girl I've loved and played many sports, I always dreamed of the Olympics!
"Rugby kind of picked me," added Page. "I was asked to give it a go and join a team by one of my friends, and just fell in love with all the aspects of it.
"The mateship, the physical attributes you need to be a good rugby player as well as the ability to be able to read the field so some brains are definitely needed!"
Supported from a young age, Page has always had her parents by her side: "They 100% support me, my dad loves it. Mum struggled the first few times and was covering her face while she watched, but they have been great."
With women's rugby slowly growing, it's important to get involved, stated Page: "I feel like it's a sport anyone can play no matter how big, small or tall. I've even seen a rugby player with their forearm missing play so literally anyone can get into it. It's also a great way to make friendships that will last a lifetime! Most of my closest friends are from rugby."
The Rugby World Cup kicks off in September, with England hosting the famous competition, which they once won back in 2003.
Page added: "I'm always cheering for the Wallabies. Hopefully they pull together because the team has so many great individual players."
VAVEL would like to thank Georgia Page for taking time out of her busy schedule. Make sure you follow her on Twitter, and give her, and women's rugby the following it deserves.