 Olympic Champions Fiji claimed their first title of the 2016/17 World Sevens Series, with victory at the most prestigious tournament of them all in Hong Kong.
Fiji downed runaway series leaders South Africa 22-0 in a one-sided final to give new coach Gareth Baber his first title since taking over from Ben Ryan at the denouement of Rio 2016.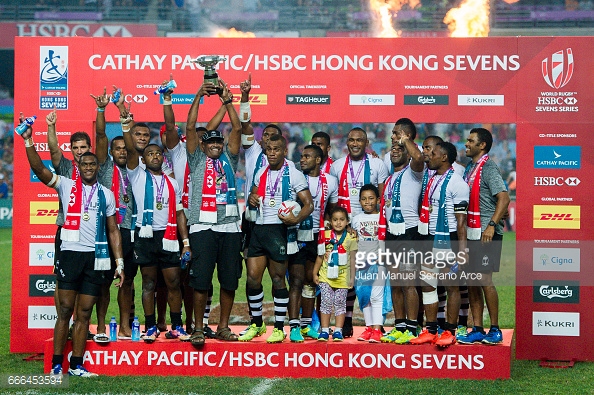 The victory moves Fiji up into second place in the overall standings ahead of England, with South Africa leading the way by 23 points with three tournament's left this season.
Kickoff dominance hands Fijians the early advantage
Having blown away Australia in their semi-final, Fiji were full of confidence heading into the finale, and they made an excellent start with Isake Katonibau claiming the opening kickoff to hand the Fijians possession from the off.
The possession soon turned into points, and after a short hold-up due to an injury, Fijian captain Osea Kolinisau made a surging break up the middle before the ball was offloaded to Sevuloni Mocenacagi who drew first blood.
Katonibau's return to the lineup made a big difference to the Pacific Islanders all weekend, and his second kickoff win of the game gave Fiji another opportunity to add to their lead. Some delicious offloading soon had them in position to strike and it was Mesulame Kumavalu who broke two tackles on his way to the line to double the advantage just before the break.
Nasoko crosses twice as Fiji retain crown
Having taken part in every single final so far this season, South Africa have been the team to beat this season and despite being without a number of their stars they enjoyed a strong weekend.
Their unbeaten run against Fiji this season has seen them march towards the series title yet they weren't able to live with the Pacific Islanders in the final and another mistake saw them drop 17-0 behind with Kalione Nasoko touching down.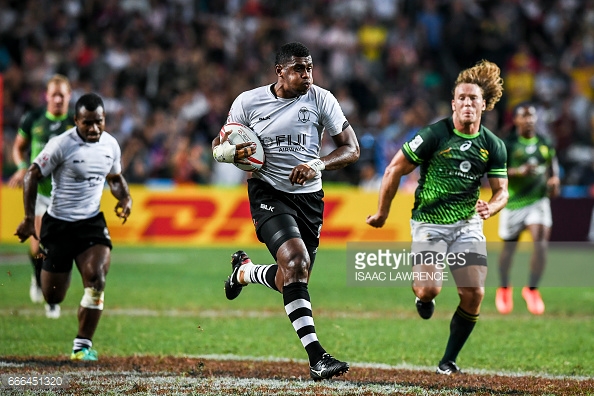 Attacking the end which housed the majority of the Fijian fans in the second half, they gave them something to cheer about in the closing moments when Nasoko broke clear before diving over in the corner to cap a terrific weekend of rugby.
Nasoko was announced as Player of the final and was full of sentiment at the full-time whistle, claiming "As they always say if a Fijian player has not played in a Hong Kong final, he is not a Fijian rugby player so now I am and I am very happy."
It was Australia who took home bronze following a 26-19 win over the United States, while Scotland claimed the Challenge Trophy thanks to a 21-19 triumph over Kenya who will be hoping for a repeat of last year's magnificent victory in Singapore where the series heads next weekend.