Ireland haven't had the best of starts to their Six Nations title defence, and things have only gotten worse.
They have been dealt with tournament-ending injuries to Mike McCarthy, Sean O'Brien and Dave Kearney.
Tough start made even tougher
Joe Schmidt's men have yet to win a game in the 2016 tournament as last weekend's defeat to France followed a draw with Wales to leave the defending champions with one point from two games.
When the fixtures were released, a home game against Wales and a trip to the French capital were always going to challenging. However, with a number of injury blows to the squad before and during the tournament, the likelihood of claiming a third straight title seems to be fading away.
McCarthy blow
Schmidt has admitted that McCarthy will miss the remainder of the tournament due to the concussion he suffered in the narrow 10-9 defeat to France last Saturday.
The first team coach thinks that this lay-off could be the perfect opportunity for the Leinster second row to recover.
He left the Stade de France on a stretcher with a neck brace for support and has been advised to focus on next season rather than any other games in the tournament.
He said: "Mike McCarthy has seen a specialist now and he's going to effectively re-condition himself, freshen himself up to kick-start next season now.
Schmidt continued, "I think just for him it's an opportunity to freshen himself up a little bit and that will give him a good entry point to next season."
O'Brien and Kearney also missing
O'Brien missed the opening game against Wales due to a hamstring injury as is expected to miss the remainder of the tournament, whilst Kearney damaged his shoulder, resulting him in missing too.
"Sean is likely to miss the rest of the Six Nations, as is Dave Kearney," Schmidt confirmed. "But we'll continue to monitor those guys and see how they go."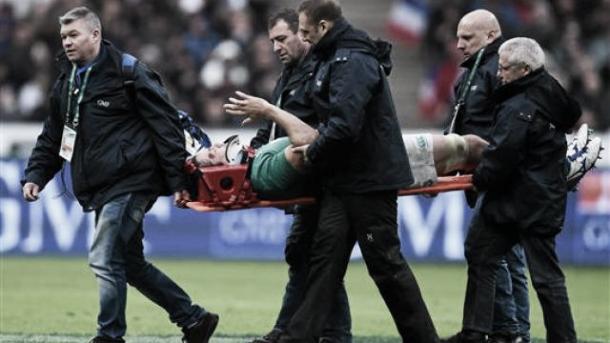 Sexton causes further headache for Schmidt
The Irish trained on Friday ahead of next weekend's game at Twickenham against England, but Jonathan Sexton had to finish early due to a minor ankle problem. Despite this, Schmidt is confident that the Leinster fly-half will be on the pitch.
"He just rolled his ankle. He could have trained on. In the end we sent him to the side," the coach said.
Schmidt played down his absence, "He did all the initial stuff just in the unit split but most of what we were going to do was broken play work so we didn't really need him in there."
Schmidt was quick to admit that Sexton will be back to train with the rest of the squad, and should be in the squad that travel to London next weekend.
The Irish coach confirmed that the fly-half "will be fit to train on Monday".
Ireland travel to the capital next weekend hoping to finally get a win on the board, but Eddie Jones and his England side know that a win over the champions will be huge for them to claim a triple crown and possibly a grand slam for the first time since 2011.