This weekend, Vancouver get their first taste of hosting international Series Sevens rugby at the sold-out BC Place Stadium.
The anticipation in Canada has been huge, which has led to the organisers having to release extra tickets for the two-day extravaganza.
Fiji head to the Vancouver with a five-point lead in the overall standings, ahead of South Africa, with New Zealand a further four points back in third.
Fiji pitted against Pacific Islanders once more
The draw for this week's Vancouver event was completed in Las Vegas last Sunday evening at the denoument of Fiji's thrilling final victory over Australia.
In a cruel twist of fate, Fiji will have to overcome a Samoa side who began last week's Las Vegas tournament with a win over their Pacific Island neighbours in the tournament opener.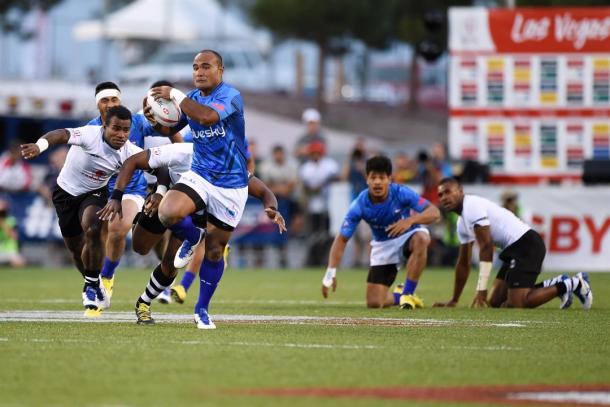 The two sides have been drawn alongside eachother in the pool stages once more, where they will also face Kenya and Portugal who will each have designs of their own on a top-two finish.
Hosts Canada top the bill in Pool B, and they will take on Russia, Wales and Australia, with a top-two finish certainly a possibility for the home side.
South Africa, Argentina and Scotland will face-off in Pool C, alongside this week's invited side, Brazil, who already have a confirmed spot in the Rio Olympics as hosts.
Pool D looks to be the most even, with all four sides usually seen in the cup quarter-finals. Just two of New Zealand, France, USA and England will make it through to the knockouts this week in what looks sure to be a fascinating group stage.
Carlin Isles absence leads Vancouver team news
American flyer Carlin Isles will not be amongst the players thrilling the Vancouver crowds this weekend. Isles' reasoning is fascinating though, with the speedster deciding to head back to America to complete sprint training as he attempts to qualify for the Olympics in the 100metre, as well as the Sevens.
Last week's winners Fiji have named an unchanged 12-man squad, whilst fellow finalists in Las Vegas, have a number of new names in their squad in the form of Lewis Holland and James Stannard, with Cameron Clark and Ed Jenkins rested.
Samoan captain Falemiga Selesele has proved his fitness and will take his place amongst the team in Vancouver, while Kenya include their dynamic duo Humphrey Kayange and Collins Injera.
England are currently having to deal with an injury crisis, which sees Oskar Hirskyj-Douglas become the sixth Englishman to make his Sevens Series debut this season. Richard de Carpentier and Warwick Lahmert also join the squad, looking for vast improvements from last week's shambles in Vegas.
New Zealand are still a shadow of the side who won back-to-back events in Wellington and Sydney, whilst for South Africa, Bryan Habana will compete for the second week on the bounce.
The hosts include Rugby World Cup half-backs Phil Mack and Nathan Hirayama amongst their 12-man squad, who will backed by a raucous home crowd in what will be a memorable weekend for those in Vancouver.