Speaking to Danial Kennedy of Vavel.com, England's most-capped rugby union international of all time, Jason Leonard, has spoken of his admiration for Eddie Jones and his new-look England side.
The recent Six Nations and Grand Slam success was an early boost to the Jones regime so soon after the horrific showing at the 2015 World Cup.
Now, in his role as President at the Rugby Football Union, there is nobody better to talk about the state of the game in England than Leonard who has lived and breathed the sport for over three decades.
Leonard believes in four-year 'process'
Following the last World Cup cycle, English rugby was in a bad place having been dumped out in the group stages. Now, as they look ahead to Japan 2019, Leonard believes England are in a good position to enjoy a lot of success over the next couple of years.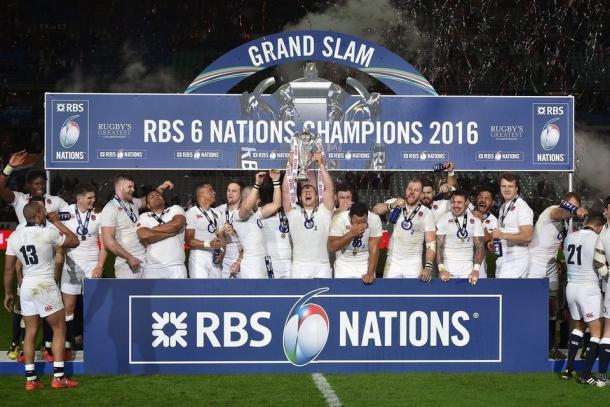 "Winning a Grand Slam is very special," said Leonard. "I'm more happy for the fans as well because I think everyone was disappointed with our World Cup performance and to get a Grand Slam in Eddie Jones' first year, Dylan Hartley's first year as captain.
"I am really happy for them and really happy for the fans to give them something to cheer about and hopefully they will just get better and better and in four years' time in Japan in 2019 who knows we might get another World Cup win."
Looking at players who could add to the squad, Leonard mentioned the likes of Manu Tuilagi and Henry Slade as players who hardly influenced the Grand Slam win, yet should be a big part of the near future.
"Have a look at Maro Itoje, who only just really started at the beginning of this season and he looks a fully-seasoned pro already, so we've got great strength in depth its making sure that we use all that on that journey over four years to that World Cup."
Criticism of Six Nations 'surprised' Leonard
The rugby may not have been scintillating for every minute of the tournament, but the 2016 Six Nations sure did meet its usual expectation of bringing thrills and spills to the fans.
Leonard has laughed off any idea that England won an easy championship, admitting, "I am surprised by a lot of the criticism of how it's been a poor Six Nations I think some of it has been very, very good.
"I think the problem was, we had such a great World Cup and everyone bought into it and everyone supported it.
"I think it was steady start for us, a very young side and we beat some very experienced sides and gone through and been unbeaten, winning a Grand Slam. Whilst everyone thinks, oh that's what England does, it's only been achieved by everyone and when I say that England, Scotland, Ireland and Wales, France and Italy it's only been achieved 37 times, the tournament has been going over a 100 years.
"It doesn't happen every year so I think it's a tribute to Eddie Jones, to his players, to the fans and their support dragging them through games but in his first year he's won a Grand Slam that's not the pinnacle it's just the start."
Leonard believes game is "safe and enjoyable"
Commenting on a recent report which said that tackling should be removed from the game for all rugby players under the age of 17, Leonard said that he believes the game is currently in a safe way in its current form, and change is not needed.
"I don't think it is a valid idea. Of the actual people that have put it forward (the report), of the 17 of the so-called medical people that have done it, only five or less are doctors. Whether its actual science, medical science, sports science you've got lots of sociology people there but no one knows about rugby."
"Like anything we've got to make sure that our game is safe as it possibly can be for our young people playing it and I think we are there at this moment in time. We make sure that every single player, whether they are five years old or a 75 year old is well looked after on the pitch and its safe and its enjoyable and that's what our game is."
Participation numbers at 'all-time high'
Commenting on his role as President, Leonard is pleased with where the game is right now in England. Clubs up and down the country are thriving whilst other sports are losing numbers, something which pleases those at the top of the game.
"The game itself in terms of participation numbers is at an all-time high. We're trying to make sure that we're not losing any players that we have lost in previous years. We're managing to attain a lot more people to the game at all levels - young, old and seniors.
Trying to help clubs with as much help as possible regarding their own players and club houses, all the facilities and stuff like that that's happening as well so everything's good and it's one of those things I think just because of the RWC it was great it was in our backyard it was a huge financial and a fan experience as a success and we've just got to make sure that we keep on building on that and make sure that we don't get to complacent and take our eye off the ball."