On Saturday, Olympic history was made as rugby returned to the games after 92 years in the hinterlands. The Women's Rugby Sevens got underway at Deodoro Stadium early in the day and afforded storylines aplenty.
At the end of the first day of play, which marks two-thirds of the way through the women's pool stage, the favorites have all gotten off to flying starts. Australia, New Zealand, Canada and Great Britain, the four seeded teams, all picked up maximum points. Australia find themselves topping Pool A, New Zealand top Pool B and Canada top Pool C, only ahead of Team GB on Points Differential.
Pool A
Pool A got off to a thrilling start, as Team USA took on Fiji in the first match of the day. Fiji took an early lead, going ahead 7-0 on a try from Luisa Tuisolo. She completed the conversion to give the Fijians said seven-point advantage with just over three minutes left in the first half. Less than half a minute into the second half, Fiji extended their advantage on a try from Timaima Ravisa. Though Tuisolo missed the conversion, the lead grew to 12-0. The United States got some hope two minutes later when Alev Kelter scored, and Akalani Baravilala completed the conversion to cut the lead to 12-7. However, that was as close as the red, white and blue got, and Fiji ran out 12-7 victors.
The next match was nowhere near as close, as Australia absolutely throttled Colombia by a margin of 53-0. The only thing Australia could be upset with is their kicking - they were a meager 4/9 on conversion attempts. However, tries from Charlotte Caslick (3), Nicole Beck (2), Shannon Parry, Sharni Williams, Emma Tonegato and Amy Turner left the world in no doubt as to why they were the top seed heading into this tournament.
Things soon went from bad to worse for Colombia. The United States came back out onto the field and did their level best to outscore Australia. They nearly did on their way to a 48-0 victory, which put them in a good position to advance on from the pool phase either in second place or as one of the top two third-place teams, depending on Sunday's results. Team USA went on their way to the victory, courtesy of tries from Kelter (2), Kathryn Johnson (2), Lauren Doyle, Joanne Faavesi, Ryan Carlyle and Jessica Javelet.
Pool A action came to an end with another comprehensive victory for Australia. Though their victory over Fiji wasn't by as large a margin as the one over Colombia, the 36-0 scoreline showed exactly why they're hot favorites to win the gold medal. Tries from Tonegato (2), Caslick, Emilee Cherry and Ellia Green carried them on their way to the win.
Pool B
In Pool B, France and Spain got things underway in the first ever Rugby Sevens match at the Olympic Games. Just two and a half minutes into the game, Camille Grassineau had the honor of scoring the first Olympic try for 92 years, and France never looked back on their way to a 24-7 victory. Immediately afterward, New Zealand showed why they're one of the favorites to win it all in Rio as they absolutely thrashed Kenya 52-0 on the back of terrific performances from Portia Woodman, Kayla McAlister and Tyla Nathan-Wong.
In the second round of matches, France looked hugely impressive on their way to a 40-7 mauling of Kenya. Jade Le Pesq lead her side in scoring with two tries and three conversions, and Caroline Ladagnous also had a brilliant afternoon with two tries. Though it was a disappointing afternoon for Kenya, Celestine Masinde had the honor of scoring her nation's first ever try at the Olympics. Following that, New Zealand had another strong showing as they beat Spain 31-5 with Nathan-Wong and McAlister scoring two tries themselves.
Pool C
In Pool C, Team GB got proceedings underway with a strong 29-3 victory over the host nation. The game was still in doubt at halftime, as GB only held a 7-3 advantage over Brazil, earned thanks to a try from Joanne Watmore. However, after the break, a quickfire try from Natasha Hunt extended the advantage. Later scores from Hunt again, Jasmine Joyce and Emily Scott finished off the scoring. Canada followed Team GB's victory up with a 45-0 thrashing of Japan. The game was never close, and Ghislaine Landry had a brilliant afternoon with two tries and three conversions.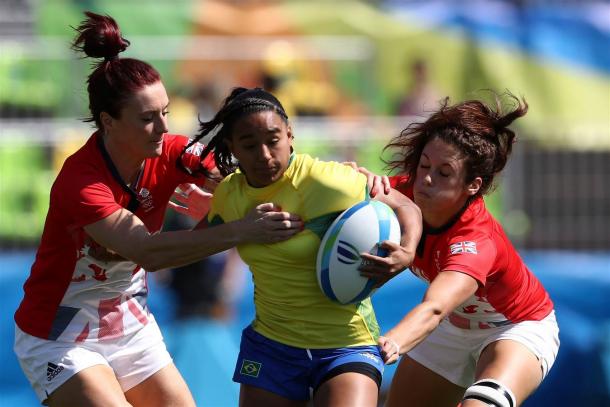 In the second round of fixtures, things got no better for Japan or Brazil. First, Team GB demolished the land of the rising sun to the tune of 40-nil, with Alice Richardson and Scott leading the way. Immediately afterward, the crowd at the Deodoro Stadium were treated to another shutout as Canada beat Brazil 38-0 on the back of strong performances from Bianca Farella and Karen Paquin.
Up Next
The action will resume on Sunday when pool play will conclude. Pool B will get things underway when Spain take on Kenya, with New Zealand against France to follow. After that, Pool C will take center stage as Brazil do battle with Japan before Canada play Great Britain. Lastly, Pool A will wrap up with games between Fiji and Colombia, and then between Australia and the United States.