On Tuesday, Olympic history will be made when Men's Rugby returns to the fold. Although the Women's Rugby Sevens tournament had the honor of being the first rugby played at the Olympics for 92 years, when Australia take on France on Tuesday, it will be the first time men have played the sport in an Olympiad since 1924.
As is the case on the women's side, there's no shortage of nations hoping to walk away with a medal. New Zealand, Australia, Fiji and South Africa will all fancy their chances of competing for gold, while sides like France, Great Britain and the United States will all be dreaming of somehow finding their way onto the podium.
As is the case on the women's side, there are twelve teams in this event, split up into three pools. The top two finishing sides in each pool will move on to the quarterfinals, while the top two third-place sides will also move on.
Pool A (Fiji, United States, Argentina and Brazil)
This is arguably the most exciting pool to watch in the tournament. The United States' Rugby Sevens program has been growing at remarkable speed in recent years, and they're dark horses for a medal in this event. The Americans were victorious last spring in London at the Sevens World Series tournament, and boast one of the fastest players in this tournament in Carlin Isles. He considered not trying to make this Olympic team and rather trying to qualify for the Olympics as a sprinter, but wound up sticking it out with the Sevens team. Another interesting story to watch involving Team USA is New England Patriots safety Nate Ebner, who was given a leave from training camp by Bill Belichick to compete in this tournament.
If the US are optimistic of getting on the podium, then Fiji are hopeful of winning gold. If they manage to medal, it will be the first Olympic medal in their nation's history. They're huge favorites to do that after a great result earlier this year in Hong Kong. However, no one should sleep on Argentina either, as they will be optimistic of getting out of the group as well. Meanwhile, Brazil will be group whipping boys after gaining a place in the tournament as the host nation.
Pool B (South Africa, Australia, France and Spain)
Pool B may be the most top-heavy group of any in the field, as both South Africa and Australia will hope to be in contention for the top prize in the medal rounds. Both are very strong, but will have to deal with France, who are a terrific side when they show up. France boast arguably the world's best player in Virimi Vakatawa, but are no one-man team, as Terry Bouhraoua is also nigh on-unstoppable. Just like Brazil in Pool A, Spain will be the cellar-dwellers in this group having would up in Rio following their repechage victory in Monaco.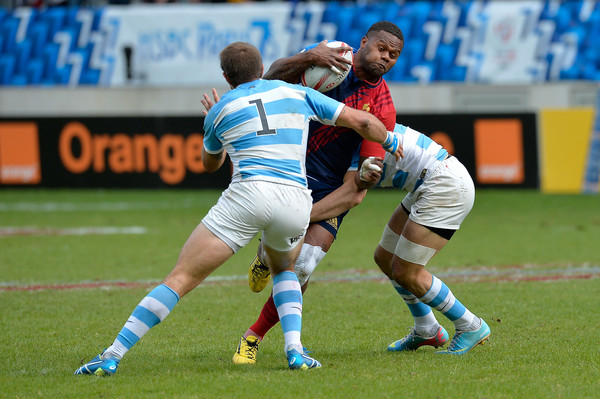 Pool C (New Zealand, Great Britain, Kenya and Japan)
The final pool has yet another gold medal favorite in New Zealand, who boast the most experienced coach of any side in Rio. The All Blacks, a perennial power in all things rugby, should get through the group fairly easily. They'll likely be followed by Team GB, who are a melting pot of a team, featuring players from England, Scotland and Wales. The onus will be on the Britons to get out of the pool as Kenya and Japan are decent sides, who enter the tournament hoping to cause some sort of an upset, just as the Africans managed earlier this season when winning the Singapore Sevens.
Play gets underway on Tuesday when all 12 countries will play their first two pool matches.