On Monday evening, New Zealand and Australia will square off in search of a gold medal in the Women's Rugby Sevens tournament after each was victorious in their semifinal match.
Road to the Gold
Australia advanced to the Women's Rugby Sevens Gold Medal Match by defeating Canada 17-5 on Monday. The Aussies were never in any danger of losing the match and took a 7-0 lead two and a half minutes in after a try from Emilee Cherry, which was followed by a Chloe Dalton conversion. In added time at the end of the first half, Cherry scored the Aussies second try after a brilliant pass from Emma Tonegato. However, the conversion was not finished this time around, leaving Australia ahead 12-0 heading into the break.
In an effort to get back into the game, Canada made two changes at halftime. However, they were unsuccessful and the Wallabies went ahead 17-0 halfway through the second period. Though she missed the ensuing conversion, that wouldn't take the shine off of Dalton's conversion. Canada managed to get themselves on the scoreboard with less than a minute remaining, but Charity Williams' try was no more than a consolation, leaving the Canadians to play Great Britain in the Bronze Medal Match.
In the other semifinal, New Zealand overpowered Team GB by a 25-7 margin. The All Blacks got off to a dream start and took a 5-0 lead on Portia Woodman's try less than two minutes into the game. Team GB managed to take the lead just two minutes later when Alice Richardson went in for a try, which was followed by a conversion from Katy McLean. However, Ruby Tui and Portman each went in for scores before the whistle blew to end the first half, giving New Zealand a 15-7 lead at the half.
Much like the Canadians in the game before, Team GB attempted to turn things around with a substitution. And, continuing the parallel, it was unsuccessful. Just over a minute into the second half, the Wallabies went ahead 20-7 on another score from Woodman. Soon after, Huriana Manuel added another to seal the game.
Other action on show
The Medal Round was not the only action on show for those assembled at the Deodoro Stadium. Matches to determine who would finish in 5th-12th place served as the opening act before the medal round. The United States defeated Fiji 12-7 following scores from Alev Kelter and Richelle Stephens while France defeated Spain 24-12. Those results mean that France will take on the United States later on Monday to determine who finishes 5th ad 6th, while Fiji plays Spain in the 7th-place match.
Before those matches were played, Brazil stomped Japan 33-5 to clinch 9th place, and Kenya beat Colombia 22-10 to seal 11th.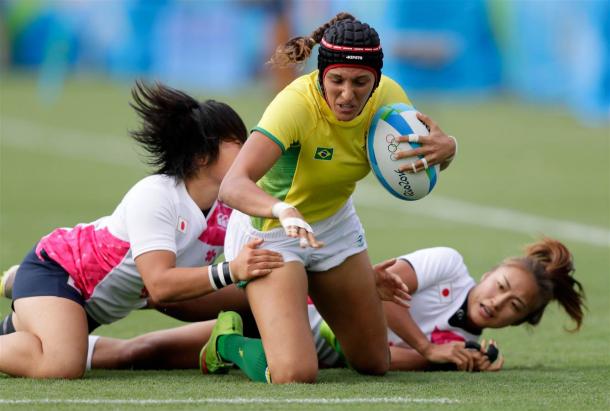 The Gold Medal Match will be played at 19.00 local time Monday evening.