Far East stars Marco Fu and Ding Junhui took giant strides towards the World Championship semi-final as they developed resounding leads against Barry Hawkins and Mark Williams respectively.
Hangover for Hawkins
Following he high of defeating Ronnie O'Sullivan for the first time in 14 years, Barry Hawkins struggled to replicate the same form against Hong Kong's Marco Fu. The world number 14 was in fine form as he cruised to a 7-1 lead after the first session against a struggling Hawkins.
Fu created six half century breaks, the highest of which was an 81 in the fifth frame, whilst Hawkins failed to break the 50 barrier as he edged a solitary frame. In the seven frames Hawkins lost, the world number eleven managed just 41 points against an inspired Fu.
Ding continues his excellent form
China's Ding Junhui was also in inspired form, as he also produced six half century breaks in all of his winning frame, as he waltzed into a 6-2 advantage against Mark Williams.
Following an opening frame win for Williams, Ding won six of the following seven frames with breaks ranging between 53 and 74. Both Ding and Fu proved to be consistent if not explosive on their way to heavy session victories.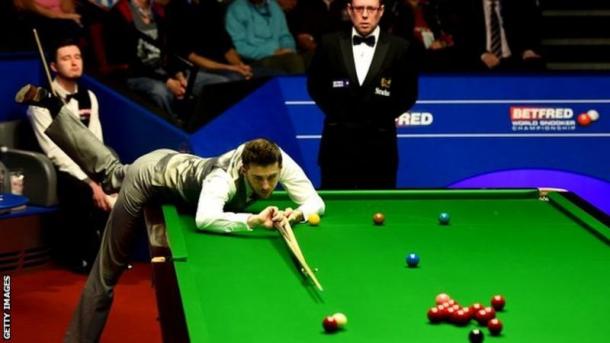 Selby races ahead of Wilson
World number one Mark Selby has gradually grown into the tournament and is now looking like one of the best players at the Crucible. Playing against Kyren Wilson who has already knocked out two top ten players in the last week, Selby raced into a 6-0 lead.
Breaks of 101 and 99 were the highlights for Selby, though Wilson did create chances in many of those first six frames. Eventually the youngster did convert those opportunities as he won the final two frames of the session to give himself a glimmer of hope.
Nothing to choose between McManus and Higgins
Two experienced Scotsmen went head to head as Alan McManus and John Higgins met in the last eight. Higgins took the lead with a break of 63, before his compatriot struck back with three consecutive frames including compositions of 114, 78 and 56.
Though McManus could not convert his advantage as Higgins went one better with four consecutive frames of his own. Breaks of 51 and 75 helped the multiple World Championship winner to a 5-3 lead at the end of the session.