The two semi-finals have now been confirmed following another riveting day of exciting snooker at the Crucible.
Selby flies the flag for the top ten
World number one Mark Selby was in prime position to qualify going into Wednesday's action as he found himself 10-6 ahead against Kyren Wilson, though he later admitted he was "lucky to be in that position" after a nervy second session.
Yet Selby wasted little time in attempting to secure his last four spot as Wilson failed to score in the opening two frames of the session, whilst Selby produced breaks of 92 and 78. Wilson hit back with the following two frames, including one that consisted of a 143 break, the highest of the tournament so far. The 24-year-old later explained, "it was a good consolation".
That was after Selby sealed his victory at 13-8 as he set about trying to win the title he first lifted back in 2014. His next contest is against World number 14 Marco Fu.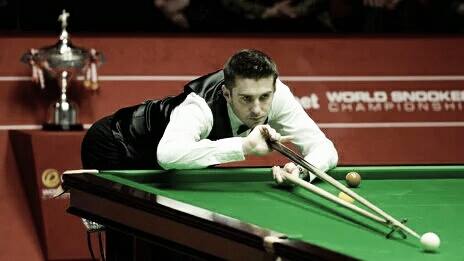 Fu holds off Hawkins fight back
Marco Fu was the heavy favourite after opening a substantial 7-1 lead over Barry Hawkins in the first session. Fu extended that advantage further as he won the first two frames of the second session, including a break of 71.
Yet Hawkins eventually clicked into gear as he attempted to mount an improbable comeback. He won eight of the next nine frames, despite Fu contributing 136 in the fourteenth frame, including six half centuries. The run took Hawkins just one frames behind at 10-9.
However, the world number eleven had ultimately left himself too much to do as breaks of 50 and 93 put Fu within one frame of progressing. Hawkins edged frame 22 by five points, before an 80 in the following frame gave him hope, until Fu eventually produced a break of 74 to win the match 13-11. Fu later described that contribution as "the best clearance of my life under a lot of pressure".
McManus stubs Higgins
Arguably the tie of the round was battled out between Scottish pair Alan McManus and John Higgins. The latter led 5-3 overnight but dropped the opening three frames of session two as McManus took the lead.
Higgins then responded with four of the next five frames, including breaks of 80 and 101. With Higgins 9-7 ahead, the pair then exchanged the next four frames with McManus making 88 in frame nineteen.
Yet at 11-9 down, 45-year-old McManus produced the mini session of his life to produce a fine comeback. Breaks of 71, 52, 128 and 60 - whilst Higgins scored just 24 points - allowed the qualifier to win four consecutive frames and progress to a semi-final against Ding Junhui.