Ding Junhui holds a tight lead over Alan McManus, whilst there is nothing to choose between Mark Selby and Marco Fu as we move just one day away from the Crucible final.
Fu strikes back against Selby
Mark Selby and Marco Fu began the day's proceedings, with the world number one holding a 5-3 advantage from the first session. The second session followed the tight predecessor as both players struggled to stamp their authority on the game.
The first three frames were decided by no more than thirteen points on each occasion, as Selby edged 7-4 ahead in a scrappy opening. Yet Fu fought his way back into the game as he sought to become the first Asian World Champion.
The world number fourteen won four consecutive frames as he produced breaks of 135, 114 and 81, despite breaking his tip, restricting Selby to just 32 points in that time period. The run gave Fu his first lead of the match, though Selby drew level in the final frame, as he completed the session with just two half century breaks to his name.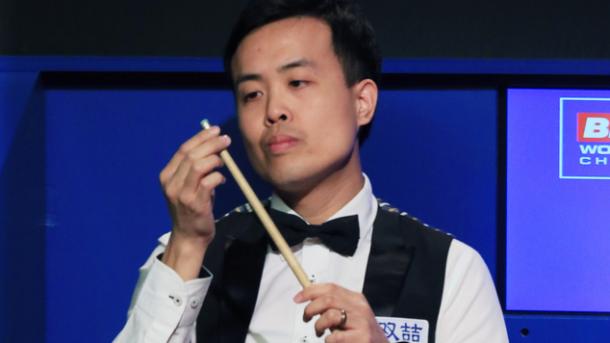 Ding and McManus produced a record breaking semi-final
Ding Junhui went into his second session with rank outsider Alan McManus full of confidence. The man from China showed no signs of nerves as breaks of 138, 90 and 97 in the first half of the session extended his lead to 10-3. Although McManus did also produce a century of his own in a high quality start to the match.
Yet McManus was not prepared to give up on his first World Championship semi-final for 23 years, as he struck back with a stunning second half to the session. Breaks of 136, 55 and 125 helped him to four consecutive frames as he climbed back into the match, producing a remarkable eight century break in just sixteen frames for the pair.
The nerves were evident for both players as mistakes were aplenty at the start of session three, before McManus eventually edged a tight opening frame. Yet the start of the session belonged to Ding once more as he won three more frames to lead 10-2 in the first half of sessions.
The highlight came just before the mid-session interval when Ding fell just short of a maximum as he made 113 to leave the stage to a standing ovation. It was the ninth century break of the contest, the highest number of centuries in any semi-final ever, despite another possible 13 frames available to play.
The quality continued in the final action of the day, as three half centuries were shared 2-1 in favour of Ding, before the man from China edged a tight but important 24th frame to lead 14-10 overnight. The qualifier is now only three frames away from reaching his first World Championship final.