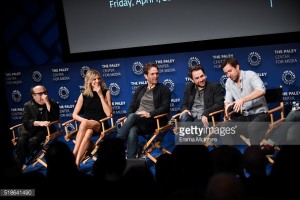 Last night saw the third episode of the twelfth season of It's Always Sunny in Philadelphia air, a monumental feat in its own right, but the beauty is that it somehow hasn't dipped in quality. This episode saw The Gang create a sitcom of Mac (Rob McElhenney) and Charlie's (Charlie Day) moms, taking a swipe at mainsitcoms in the process. The plot Mac and Charlie come bursting into the bar (that actually hasn't seen a lot of screentime this season) arguing over which of their moms is ruining the other's life. Mac's mom (Sandy Martin) moved into Charlie's mom's (Lynne Marie Stewart) house after she burnt down her old place with a cigarette. Seeing as both Mac and Charlie don't speak to their mothers, Dennis (Glenn Howerton) aptly decides to rig up cameras in the moms' house, as his spy equipment has been sitting in storage anyway. Of course. After Mac's mom purposefully spills soup on...
'The Gang Turns Black' is the season premiere of the hit FXX show....
Creator Donald Glover: "I just always wanted to make Twin Peaks with rappers."...
Steven Moffat gave fans what they wanted on Saturday evening: part one of a finale which included lots of drama, the return of the Cybermen, and a reunion with an old foe....
Total Divas gives us an inside look at the lives of the WWE Divas like the Bella twins, Natalya, Cameron, Naomi, and Rosa Mendes as well as rookies Eva Marie and Summer Rae....
total:
12
displaying:
1 - 12