Gordon Reid proved he was not a one trick pony, as he secured back to back titles. Having won the opening Grand Slam of the year in Australia, Reid was looking to consolidate on the form and was playing in Rotterdam. The Brit who is currently #WR5 had a storming tournament, and made the final. To do so, Reid had to get pass the current (and new) #WR1 Stephane Houdet. The Frenchman was not going away easily and it took Reid three sets to defeat the top seed and #WR1.
The final
The Brit then faced the #WR10 in the final, Stefan Olsson and the Brit showed his experience in the first set, as he was able to secure the vital service break to lead the match one set to love, by a scoreline of 6-3. The second set proved a closer affair with Reid and Olsson not achieving a break of serve and the set plodded towards the tiebreak. With neither player giving an inch the tiebreak ensused.
Tie break
The breaker also proved to be a very, very close affair, with both Olsson and Reid trying their best to be the one who broke and won the tiebreak. Reid was the one who managed to strike at the vital moment and then hold on for the victory, taking the tiebreak 9-7. This victory gave Reid his second tournament win in a row, and certainly helps to put the sport of Wheelchair tennis on the map.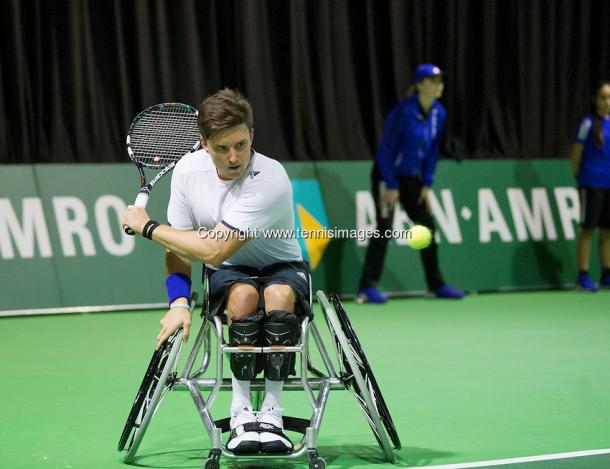 Reid was happy to be playing along side the ATP tour at the same event. "It's a strong field and nice to get back-to-back tournament wins," he said.
The loss of focus is a little concerning for the Brit, but he will be working on this. Whatever the outcome of future events, Reid had made more history by securing back to back wins at the Australian Open and then again in Rotterdam. Reid has secured his place in the top 5 of Wheelchair Tennis, if he keeps this momentum going, there will be no one that would vote against the Brit taking the #WR1 spot at some point during the year.
Reid, who contracted Transverse Myelitis - a disease affecting the spinal cord at the age of 13, won his first Grand Slam singles title earlier this month at the Australian Open.