Swiss tennis is in a rather golden era at the moment and it's fair to say it has been for pretty much two decades now. Roger Federer of course, the most successful men's player of all-time, continues to adapt, develop and play some of the best tennis of his career in his mid-thirties, as he continues his search to add to his 17 Grand Slam titles. Stan Wawrinka has emerged from Federer's shadow and is now a leading name in the men's game having won major titles in Melbourne and Paris in the last couple of years. Not forgetting Martina Hingis either, multiple major champ in singles, doubles and mixed doubles, who is currently dominating the women's doubles game with Sania Mirza; on a 40-match unbeaten streak and already lifting silverware on four occasions this year.
For a small, landlocked European nation of just over eight million people, where the Alps loom large around them, Switzerland have produced some of the biggest and most successful figures the sport has ever seen, standing up to, if not in some cases, exceeding their far bigger neighbours of Germany in the north, France to the west and Italy to the south. Yet there seems to be no letting up and this juggernaut of Swiss success is seemingly set to carry on for many years to come, in the form of their latest star: Belinda Bencic.
Top ten emergence
She may only be 18-years-old (turns 19 next month), but Bencic has already at this very early stage of her career, established herself as one of the leading lights on the WTA tour. She's been a Grand Slam quarter-finalist at the US Open 18 months ago, whilst also reaching the second week at the Australian Open and Wimbledon. The first two, of what is expected to be many, titles of her career came last summer at Eastbourne and more famously in Toronto, where she beat six Grand Slam finalists, including world no.1 Serena Williams in the semis and Simona Halep in the final, on route to the title.
For someone so young, Bencic has already got plenty of big match and big tournament experience under her belt, with which she can rely on when the pressure mounts. A useful asset to have, although there is still a lot to learn and improve upon; her game a process with which will undoubtedly get better and better as time and tournaments go on. It's been a relatively good start to 2016, indeed highlighted with her run to the St Petersburg final last week which ensured her top-10 place for the first time, whilst also having runs to the semi-finals in Sydney and the last-16 in Melbourne.
Comparisons to Hingis
Expectations are, unsurprisingly, huge on the young shoulders of Bencic, considering what has come before her. She is being seen by many as the "next Hingis", what with her being from the same country and already such a talent at such a young age. Bencic wasn't even born when Hingis, at just 16 years and 3 months, won her first Slam title at the Australian Open in 1997, a year in which she would dominate, adding the Wimbledon and US Open titles, plus reaching the French Open final, and becoming the youngest world no.1 ever.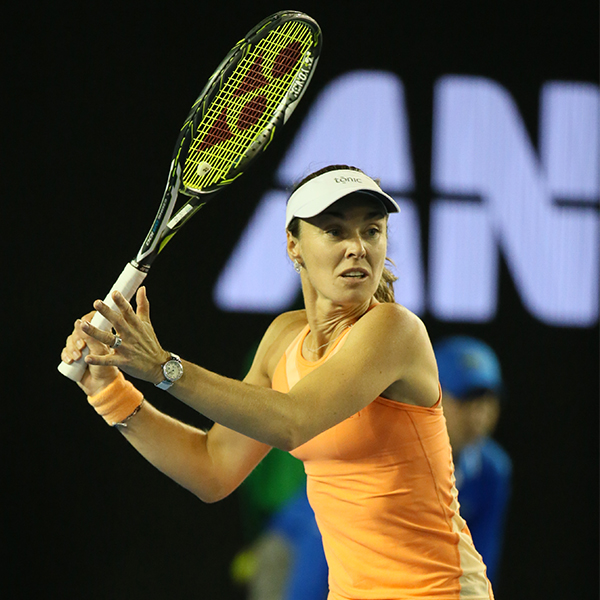 Hingis won 5 major singles titles during her illustrious career (not mentioning the 16 Grand Slam titles in women's doubles and mixed doubles (and counting). Of course, what Hingis did at the age of 16 is something so rare, it's unlikely we will see such a thing in any sport, let alone tennis, ever again. Fortunately for Bencic, with Hingis still on tour, she has plenty of opportunities to get words of wisdom from the master, as the apprentice hopes to be just as, if not, more successful than her.
What next for Belinda?
In terms of the short-term, Bencic doesn't have too many points to defend from now until the French Open, which means deep runs into tournaments will see her only rise even higher in the rankings, and by the time the grass court season comes around in the early summer, she could very well be inside the world's top-five (a place where she will most likely be for quite a long time).
For the rest of 2016, a few more titles will obviously be the big aim, whilst a first Slam semi-final can't be ruled out of the equation. Of course, long-term wise, should Bencic continue to work hard and put every sinew into every aspect of her game to improve, both on and off-court, the sky is the limit for this latest exceptional talent from Switzerland. Future world no.1 and many Grand Slam titles to go with it? For many, that will surely be the case.