For so long she has often flattered to deceive but the style in which Heather Watson recovered from losing the opening set in her final against Kirsten Flipkens suggests she may finally be on the verge of blossoming. Securing the third title of her career with her 3-6 6-2 6-3 win, Watson demonstrated a mental toughness she is often accused of lacking, as she outplayed the former Wimbledon semi finalist for most of the match.
Watson's form imperious on route to the final
Having suffered a lacklusture start to her 2016, with early defeats in Australia and Acapulco, Watson headed to Monterrey as a firm outsider to the crown, especially with the likes of former world number one, Caroline Wozniacki, making up the field. However, the Brit, who remains coachless following her split with Diego Veronelli, produced a sensational week of tennis, her best for some time, as she dropped only two sets on her route to the title.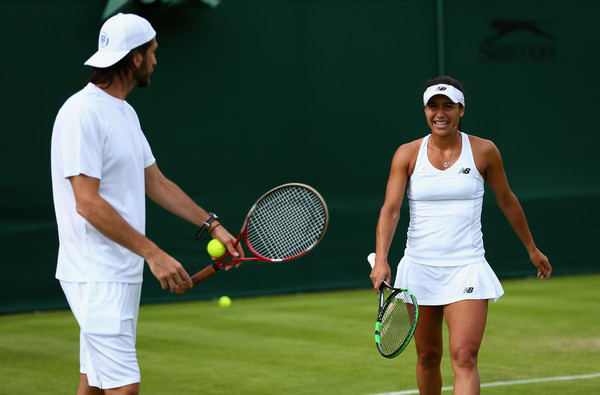 Far from benefitting from the luck of the draw, the Brit instead faced the daunting challenge of facing Caroline Wozniacki one day before the fifth seed, Caroline Garcia, the next. Having lost to Garcia in their most recent meeting in this year's Hopman Cup, for Watson to come through both matches with very little trouble was merely a testament to the tennis the 23 year old was playing. This included losing only three games to Garcia, with Watson running riot.
Merely a stumble on route to victory
Against Flipkens, the talented Belgium who has never reached the heights of her run at Wimbledon in 2013, it looked like her magic may have been on the verge of evaporating as she lost her first set since the opening round.
However, despite a reputation for moments of mental fragility in times of such hardship, such as the opening round of Australia this year, where she blew a lead in both the second and third sets to lose, Watson's recent run seemed to instil a belief in her that the set loss was a mere blip on her route to victory.
Some of the tennis produced by the Brit was evocatice of a player twice her ranking, and when victory was finally confirmed on a Flipkens error, she dropped to the ground in jubilation. She had overcome higher ranked players, a lack of coach and her own mental fragility and with her Mum watching on, she provided the perfect gift for Mother's Day.