Given Maria Sharapova's recent admission of a failed drug test it's almost a given that, not only is she not the first to fail a drugs test, she won't be the last.
Here's a look back on some doping cases in tennis for players who are still on the tour.
Marin Cilic
2014 US Open champion Marin Cilic is one of the more recent players to have been banned from the game due to doping. After winning in the first round of Wimbledon 2013, Cilic pulled out of the tournament before his second round match due to a knee injury.
This reason turned out to be false as it was later learned that he had withdrawn due to finding out about a failed drugs test earlier in the year for traces of nikethamide, of which he had ingested via glucose tablets.
Originally given a nine month ban; this was reduced to four months on appeal due to the degree of fault on Cilic's part. Returning early on in 2014, the Croat went on to have the best year of his career with his now infamous US Open win.
Current ranking: 12
Martina Hingis
Perhaps one of the most famous cases of a drugs incident in tennis comes from one of the most successful players in the women's game. Martina Hingis, who in 2007, much like Sharapova, called a press conference to announce she had failed a drugs test.
Testing positive for a small trace of cocaine, the Swiss argued that it was likely due to contamination rather than taken purposefully.
Since returning to the tour in 2013, Hingis has experienced a huge amount of success on the doubles tour after choosing not to return to the singles tour. In 2016 with her doubles partner Sania Mirza, she would enjoy a 41-match winning streak.
Current ranking: 1 (doubles)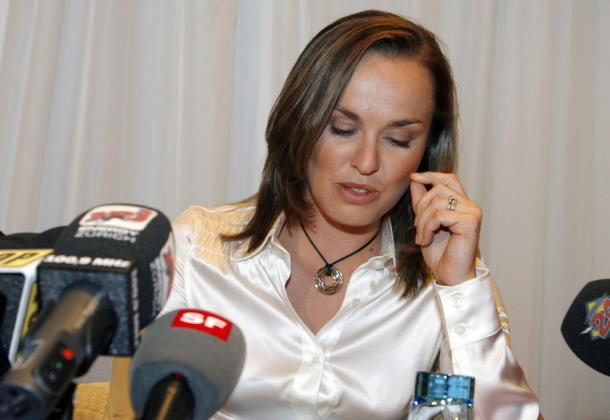 Viktor Troicki
In 2013 Viktor Troicki was given an 18-month ban (later reduced to 12 months) not for a positive test but for refusing to give a blood sample for a drugs test.
Andy Murray commented on both Troicki and Cilic's ban stating he thought that the pair were "unprofessional" in how their bans occurred.
Troicki returned to the tour in 2014 and he enjoyed success over the next couple of years, as he soared into the top 20 and won his second and third title.
Current ranking: 23
Richard Gasquet
French tennis player Richard Gasquet was given a provisional suspension in 2009 for testing positive for traces of cocaine. Eventually being cleared to return to the tour due to a tribunal stating that the cocaine probably entered his system via contamination.
Gasquet would explain that he believed the contamination occurred from kissing a woman who had taken cocaine.
Current ranking: 10
One thing is clear for Sharapova, if her ban is of a year then she can look back on past cases where players have returned to the game to enjoy similar levels of success. However, at 28 and with her injury record as it is, a ban of any longer than a year may cause the Russian to have second thoughts about returning to the tour.