Judy Murray has stepped down from her role as the British Fed Cup captain after five years at the helm. Murray steered the team to another play off in 2016 after winning the round robin, but the team were beaten in the play off for promotion to the World Group Play Off Group and are still languishing in the Europe/Africa Zone.
Despite the best efforts of Murray and her team, consisting of the top British singles players, the ladies have not been able to replicate the success of the men. With injuries and withdrawls plauging the route for Murray, and with the arrival of her Granddaughter just weeks ago, it seemed the obvious time to step aside.
Murray will continue with the grass routes initatives she created in the form of Tennis on the Road and Miss Hits, the latter an attempt to encourage and keep more girls playing tennis. This has proved difficult in the past as it appears that girls tend to want to focus on their looks, socialising with friends etc as they get older and not to play a very lonely sport. Murray is trying to change this, making the sport fun and attempting to bring in the team element more.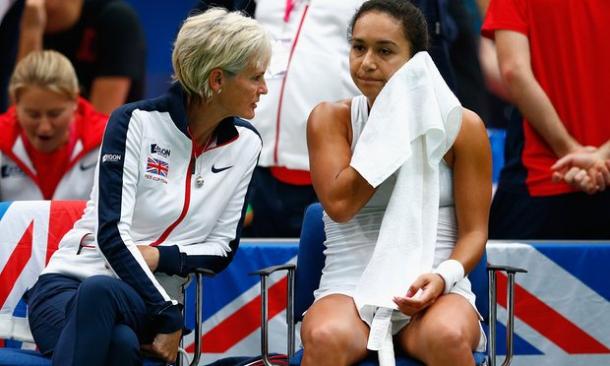 Fed Cup format
The format of the Fed Cup lower levels has been critized before, but Murray has been very vocal on this since annoucing her decision. She said, '...the Fed Cup format is in desperate need of a revamp.' Before going on to praise the team format and the way in which it engages with fans. 'It's crucial we use this global competition as a means of attracting and retaining girls in competitive tennis at every level.'
Judy Murray, an advocate of getting women playing tennis, spoke of th potential success which could be gained from showcasing the competition. 'The Fed Cup should be leading the way in promoting and showcasing competitive women's team tennis at all levels and in all countries. Things have got to change.' The Davis Cup, the men's version of the format, has proved especially effective in engaging fans and players alike. 'Everyone can see the buzz created around the home ties and team tennis at all stages of the Davis Cup. Fed Cup should be afforded a similar format.'