Finally a full day of play scheduled at Roland Garros actually took place. On the order of play were three Brits who we are focussing on today. Andy Murray also played today and this is covered elsewhere
Bedene fights through
Starting with Aljaz Bedene who was playing Gerald Melzer the Austrian qualifier. Melzer started well and surprised the British number two claiming a break of serve. As much as the Brit tried he was not able to get the break back, Bedene soon found himself down a set 6-4. Having suffered a wrist injury Bedene had been forced to pull out of two earlier tournaments before finding himself against Rafael Nadal in Monte Carlo.
After dropping the first set in Paris, the Brit found his game. Taking on the Melzer serve Bedene was on the up and soon levelled up at one set all after securing the vital break of serve and taking the set 6-3.
Having had plenty of long matches already at the event, this match was going to be at least four sets. In the third set the Brit kept the mometum going that he had from the second. Breaking the Austrian serve again the Brit was soon in the ascendency in this set, Melzer was again unable to get the break back and Bedene secured a two sets to one lead taking the set 6-4.
Moving into the fourth set and Bedene carried on from where he had left off, not giving the Austrian the opportunity to break serve, before breaking once to ensure the win and a move into the second round. Bedene d Melzer 3-6,6-3, 6-4, 6-4.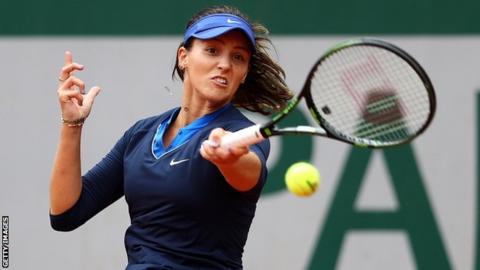 Laura Robson
Robson had used her protected ranking to enter Roland Garros, and unluckily drew Andrea Petkovic the 28th seed. The Brit has been struggling with a return to the tour since her wrist injury, and this was the last event she could enter with her protected ranking.
The Brit really needed a win to boost her confidence, but this was going to be a very tough challenge against the German. It proved just that as Robson found it very difficult to hold serve. Petkovic wasted little time in demolishing Robson in the match, losing only four games en route to the next round. The Brit will be disappointed to have gone out of the event early, however come-backs take time, Robson will need more matches with victories to boost her confidence.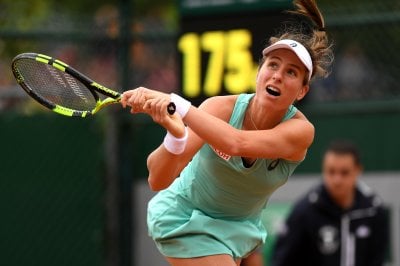 Johanna Konta
The British number one started her campaign against Julia Goerges another German. Konta was seeded at Roland Garros, the first time a British lady has been seeded since the 1980's. Goerges just proved to be too strong for the Brit, with Konta struggling on the clay the German made light work of the match. Defeating the Brit in straight sets for the loss of only four games.