It was a quieter day for the Brits with only Naomi Broady and Andy Murray in action at the French Open. Whilst there was good news of an easy win for Murray, there was less so for Broady in the women's doubles.
Broady and Chirico blown away
After losing in the first round of the singles, Naomi Broady had stayed around to take part in the doubles. Partnering up with Louisa Chirico the Brit/American pair had a tricky first round match.
Drawn against Vitalia Diatchnko & Galina Voskoboeva, Broady & Chirico had a lower ranking combined than the Russian/Kazakh. This was very evident in the first set as Diatchnko & Voskoboeva went about demolishing the game of the Brit/American. No matter what they tried Broady & Chirico were unable to get anywhere near a break point.
Finding themselves broken twice in the first set as the Russian/Kazakh dominated, the Brit/American found themselves on the wrong side of a breadstick and went down 6-1.
During the second set, Broady & Chirico started to play better and even managed to create break points on the opponents serve. The Brit/American also managed to convert one to break. Unfortunately for them Diatchnko & Voskoboeva broke twice to gain and maintain the lead. Eventually the Brit/American were defeated in straight sets 6-1 6-4.
Andy Murray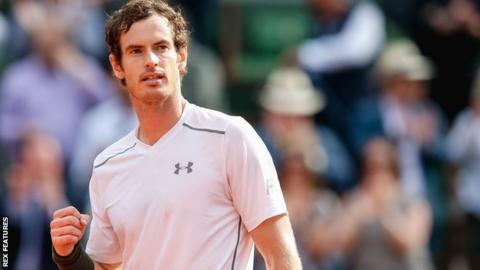 After a rollercoaster (or Murraycoaster) of a ride in the first two rounds, Murray really needed a straightforward win. Playing 10 sets over three days is never good, the Brit though was determined not to repeat.
Going against Ivo Karlovic is never easy, at 6' 11" the Croatian has a huge serve. The World number two, however is one of the best returners in the world, and clay dampens down big serves. Murray also lead the head to head six nil. The Brit was in no mood for hanging around in the first set, and without much trouble delivered a breadstick set to Karlovic.
As Karlovic got into his stride in the second set, the 2nd seed kept his calm and managed to break once again the Croatian serve (and very likely spirit) to take a comfortable two set lead. However, with the previous rounds going the distance nothing can be taken for granted until the final point has been won.
Moving to the third set, and by this time Karlovic had nothing to lose as the Brit was painting the lines, something that had been missing in the previous rounds. The second seed was not able to break serve in the set, and was always behind on the score board, however, unlike his previous matches Murray was never broken.
A tiebreak ensued, this was the Croatian's territory as with the serving power, Karlovic has a great tiebreak record. Today was not to be the Croatian's day with the tiebreak though, Murray steamed through the tiebreak 7-3 to win in straight sets.