Garbiñe Muguruza seemingly stands on the precipice of greatness. As the Spaniard approaches her second Grand Slam final inside a year, the world number four has the tennis world at her feet.
The 22-year-old has been touted as the next big thing in the women's game and a first slam crown on Saturday at the French Open, will signify a potential changing of the guard.
Toppling Williams will be a tall order
Her opponent in the final at Roland Garros, Serena Williams, is seeking a phenomenal 22nd major title and a fourth in Paris. The world number one and reigning champion is looking to cement her already grandiose legacy in the sport, but will come up against the woman attempting to not only usurp, but steal-in on, as the pretender-in-waiting to the throne.
Muguruza latest pretender to the throne
True, that there have been a number of such candidates; two-time Wimbledon champion Petra Kvitová has threatened to take all that lie in her wake, but a combination of injury and inconsistency have sown the seeds of doubt over the Czech.
Eugenie Bouchard rose to prominence in 2014 and the powerful Canadian was indeed to set for big things. This time however, it was the sheer learning curve that led to the plummeting form of the 22 year-old - through a high turnover of coaches, that led to instability.
Muguruza will hope to buck that trend. Her American opponent has been world number one now for an incredible fourteen consecutive years. However with Williams at 34 years of age, Caracas-born Muguruza can use this weekend in the Parisian capital as the perfect springboard to success, knowing Serena will ultimately not be around forever.
Spaniard looking for SW19 revenge
Rewind 11 months to Williams and Muguruza, as they met on Centre Court at Wimbledon last year. Despite a second-set fightback, Williams was in control for most of the 1 hr and 23 minutes of the match at SW19.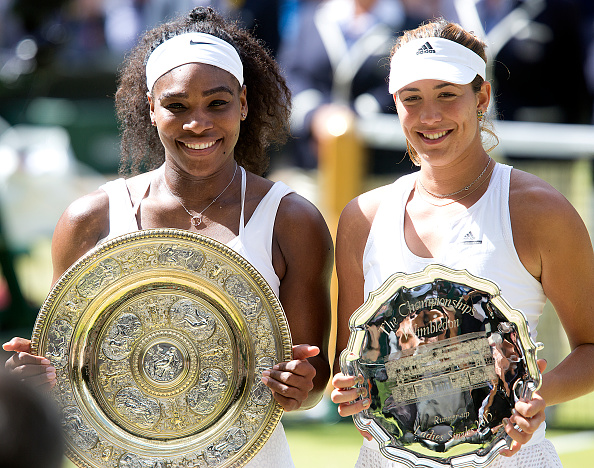 A 6-4, 6-4 win gave Serena her sixth crown at The All England Club, but it is a result that Muguruza will be desperate to avenge across The Channel this weekend.
If she is to do so however, Muguruza must put to an end a Williams winning streak that stretches back to the beginning of her Rome Masters title last month. Indeed, Serena has won the her last ten matches in a row. Muguruza has won her last nine. The only blot on the record was her loss in Rome at the semi-final stage to Madison Keys - who Serena beat in the final.
Head to head record
The meeting on Philippe-Chatrier will be the fifth between the two in total. Williams hold a 3-1 advantage over her opponent, however curiously, the only other time they have met on clay was at Roland Garros two years ago, in the second round. That was the match that announced Muguruza's arrival on the scene.
On that occasion it was Muguruza who won in straight sets, 6-2, 6-2. The psychological advantage could be with the Spaniard, despite the American's superior record.
Serena Williams has been troubled in both her quarter and semi-final encounters with Yulia Putintseva and Kiki Bertens respectively. Garbiñe Muguruza conversely made light work of Samantha Stosur on Friday and having fought back well against Shelby Rogers in the quarters, won out in straight sets.
Muguruza needs to make a fast start on Saturday and even if she does Serena can still fight back, to the consternation of her opponents on many an occasion.
It will be a battle of power and ruthlessness this weekend on Philippe-Chatrier. If Serena can be the chief aggressor, she will surely go on to lift yet another major trophy. If however, Muguruza can assert her authority - which she has in abundance - we might just see the arrival of the next big thing in women's tennis.