That concludes today's blog; I hope that you've enjoyed our coverage. Congratulations to Novak Djokovic who has now won all four majors. You can read Luke Anderson's report of the match which will be on our French Open page later. Our Vavel tennis team will continue to provide plenty of coverage across the grass court season, with more reports, previews and live blogs. We hope to see you there. Bye for now.
"It's one of the most special moments of my career and I want to thank everyone here for their support - thank you from my heart, and I hope to see you next year."
"I'm sure we will see you with the big trophies very soon. My family, my team, my loves, thank you so much for tolerating everything on a daily basis".
Career Grand Slam Winner Novak Djokovic: "I want to start off by saying congratulations to Andy for a great tournament, and it was a great pleasure to share these special moments with you".
"Congratulations to Novak's team you deserve it, well done. To Novak, this is his day. What he's achieved, the last 12 months is phenomenal, winning all the Grand Slams in one year is an amazing achievement. It's so rare in tennis, and for me personally, it sucks to lose the match, but I'm proud to have been part of today." he adds
Andy Murray steps up to the mic: "Firstly I'd like to thank my team and all of my friends and family who came. I'd like to thank all the crowd, it was a fantastic atmosphere today".
Presentation is under way as the Serbian national anthem rings around the Philippe Chatrier court.
Murray 6-3 1-6 2-6 4-6 Djokovic - Djokovic looked a little nervous in the opening set and Murray took advantage with some great offensive tennis. A break point which Djokovic saved in the opening game of the second set proved pivotal and from there it was one way traffic. Murray's aggression levels dropped and the Serb took full advantage after that. Murray's first serve percentage also decreased which put him in all sorts of trouble, however once Djokovic was in his stride there was no stopping the world number one who moved exceptionally and fully deserves his first title at Roland Garros. The Serb now has 12 Grand Slam titles and you wouldn't bet against him surpassing the great Roger Federer on 17.
NOVAK DJOKOVIC WINS HIS FIRST FRENCH OPEN TITLE
GAME SET AND MATCH DJOKOVIC 6-3 1-6 2-6 4-6 - Djokovic wins a backhand duel at 15-15 before an overhead smash earns him two match points. The first one goes with a double fault before a backhand wide makes it deuce. He gets another chance by swishing away a drive forehand. Murray then hits the net as Djokovic takes the title.
Murray 6-3 1-6 2-6 4-5 Djokovic*- Murray finds the line with a forehand at 0-15 then gets a cheap point with an accurate first serve out wide to the Djokovic forehand. Murray goes back on the attack and forces another error from the Serb who then hits a backhand into the net at 40-30.
*Murray 6-3 1-6 2-6 3-5 Djokovic – Murray Breaks. A glimpse of hope perhaps? A Djokovic double fault at 15-30 gives Murray break point and he takes it with a booming forehand cross court.
Murray 6-3 1-6 2-6 2-5 Djokovic*- Murray finds a couple of big serves but Djokovic returns them back with ease as only he can. A sledging backhand at 0-40 gives him the opportunity to serve for the match.
*Murray 6-3 1-6 2-6 2-4 Djokovic – Djokovic holds to love and is cruising towards his first title here. Murray returned brilliantly against the giant servers Karlovic and Isner but is struggling to put any sort of pressure on the world number one.
Murray 6-3 1-6 2-6 2-3 Djokovic*- A couple of big first serves relieve some pressure on Murray to give him 40-30 however a double fault brings the score to deuce. On break point Murray drives a forehand which the Serb sends beyond the baseline. Djokovic tries another drop shot but hits the net, keeping the score to just a single break of serve.
*Murray 6-3 1-6 2-6 1-3 Djokovic – Murray is often regarded as one of the best returners in the game but he's not making any impacts in Djokovic's service games here. The Brit dumps two second serves in the net as the Serb holds to love.
Murray 6-3 1-6 2-6 1-2 Djokovic* The Philippe Chatrier crowd which have been pro-Djokovic for most of this match are starting to get behind Murray who stays in touching distance with a couple of overheads at the net following some crushing forehands. A Djokovic backhand goes drifts long to end the game.
*Murray 6-3 1-6 2-6 0-2 Djokovic – An alarming stat for Murray is that he has only hit six winners since he won the first set. He hit 10 in the opening set alone. The pattern continues with another Djokovic hold of serve.
Murray 6-3 1-6 2-6 0-1 Djokovic* Djokovic Breaks At The Start Of The Fourth. It wouldn't be a normal French Open match if Murray wasn't complaining about the overhead camera. Crucially though he is still paying the price for a lot of missed first serves which are putting him on the back foot. Five more holds of serve and Djokovic will be champion here for the first time.
*Murray 6-3 1-6 2-6 Djokovic THIRD SET DJOKOVIC. Two missed returns from Murray give Djokovic a 30-0 lead before a forehand in the net makes it triple set point. Djokovic sends his next two backhands wide before Murray floats another backhand long to concede the set.
Murray 6-3 1-6 2-5 Djokovic* - Murray loosens his shoulders with the set almost gone; at least Djokovic will have to serve it out, meaning Murray would start serving at the start of the fourth.
*Murray 6-3 1-6 1-5 Djokovic - Murray is starting to look very dejected at the moment and surely he already thinking about the start of the fourth. Djokovic saved four break points in that game but is keeping the Brit at arm's length now. Another return sails long to give Djokovic a 5-1 lead.
Murray 6-3 1-6 1-4 Djokovic*Murray is suffering from a noticeable lull here and looks like he'll be facing a two sets to one deficit very soon. He sends another backhand long to go down 15-40 before Djokovic digs out an attempted Murray drop shot cross court to secure a double break.
*Murray 6-3 1-6 1-3 Djokovic - Another tight game, but the Serb comes through once again. At 30-30 he sends a forehand return just long hitting a midcourt backhand into the net.
Murray 6-3 1-6 1-2 Djokovic* Djokovic Breaks. The Serb is now playing better than he has done the entire match and appears to have Murray on the ropes. Murray hasn't helped himself by missing first serves on break points and now needs to respond fast. At 30-40 the Brit puts a volley into the net after some great defence from Djokovic.
*Murray 6-3 1-6 1-1 Djokovic - Murray ties to up the aggression again but Djokovic repels the pressure. The Serb lets an overhead bounce before hitting the net at 30-15 before serving a second serve ace. Murray gets the score back to deuce but Djokovic serves out the game.
Murray 6-3 1-6 1-0 Djokovic* Great response from Murray who shows plenty of positivity, winning an extended rally at 30-30 then shouting 'let's go'. A big serve down the tee seals the game.
*Murray 6-3 1-6 Djokovic SECOND SET DJOKOVIC. In that set Murray's first serve percentage dropped from 61 per cent to 47 per cent, while Djokovic's rose from 68 per cent to 72 per cent. Fine margins, but a big difference in terms of the score line.
Murray 6-3 1-5 Djokovic* This is the Novak Djokovic we expected to see at the start of the match. The Serb is now moving Murray from corner to corner and wins the game with a piecing backhand down the line.
*Murray 6-3 1-4 Djokovic Another comfortable hold of serve for Djokovic, who is has started pushing Murray back behind the baseline. The Brit is no longer dominating with his forehand like he did in the opening set.
Murray 6-3 1-3 Djokovic*Djokovic has tightened up his game in the last 20 minutes but Murray is hanging on to this second set. The Brit saves two more break points, with Djokovic dumping the second into the net with a mistimed drop shot. Murray escapes from the game with an ace.
*Murray 6-3 0-3 Djokovic Well it wasn't going to last forever. Djokovic is striking the ball much more freely now and seems to have adjusted to the pressure of this final. Another hold gives him a commanding second set lead.
Murray 6-3 0-2 Djokovic* Djokovic Breaks. Murray pays the price for some missed first serves and Djokovic takes advantage as he starts to extend some of the rallies. At 15-40 Murray saves a break point with a gutsy second serve but double faults on the next point.
*Murray 6-3 0-1 Djokovic Djokovic finally finds some first serves to save a break point. Murray is forcing him to hit closer to the lines and the responded in that game.
Murray 6-3 Djokovic* FIRST SET MURRAY. Djokovic will feel hard done by after a Murray second serve is called out but is overruled by umpire Damien Dumusois . The Serb hit the return long but replays show the call came mid-swing, Murray gets the point prompting an argument between the Serb and the umpire. At 40-0 Djokovic saves two set points but send the third one into the net.
*Murray 3-5 Djokovic Murray will have to serve it out. Djokovic plays a well-constructed point at 30-30, before finishing at the net. He then seals the game with an ace.
Murray 5-2 Djokovic* Big hold of serve from Murray as Djokovic starts to apply some pressure. A couple of first serves misfired in that game but Murray held on and now Djokovic will have to serve to stay in the opening set.
*Murray 4-2 Djokovic Djokovic is let off the hock as Murray misses a routine backhand at deuce. It could be a decisive point if the Brit doesn't go on to win the opening set.
Murray 4-1 Djokovic*Another ace to finish for Murray who has come out swinging in this final. He's ripping his forehand and at the moment Djokovic has no answer to the Brit's offensive start.
*Murray 3-1 Djokovic Murray Breaks Again. Murray is punishes Djokovic's second serve at 0-15 and then extracts some uncharacteristic errors from the world number one. Five unforced errors from the Serb already.
Murray 2-1 Djokovic* The first hold of serve. Better serving from Murray who holds to love and finishes the game with an ace.
*Murray 1-1 Djokovic Murray Breaks Straight Back. Djokovic saves two break points at 0-40 but the Scot takes the third with a deft drop and lob over the world number one's head.
Murray 0-1 Djokovic* Djokovic Breaks. The drop shot has been a regular feature in this year's competition and the Serb uses it twice there to win the game to love.
'Ready Play'
The players are on court. Murray wins the toss and elects to serve.
Neil Leverett: "Its a little warmer in RG today. That could play into Djokovic's hands. When its overcast and cool, the conditions would favour Murray as Nole's power is diminished. However, Murray's game has improved in the hotter conditions of late so it's more even. Since the quarters the Scot has ramped up the aggression from the baseline and has the technics to beat Novak's short game. I think this is a great opportunity for Murray to finally beat the Serb in a slam final" (Winner Murray)
Luke Anderson:"I think Djokovic will complete a career slam here, whilst I think Murray will come close, he's already achieved something he hasn't before and I think Djokovic will want it more. Djokovic in four for me. (Winner Djokovic)
Glenys Furness: "Very close to call. If Murray comes out as he did on Friday against Wawrinka, or as he did against Djokovic in Rome - then he can do this and deny Novak the career grand slam. If Murray can win the first set it sets up his best chance". (Winner Murray)
Novak Djokovic: "I'm sure it's going to be a final with a lot of emotions and exchanges from the baseline because we have a similar style of game. I know his game he knows mine. I'm sure we'll both give it our all."
He continued: "When I was having problems with my back on clay, I never thought it would happen for me here. Last year, I started to have the belief that I could do it. It's great credit to my team to get my body healthy."
Murray is trying to become the first British man to win the title at Roland Garros since Fred Perry 79 years ago. Speaking to the press in the build-up, he said: "Reaching the French Open final is definitely not something I thought I'd do."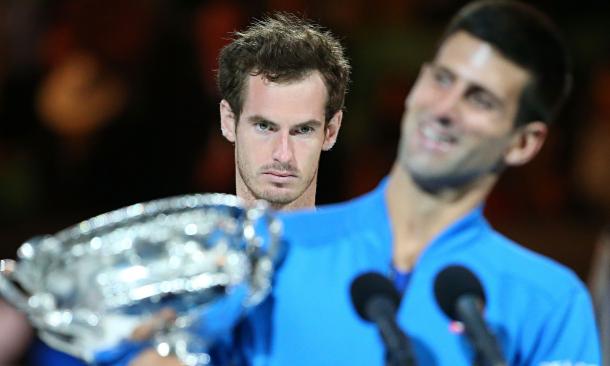 Djokovic leads the head to head record by 21 matches to 10, with their last meeting at a Grand Slam coming earlier this year when the Serb prevailed 6-1 7-5 7-6(3) in the Australian Open final. Murray's last victory over Djokovic at a major was when he won the Wimbledon title back in 2013, but they have met just once at Roland Garros when the Serb won last year's semi-final in five sets. The pair have met six times in Grand Slam finals with Djokovic winning four and Murray winning two, but they have never played each other in the final here.
In the semi-finals Murray showed just how much his game on clay has improved over the past year and his form coming into this year's competition oa better than ever before. Murray even beat Djokovic 6-3 6-3 on clay in the final of the Rome Masters when the pair last met a few weeks ago. However the Serb did get the better of Murray in the final of the Madrid Masters, also on clay, a week earlier.
As for Murray, well his tournament was nearly over in the very first round when Czech veteran Radek Stepanek was just two points away from beating the world number two. After eventually scrapping through, the Scot needed five sets again in his second round to see off French wildcard Mathias Bourgue – though those matches seem a distant memory now. Murray was superb when defeating the giant servers Ivo Karlovic and John Isner in rounds three and four respectively – both in straight sets. He then went on to end the France's last hope by beating Richard Gasquet before a magnificent performance against defending champion Stan Wawrinka, who he conquered 6-4 6-2 4-6 6-2.
Djokovic has dropped just one set in this year's competition to Roberto Bautista Agut in the fourth round, when both players had to battle through treacherous weather conditions earlier this week. Apart from that it has been relatively straight forward for the world number one, who brushed aside the exciting young Austrian Dominic Thiem 6-2 6-1 6-4 in the semi-final. However Djokovic did show signs that the pressure was getting during his straight sets victory over Tomas Berdych in the quarter-finals, when the Serb bounced his racquet in frustration and it came within metres of hitting one of the line judges.
Novak Djokovic is on the verge of greatness and could become only the fourth man in the open era to win all four Grand Slam titles, alongside Andre Agassi, Roger Federer and Rafael Nadal. The Serb will be trying to win his 12th major this afternoon, and his first French after losing in the final two years in a row - to Nadal in 2014 and to Stan Wawrinka last year.
Hello my name is Joe Nicholson and welcome to our live coverage of Andy Murray - Novak Djokovic in the French Open final. The players are due on court at 2:00pm, so stick around for live game by game updates and opinions from our VAVEL tennis writers as both players attempt to win their first title at Roland Garros.