Andy Murray won an unprecedented fifth title at Queen's Club after battling back from a set down to beat giant Canadian Milos Raonic.
Murray has previously only won the title, which acts as preparation for Wimbledon, in odd years after triumphing in 2009, 2011, 2013 and 2015.
Yet after exciting his fans earlier in the week by announcing he would once again work with former coach Ivan Lednel , Murray defended his crown for the first time in his career following a 6-7(5) 6-4 6-3 victory to win the Aegon Championships.
Raonic also surprised the tennis world by employing a super-coach of his own in seven time major champion John McEnroe two weeks ago and the Canadian played his part in a gripping, high quality final.
Under McEnroe's guidance he will no doubt be a threat at Wimbledon in a week's time, however on this occasion Murray showed why he is one of the best on this specialised surface.
Both players came into the final in fine form, Murray had dropped just two sets on his route to the final while Raonic had lost just one to the talented and temperamental Nick Kyrgios in the opening round.
High quality start from both players
The quality of tennis was impressive from the off, and the pair's contrasting styles produced some entertaining exchanges.
As expected Raonic won the majority of his points with his monstrous first serve and most the rallies were kept to a minimum on a zippy grass court.
Even so it was a fascinating battle as Murray attempted chip or chop back the Canadian's serve any way he could.
In contrast Raonic, instilled with McEnroe's tactics, charged into the net at every possible opportunity, whether it was off the back of a skimming slice backhand or a booming forehand.
The Canadian's skills at the net have improved considerably in the past few months, yet Murray was still able pull off some spectacular passing shots on the run.
There were a couple of 15-30 openings for both players on their opponent's serve, however neither managed to muster up a break point on the way to a first set tie break.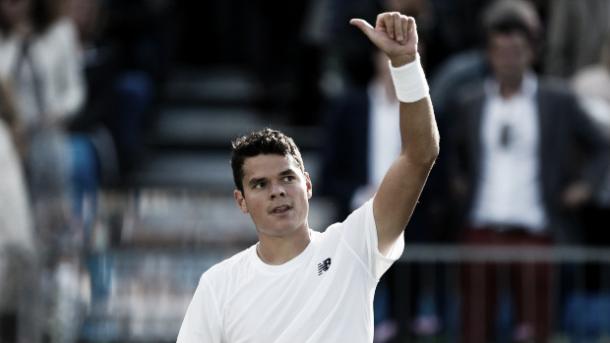 Raonic clinches the opener on a tie-break
Raonic played the first three points of the breaker with purpose and intent to race into a 3-0 lead - charging into the net on every one of them.
Despite clawing the mini-break back and levelling at 5-5, Murray faced a set point following a Raonic smash and the Canadian sealed the set with a forehand pass.
A brief lull at the start of the second set then saw Murray lose his serve for the first time in the match slip to a 3-0 deficit against a rampant opponent.
However at 3-1 Raonic missed a volley by little more than a smidge of grass following a Murray challenge, had it dropped in the Canadian would have been just two games away from victory.
Murray comes roaring back
Yet within a couple of minutes Murray had flipped the match on its head and two points later he broke serve at the first of time of asking with an instinctive backhand return.
After holding for 3-3, Murray pressed on the accelerator once more before he eventually completed a brilliant winning run of five straight games.
Raonic hadn't dropped his serve all week before this match, but after surrendering the second set he immediately faced two more break points at the start of the decider.
Raonic belief disappears
The Canadian saved the first, however the second was excellently won by Murray who capped off a breath-taking 24 shot rally with a delicate drop shot.
Murray was now in his opponent's head as he continued to hook back ball after ball to Raonic's disbelief.
Raonic's first serve subsequently dropped while Murray refound his first delivery and didn't face a break point in the entire third set.
The Canadian lost his serve again at 3-5 when he dumped a final volley into the net and complete Murray's victory.
The British number one appears in good shape for Wimbledon which starts on June 27, but as we all know they'll be a certain Novak Djokovic to overcome if Murray is to complete a grass court double.