The buzz around Devonshire Park reached fever pitch as Johanna Konta took to centre court as she faced Lesia Tsurenko, a Ukrainian who defeated Shuai Zhang earlier today.
Everyone was in expectant mood; feeling that Konta would breeze through without any real problems. But after the first set, that mood changed as Tsurenko had Konta on the back-foot for the majority of the first set.
From the get go, Tsurenko showed Konta that just because it's her hometown tournament she wasn't going to get things her own way. The Ukrainian was serving well, and when it came to the more intricate nature of the game, Tsurenko was making Konta do all the running.
For the 25-year-old it looked a case of opening match nerves, she was tentative and her service game was a bit tetchy, and in particular her backhand let her down on more than several occasions.
When the first set was entering the business end, a tremendous battle of deuce ended with Tsurenko winning what was thought to be a vital point, and ultimately a vital game.
It was a deuce battle which saw both Tsurenko and Konta exchange blows. Tsurenko would pull out a terrific serve, and then Konta would reply with a nice shot of her own.
But for Tsurenko her endeavour paid off as she won what was a mightily tight game, and after exceeding 10 break points Tsurenko finally pipped Konta and took the lead in the first set 6-5. But for Konta it was a disappointing end to a battle which, if she had picked her shots better, she might have broke Tsurenko and looked to push on, but it didn't happen.
Konta pulled the first set into a tie-break; and it looked as though the hometown girl had put her first set nerves behind her as she went into a 6-3 lead. But the pattern of the first continued. Tsurenko replied and for a moment centre court held their breath. But Konta did manage to come through and win what was an utterly absorbing set 6-7.
After winning the first set, Konta was on a high; at the beginning of the second Tsurenko was refusing to lie down quietly – but Konta managed to get a tricky opening game out of the way and after that it was one-way traffic as Konta settled and began to play the tennis that has seen her rise to 18th in the world and the British no. 1.
Konta said she was pleased to be out playing at her hometown event
It was a tough game for Konta, Tsurenko pushed her hard throughout, but eventually the British no.1 Konta showed her mettle as she progressed to the third round, where she will play Petra Kvitova.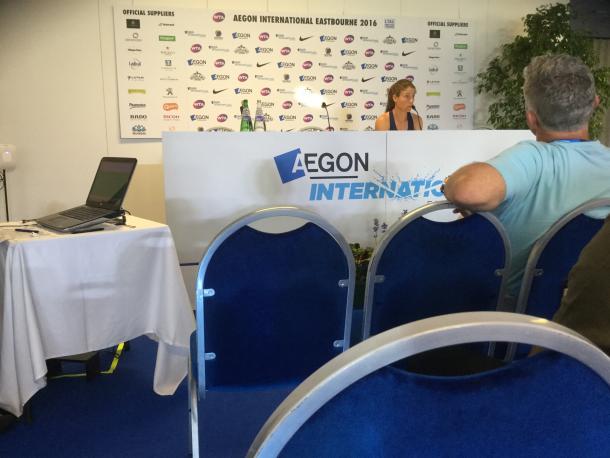 And speaking after the game, Konta said: "I think what I did best was probably maintain a good level throughout the match."
The first set, particularly was a tricky one for Konta, as Tsurenko put her under pressure, but the Eastbourne girl rode her luck at times and in the end she came out with the victory in the first, after a tie-break.
Speaking on the first set, the 25-year-old said: "It was a helluva long first set, that's for sure. But the more time I can get on the grass, the better, so I really enjoyed being out there."