After defeating former World no.1 Caroline Wozniacki at Eastbourne yesterday 4-6, 6-3, 6-4 Monica Puig is confident as she heads into Wimbledon.
It was a three set thriller on centre court yesterday as Woznaicki started the better of the two. But before the tie against Puig, Wozniacki had not dropped a set. But by the end of it, she had dropped two and crashed out of the competition.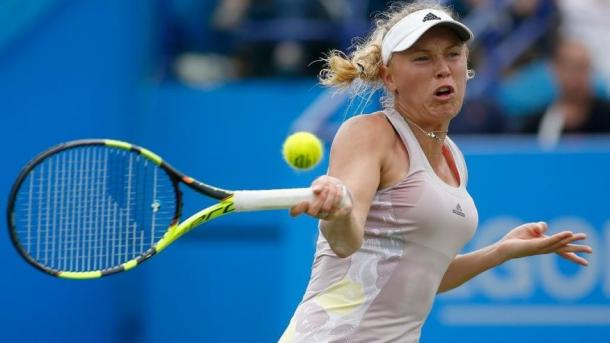 But for the Puerto Rican; it has been an impressive tournament so far; she was seeded as a qualifier and has performed admirably throughout the tournament.
But her victory over Wozniacki was indication that the world no.43 is rapidly becoming a dark-horse for next week's Wimbledon.
Puig says she feels 'really' good as preparations for Wimbledon are taken up a notch
Speaking after her hard-fought victory over the 25-year-old Dane, Puig was pleased with her performance, saying: "She's a great player [Wozniacki] and she makes you work for every single point, so it was really up to me to stay focused in my game plan."
In the first set, Puig broke Wozniacki's serve once, and in the deciding set, the Puerto Rican broke the Dane a further two times, which really showed the confidence that Puig is currently exhibiting out on the court.
Talking about that final set, Puig said: "Well, I think just the way I was aggressive there at the end. You know, it's never easy also to close out a match when you're serving, especially when it's 5-4."
With Wimbledon and the Olympics looming for Puig everything seems to be aligning well for the 22-year-old.
"I'm feeling really good going into Wimbledon. Obviously I want to get as far as I possibly can here first and then focus on that," said Puig.
Momentum is a big thing heading into a Grand Slam and at the moment Puig has bundles of it: "Especially going into a Grand Slam you always want to be in top form there. I know there are some things I can improve even off today's win."