Monica Puig continued her impressive run in the AEGON International at Eastbourne today as she progressed to the semi-finals after defeating Kristina Mladenovic 7-6, 4-6, 6-3.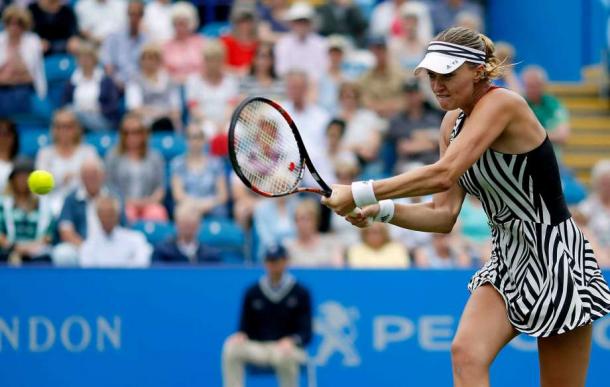 At the start of the week the Puerto Rican entered the tournament as a qualifier, but now she is on the verge of reaching her first Eastbourne final.
It was another lengthy three set thriller on centre court today; Mladenovic battled well against the in-from Puig; but ultimately the 22-year-old had the better of the game.
The Puerto Rican's preparation for Wimbledon is going well and with the Olympics coming up for Puig she has a lot to look forward to.
Mentally and physical Puig is ready for Wimbledon and the Olympics
The pressure is well and truly off for Puig, as no-one really has expected to perform the way she is doing; and speaking about her surprise run this week at Wimbledon, Puig said: "I always try to stay as positive as possible, but it definitely does feel good to get this win under my belt and move into the semis."
The draw for Wimbledon is upcoming, and Puig will be someone, not many people will want to face, but for Puig she will look out for the draw, but won't pay too much attention to it; until Wimbledon approaches.
"I like to look at the draw but then again I'm not really putting too much of an emphasis on it this year," said the 22-year-old.
Qualifying for the Olympics is now in the bag for Puig; so the Puerto Rican can look forward to the rest of the grass court season with confidence.
"I mean, I'm just trying to enjoy every moment on the court, obviously there is a long way to go and I have a lot more goals I want to accomplish, so those are my new target points and focus," said Puig.