Johanna Konta bowed out of her hometown tournament in spectacular fashion yesterday as she lost 6-7, 6-3, 6-3 to Karolina Pliskova on centre court.
It was a dramatic match where Konta fell in the second set; centre court held its collective breath as Konta was visibly upset on the sidelines, but thankfully for Konta nothing serious happened, and heading into Wimbledon, the no.17 seed is well and good.
It was a tough match for both players, as they both had to play twice. But the 25-year-old started the first set well and won the tie-break to take a lead over the tall Czech player.
But in the second set all hell broke loose; Konta slipped and looked, as if she might have retired from the contest. And then in the crowd someone was taken ill which all added to the suspense of what was already a titanic battle between two players which have performed well over the course of the week.
Konta insisted 'nothing major happened' as injury concerns were dismissed ahead of Wimbledon
Obviously it must have been tough for Konta immediately after the aftermath – being so close to a final in her hometown must have hard to take; but in the press conference afterwards she was in jovial and bouncy spirits.
Speaking about the fall, Konta said: "No, it was quite an aggressive fall the way it happened, it rattled me a bit, but nothing happened, nothing major happened."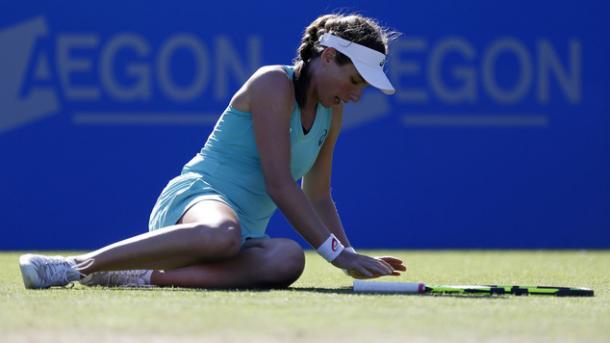 For the crowd on centre court it was tough to see their hometown golden girl in the state she was; but the world no.18 insisted she tends to cry when she gets emotional.
"The crying happened just because the shock of the fall, it really did shock me because the way my leg twisted, it was like it was just a bit of a shock," admitted Konta.
It's been quite a week for Konta
Konta tends to make a lot of firsts at her hometown event, last year it was the first time she made the quarter-finals, and this year it was the first time she had made a semi-finals of a WTA event.
"Shocking. Well it was pretty spectacular in way. I mean, I played again a bunch of really, really good matches against really, really good players," said the 25-year-old.
Playing a hometown event brings it own special merits, Konta has got to spend time with her family; something that being on Tour most of the year, makes it extra special.
But the whole occasion of the event has really been focussed around Konta; and speaking after her match, she said: "I get to just be in this little bubble of an environment that much longer, I want to prolong it and, yeah, make it last as long as possible."
Monica Puig awaits Konta at Wimbledon
The draw for Wimbledon took place yesterday; this year will be different for Konta as she has been seeded 17th meaning her draw is slightly easier. But the first round threw up an intriguing match-up against Monica Puig.
The Puerto Rican also has had a superb week in Eastbourne; she started the week as a qualifier, and made it all the way to the semi-final where she lost to Dominika Cibulkova 6-2, 6-1.
"It will be a tough match. But we played I think once previously last year on the grass and it was a close match then, I'll expect nothing other than it being tough," Konta said about a tantalising match-up against the 22-year-old Puig.