Two men at the opposite ends of the career spectrum; experience triumphed over youth at Wimbledon at Monday lunchtime as 37-year-old Ivo Karlovic defeated 19-year-old Borna Coric in this all-Croatian first round battle - the final score 7-6(8) 7-6(7) 6-4.
Part of the ATP's 'Next Generation', Coric was expected to show that in something of a changing of the guard performance against one of Croatia's most experienced and most consistent performers.
However, while he showed his potential in spots, his performance perfectly highlighted his one weakness; inexperience.
The match in general was well fought and very tight, two sets decided on tiebreaks and the other finishing 6-4. Coric in fact lead in both tiebreaks - the second by a 6-2 scoreline, giving himself four set points - but he was unable to show composure in the big moments, unlike his opponent.
Karlovic's hard work and grit earned him the victory, with him to face either world number 48 Paolo Lorenzi or qualifier Lukáš Lacko in the second round.
Opportunistic Karlovic takes the opener
This was always going to be an even match, and the first set confirmed that assumption. Neither man was troubled on his serve to start, both using their heavily contrasting styles to keep the other at bay.
However, Coric was itching to break, attacking positively while his opponent was serving as he hit five forehand winners in the first five games. Karlovic looked solid and never overly-concerned by his opponent, but it was clear the teenager's energy would be key to a victory against a less mobile player.
While both continued to serve without problems throughout the set, Karlovic would struggle to contain Coric on the tiebreak. However, he only had himself to blame.
Composure is something you associate with an experienced player, but he showed anything but that as he handed his opponent an early advantage and confidence boost on the first point, missing a routine volley.
Coric used the mini-break as a platform to build on, but Karlovic would atone for his error as the two fought it out for slender leads and the occasional set point in an enthralling tiebreak.
Despite his early blip, it was the 37-year-old who took the first set, a delicious sliced return accompanied by a slice of fortune, with it just clipping the net to stop Coric from having any chance of sending it back.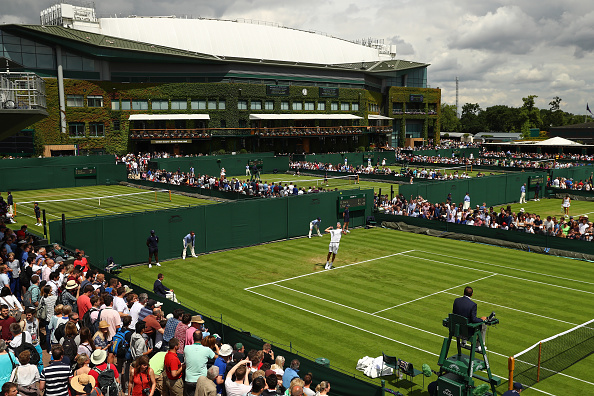 Coric again displays inexperience on the tiebreak
The setback didn't dent Coric's confidence though, or it didn't appear to, as the second set continued in the same vein as the first.
As the two scrapped it out, neither able to really threaten the other's serve, Karlovic squandered a big chance just past the hour mark that could have been pivotal in the match.
With one hour and six minutes on the clock, the 37-year-old earned himself the match's first break point. However, while Coric played the point out rather well, it was an unforced error from his elder that allowed him to save it.
This could have proven to be an even bigger missed opportunity just one game later, but Coric too let a break point pass him by as Karlovic mustered up a brave and fierce second serve as the match started to become a lot more open after a cagey start.
Inevitably though, we stumbled into another tiebreak, one which Coric again registered an early edge in. This one looked set to play out in his favour too, with him clearly ruing defeat on the first as he clinically raced into a 6-2 lead that gave him four set points.
However, Karlovic kept his cool to save each and every one of them, plus a fifth shortly after, before powering a forehand at Coric that the teenager flapped at as the veteran celebrated an unlikely but superb victory in set number two.
Lessons to be learned for the teenager
Leading by two sets, the pressure on Karlovic shoulders suddenly lifted and shifted itself onto those of his opponent, allowing the 37-year-old the freedom to enjoy the third set.
It was clear that he was feeling it too, the teenager a little shakier on serve as his opponent pushed for a breakthrough to avoid a third tiebreak.
He would do so in the end, forcing a break point as Coric crumbled while serving to stay in the match - and the Championship - with Karlovic taking full advantage of the gulf in experience to steal the third and final set at 6-4.
Coric may be touted as a future Grand Slam winner, but his performance today showed that there is a long way to go yet in his promising career.