Five-time Wimbledon champion Venus Williams reached the third round of Wimbledon after defeating the Greek qualifier and rookie Maria Sakkari 7-5, 4-6, 6-3. Still going strong at 36, even when ludicrously being pushed to Court 18, an open draw gives Williams every chance of going all of the way.
Sixteen years after winning her first Wimbledon, the eighth-seeded Williams, was punished for her lack of movement on the court, nevertheless the oldest player seeded in the top eight will play Daria Kasatkina in the next round of the Grand Slam.
Experience above all
A time violation warning and thunderous groundstrokes of her rival could not throw Williams off, apart from a loss to an unranked Kim Clijsters at the 2009 US Open, the American has not lost to a player that is ranked outside the top 100 at a Grand Slam.
Williams won her last Wimbledon titles in 2008, and since 2001, she has not been able to move past any further that the fourth round.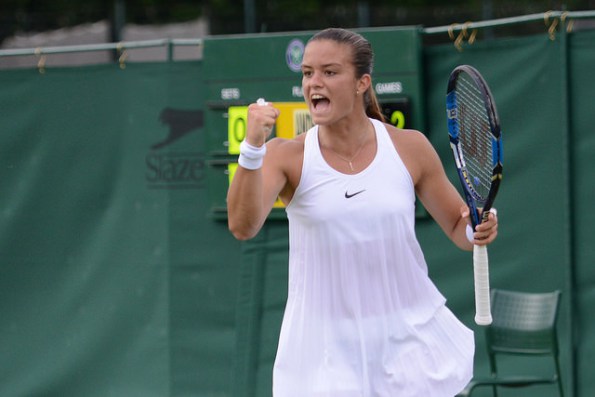 Williams broke early but then lost it, but eventually went on to break again to nick the first set 7-5 against the Greek, using an aggressive strategy with 24 trips to the net just in the first set, the pressure finally paid off.
Wimbledon debutant Sakkari hit the ground running with her powerful groundstrokes and started to hit the targets with more consistency. Venus not wanting to be upstaged by a 20-year-old ,and desperate to contest her 300th grand slam match if she is to succeed in reaching the fourth round, equally upped her own game.
World number 115 Sakkari's hopes of beating the famous older sister had gathered some momentum when she managed to break Williams three times to bag the second set, leaving it to a tie breaker.
Williams desperately wanted to put the game away by the second set, she had to dig deep in the third and final set she rediscovered her powerful and accurate hits to book herself a last 32 meeting with Russian Kasatkina.