Eugenie Bouchard sealed an impressive 6-3 6-1 6-1 victory on centre court looking somewhere near her best again she is certainly a content to go all the way as she will now face Slovakian Dominika Cibulkova in the third round she's a finalist at Eastbourne
The match marked a tremendous Wimbledon return for the Canadian, who last year looked fragile in the first round of the tournament beaten by qualifier Duan Yingying.
Konta began with the intent driving the forehand into the corners before a hot backhand cross the court gave the Briton an early 2-1 lead in the first but failed to continue with her outburst of varied shots as Bouchard soon found her rhythm.
Bouchard unleashed a golden spell of six games with better accuracy from the baseline being almost faultless in which she won five of those which sealed the first set, only making just one unforced error in the opening nine games.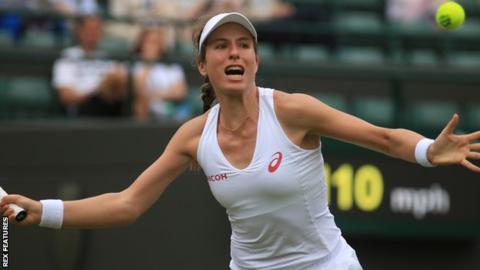 With that power came in the first set left Konta determined to fight back as she broke again in Bouchard opening service of the second set. She held her own with the power and intense pressure with the crowd behind her she kept her momentum and raced to take the second set.
Starting to waver under pressure
Konta, flustered by Bouchard exceptionally well hitting, began to waver under the pressure, which saw her dependable forehand become erratic and her first serve repeat fails to find its mark and become predictable
Going toe-to-toe with the momentum swung again, it was Konta who found herself in trouble early on in the third set as Bouchard raced to a 3-0 game lead breaking Konta's serve. The Briton had a chance to fight back but wasting three break points allowed Bouchard to put the third set away in one hour and 47 minutes to continue on in the competition.