Fifty-three weeks ago, a rather mediocre Aegon Open came to a close in Nottingham as Uzbekistan's Denis Istomin claimed his first - and, to date, only - career title with a 7-6(1) 7-6(6) victory over America's Sam Querrey.
Fast forward 53 weeks, and the two have just experienced the most contrasting emotions possible on Saturday 2 July, 2016.
Istomin endured feelings of disappointment as he crashed out in the third round of Wimbledon, losing in four sets to 11th seed David Goffin.
While he will certainly recall this day - if at all - as a rather unmemorable one, the same cannot be said for Querrey, who undoubtedly recorded his career highlight as he eliminated reigning champion, world number one and, arguably, the greatest of all time; Novak Djokovic.
From one extreme to the other
The two events are merely 12 months apart, but their contrast could not be higher. Handing the world number 92 a maiden title, one worth just 250 points, and ending the best in the world's 30-match winning streak in Grand Slams are certainly two different days out.
However, Querrey was simply excellent over the course of the two-day long match, taking a two-set lead to bed with him on Friday night before resisting Djokovic's resurgence to wrap things up on Saturday afternoon - in and amongst enough rain delays to last a lifetime.
Thirty-one powerful aces helped the American break down his opposition, with his big serve absolutely key on the tiebreakers that gave him a one-set lead and saw him seal victory in four.
Querrey won 79 per cent of points on his first serve, and it was this part of his game that was simply key to the most unlikely of wins.
While Djokovic admitted he was not himself, though without trying to take anything away from his conqueror, Querrey was simply magnificent as he went at the world number with nothing to lose and no fear - and it was a bold approach that got the reward it deserved.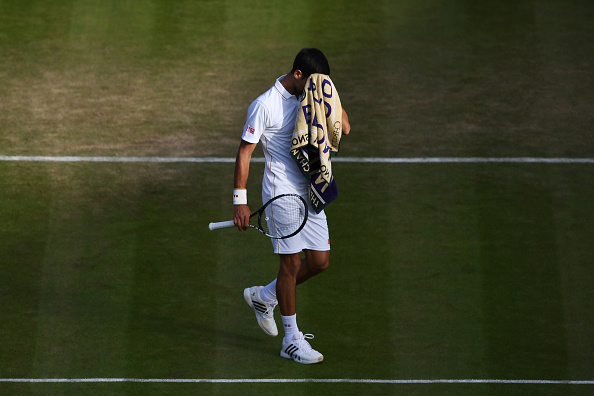 Querrey caps off a splendid 2016 - and it's only just July
Of course the win was a surprise, but anyone beating Djokovic is a surprise; he consistently looks that unbeatable.
Even when the likes of Roger Federer and Andy Murray occasionally come out on top against the Serb, it's an upset and a shock, such are the high expectations that he brings to the court today.
However, Querrey's victory caps off a terrific recent rise by him. Back in February, he made it past the second round of a tournament for the first time since last July, and since then it's been up, up, and only up.
A semi-final in Memphis, a title win in Florida - just the eighth of his career and his first since 2012 - and a return to the top 50 has the 28-year-old playing with confidence again, and playing at near enough his very best.
Surprisingly nimble on the court despite his height, but using all 6ft 6in of his stature to produce a venomous serve, Querrey has spent most of his career wilting in the shadows cast by fellow American 80s kids Mardy Fish, Andy Roddick and John Isner.
Yet, while the latter consistently fails to make his mark at Grand Slams - the former two having retired - Querrey has recently thrived in a no-pressure environment; one Djokovic, on the other hand, will not be familiar with.
Plenty of youth coming through, but plenty of experience still around
With three seeds in the singles draw for Wimbledon 2016 - while promising youngsters such as Jared Donaldson, Taylor Fritz and Frances Tiafoe slowly creep up the rankings - American men's tennis is in a fantastic place right now.
The last American male to be crowned a Grand Slam singles champion was Roddick at his home open in 2003, but the country's long wait for another champion looks sure to end sooner, rather than later.
Of all the potential that excites Stateside though, Querrey showed today that experience certainly does count for something and that you don't have to be young and unknown to cause a stir.