Roger Federer breezed past Steve Johnson in straight sets to advance through to the quarter-final at Wimbledon.
Federer, who hadn't dropped a set in the first three matches he played in the tournament, started the match like a man on a mission and was far too good for Johnson who just couldn't get going in the first two sets.
The third set was much closer but Federer's experience saw him through as he won the match 6-2, 6-3, 7-5 and he will play Marin Cilic in the quarter-final.
Federer begins the match like a man on a mission
The first set began with Federer holding his serve with ease as he looked to get off to a great start. Johnson though also held his first service game with some massive serves that Federer couldn't return
The next three games in the set went with serve before Federer got the first break of the set when a number of unforced errors from Johnson handed Federer a 4-2 lead.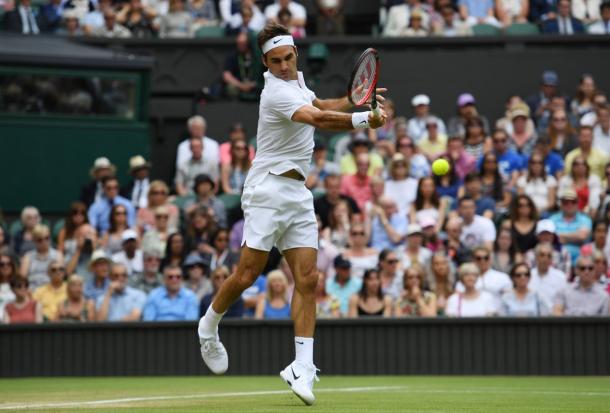 Federer though had to be aware in the next game as Johnson looked to break straight back, and the American took a 0-30 lead but Federer used his experience to come back and take a 5-2 lead.
It meant then Johnson had to hold his serve to stay in the set and things were going to plan when he was 40-15 up but again a number of errors from the American let Federer in and he broke again to win the first set 6-2.
Federer goes two sets up without breaking a sweat
Federer opened up the second set with an easy service game as he was in imperious form. Johnson held serve in the next game but not before Federer forced the game into deuce.
Federer then held serve impressively in the next game before once again breaking Johnson's serve as he looked to finish the match in a hurry.
The next four games in the set went with serve meaning that Federer had to serve at 5-3 for the second set.
Johnson threatened to break back but Federer wasn't going to let anything stop him as he was in fantastic form to take the second set 6-3 to go within one set of the quarter-final.
Johnson fights hard but Federer's experience sees him through in straight sets
Johnson opened up the third set with a hold of serve but he had to fight for it as Federer took him to deuce.
Federer responded with a hold of serve of his own and then Johnson held serve again as he was looking more at home on the centre court all of sudden.
This carried over into the next game as for the first time in the match Johnson managed to break Federer's serve to take a 3-1 lead.
Johnson though couldn't back up the break as he handed the initiative back to Federer by giving away his lead he had earned.
Federer then levelled up the third set at 3-3 after holding his serve expertly.
Both players then held their next two service games before Federer, being the ruthless player that he is, got the decisive break to go 6-5 in front and with the chance of serving for the match.
Federer didn't need a second chance as he served the game out with ease to win the set 7-5 and advance through to the quarter-final in straight sets.