Andy Murray is through to the quarter-finals of Wimbledon to face Jo-Wilfried Tsonga and is one step closer to regaining the famous trophy for the second time in his career.
The British number one saw his talented and unpredictable opponent off with a 7-5, 6-1, 6-4 victory on Centre Court on Monday in an hour and 43 minutes.
This win was Murray's 50th at the All England Club, as the Scot moves through to the last eight with a meeting with old rival Tsonga, who still has yet to drop a set during this tournament.
Focus is the key
Matching Murray's ability on the grass court for the better part of the first set, Nick Kyrgios soon lost his focus in a game that initially promised to be an entertaining game fizzled out as he didn't read his full potential because of his clear attitude on and off the court.
Purposely taking his time between points to slow down the quick pace rhythm of Murray, who answered with glorious mix of shots, Kyrgios began to be run ragged at the end of the match and lost his cool just like in previous matches.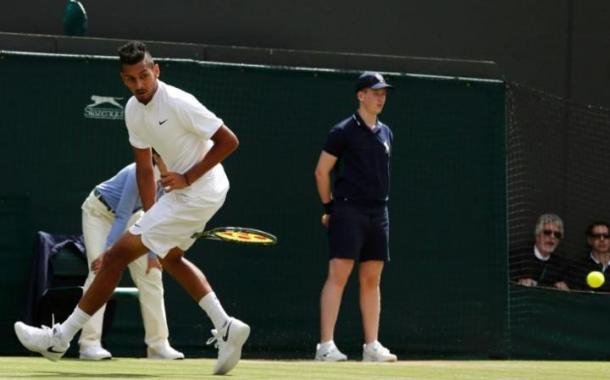 The world number two was completely focused throughout the entire match winning 80% of the points, including Kyrgios' second serve, denying the Australian a break point. Murray was doing a great job at really frustrating the Australian by mixing up shots, not allowing him to find any sort of momentum on the court.
Weather being a nuisance
Murray forced another break point of the serve in the fourth game of the second set to lead 3-1, Kyrgios smashing a return wide allowed the Scot to break again and swiftly taking the set
Although it could be but down to over playing, as this was his fourth consecutive day of playing with game being affected by the weather while Murray safe under the roof, there was no doubt he tried to regain focus with two match points saved, but it didn't matter as the 29-year-old took the third and final set with an ace.