Andy Murray has come through his first major test at this year's Wimbledon and is now just two matches away from lifting his second title at the All England Club.
The steely Scot fended off the powerful and talented Frenchman Jo-Wilfred Tsonga in a pulsating quarter-final clash which lasted three hours and 53 minutes.
At two sets up it looked like Murray, who is the firm favourite for the title following Novak Djokovic's premature departure, could even make it through to the last four without dropping a set.
As a former semi-finalist himself Tsonga had other ideas, and threatened stage a remarkable comeback against all the odds on the realms of Centre Court.
In the end it was Murray who won the battle of attrition and power after taking an early stride at the start of the fifth set, before recording a 7-6 (10) 6-1 3-6 4-6 6-1 victory.
He will now take on Tomas Berdych in Friday's semi-final after he defeated another Frenchman in Lucas Pouille. Looking further ahead it could be Roger Federer or Milos Raonic in Sunday's final for Murray, but he won't be thinking about that just yet.
Murray takes thrilling tie break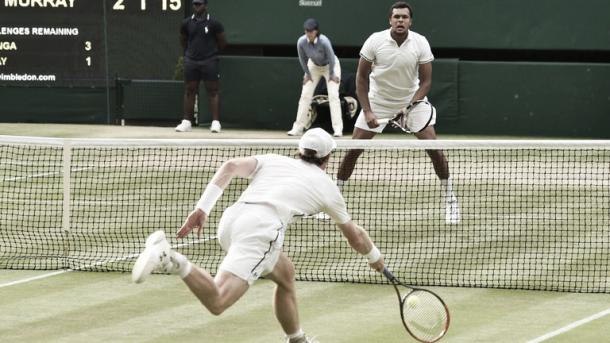 For Tsonga this was always going to be an uphill task against the British number one on home turf. The pair had met five times on grass before this match, of which the Frenchman had failed to register a single victory.
As stated Tsonga does have history at Wimbledon where he made the semis in 2010 and 2012; however it can't have helped that he was forced to come back from two sets down to beat John Isner in round three, in which the Frenchman finally prevailed 19-17 in the fifth.
With Centre Court still half empty when the players walked out onto court, due to previous five set epic between Roger Federer and Marin Cilic, Murray quickly applied some pressure on the Tsonga serve.
After saving a break point in the third game, Tsonga lost his serve two games later when he landed two double faults to fall 3-2 behind in the opening set.
At that stage Murray looked assured from the back of the court and demonstrated his accomplished skills at the net, which after one point even prompted a rise smile from coach Ivan Lendel. However Tsonga has pedigree on this surface, and showed why by forcing a first set tie break.
Before this match Tsonga said that the reason why he had struggled against Murray in the past was because he didn't "break his serve enough". However after striking some decisive blows with his potent forehand, the tenth seed then showed his touch around the net with a deft backhand flick past Murray to level the score at 4-4.
The subsequent tie break was an epic and Murray did exceptionally well to repel the Tsonga onslaught. The Frenchman swung from the hip to earn two set points at 6-4; the first was saved by a Murray ace, then on the second Tsonga elected to serve and volley but was beaten by an instinctive passing shot.
Both had further set point opportunities before Murray clinched the breaker by 12 points to 10. That was greeted by a loud roar of relief from the British number one and appeared to knock the wind out of Tsonga's sails.
Tsonga falls away but comes roaring back
The second set was a one-sided affair, with Tsonga clearly wounded after his opening set trauma. The Frenchman's backhand which had caught fire in the breaker suddenly looked like a glaring weakness and Murray took full advantage to race into a 5-0 lead.
Yet Tsonga is too good a player to keep down for long, and after surrendering the second set he came charging back in the third.
Murray let his guard down in the fourth game and lost his serve for just the second time in the match. That gave Tsonga the boost he needed, and he served impeccably to deprive the second seed his first set of the entire tournament.
After saving break point in the opening game of the fourth, a fan subsequently shouted out 'come on Andy, we want to go and watch Wales'. Murray duly obliged by breaking Tsonga in the sixth game to take a 4-2 lead, however any hopes of making the 8:00pm kick-off time soon went as the Frenchman roared back once again.
His crushing groundstrokes and booming first serve unsettled Murray, and the Scot was unable to stop a four game rot which saw Tsonga draw level at two sets all.
Yet Murray had been in this position many times before, and instead of dropping into a fatal slump he regrouped and fired himself up before his persistence finally paid off.