Australian open champion and number four seed Angelique Kerber has advanced through to her first Wimbledon final after defeating five-time champion Venus Williams in straight sets, 6-4, 6-4.
Both players struggled in the first set to hold their serve as the set saw seven breaks of serve but it was Kerber who managed to hold her serve more to battle past and win a tough first set.
In the second set, Kerber was much more powerful and clinical than Venus who struggled to get going as Kerber won the second set and the match and will now play Serena Williams in Saturday's final.
The first set saw many breaks of serve but Kerber battled through to win it
Venus got the first set underway but straight away she was on the back foot and was broken in the first game.
Venus, the champion that she is though fought back straight away and broke Kerber's serve to level at 1-1.
Kerber though was reading the Venus serve very well and broke once again. Venus was doing the same on the Kerber serve though as both players struggled for rhythm.
This continued as Kerber broke the Venus serve once again and then finally in the next game held her serve for the first time in the match for a 4-2 lead.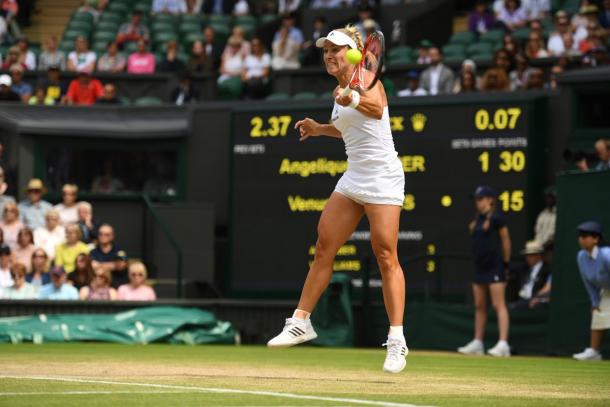 For a fourth consecutive time in the set Kerber again broke Venus' serve to go within one game on the first set.
As the pattern of the set went, though, Venus broke Kerber's serve once again as she tried to get back into the set.
Venus then held her serve for the first time in the set to make Kerber serve for the match which she wasn't finding easy to do.
Kerber though held her nerve to serve out the first set to take it 6-4 and go within one set of the final.
Kerber overpowers a weary Venus to win the second set
The problem of holding serve was causing a problem for Venus once again at the start of the second set as Kerber once again broke to begin the set on the front foot.
Kerber then in the next game held her serve to love as she was looking much more in control as she took advantage of the early break and a weary Venus.
Venus though finally found her serving range as she held her next game to love.
The problem that she had was that Kerber was now in fantastic form to hold her next service game from 0-30 down to go 3-1 in front in the set.
Both players continued to hold their serve in the next five games as it came down to Kerber to serve for the match and a spot in the final.
Kerber showed no nerves whatsoever as she served it out to 15 to win the second set 6-4 and the match by two sets to zero.