It could be said that Dominika Cibulkova could be classed as a nearly-there a player that has reached major Grand Slam finals but as yet failed to find that magic formula of getting over the line.
What separates the great from the good is that ability to get over the line; and for Cibulkova the only thing that has been missing from her game this season is that ruthless edge to complete the job.
So far this season the 27-year-old Slovakian has been in four finals and has only won one, and that was at AEGON International Eastbourne just a week before Wimbledon as she defeated Karolina Pliskova 7-5, 6-3 at Devonshire Park.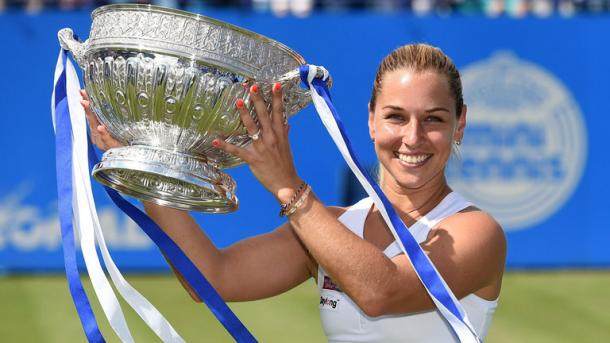 But in the other three she has failed to take home the title. In Madrid she lost in straight sets to Simona Halep. In Katowice, Poland she lost to Camila Giorgi in straight sets, 6-4, 6-0, and then finally in Mexico, Acapulco Cibulkova lost to American Sloane Stephens in three sets.
And then back in 2014 she reached the Australian Open final against Li Na; that as well didn't go to plan as she lost in straight sets – but if you ask me the future is bright for the Slovakian dynamite, as another fruitful performance at Wimbledon showed.
But human nature shows that people will look at those results and scoff, saying 'well surely Cibulkova can't deal with the pressure when it comes to crunch time,' but I disagree, completely disagree.
Of course pressure plays a part in professional sport, and if people try and tell me it doesn't they are on another planet altogether – but pressure is not the be all and end all of professional sports men and women losing important finals. A combination of factors comes to play when somebody loses a final. It might be an incorrect use of the tactics, it might be that she just comes up against an in form player.
But what you can say about Cibulkova is that she is a fighter and on court she is as ferocious as they come.
So with that, this myth of Cibulkova failing to deal with the pressure is purely just people talking; as mentioned losing a final doesn't all come down to failing to deal with the pressure. It is a word all too often banded about, and quite frankly it gets irritating – pressure is not the be all and end all.
Speaking of pressure; I watched Cibulkova throughout the AEGON International at Eastbourne, and when the time came, this theory of pressure was non-existent, as she closed out some tough games with panache.
Take the Agnieszka Radwanska match for example; rain delayed the game when she was a set down and 2-0 down in the second; and then the next day after the delay she blitzed the world no.3 and knocked out who was the top seed at Eastbourne.
And then as we know she had another epic battle against the Pole in the fourth round at Wimbledon last week where she defeated Radwanska 6-3, 5-7, 9-7 to send her into quarter-finals.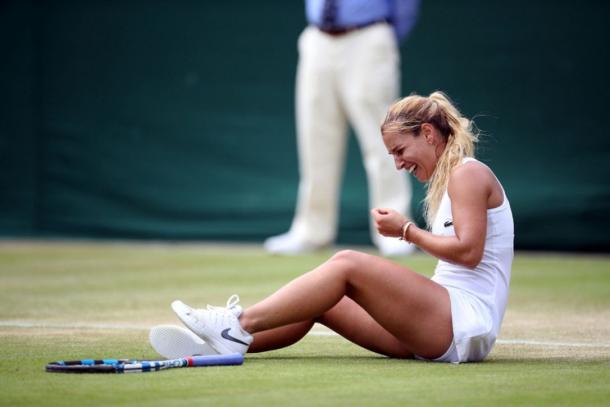 Recent appearance at Wimbledon shows her grass game is improving, rapidly
Cibulkova has said it herself; grass is not her strongest surface. And speaking about the grass, Cibulkova told the press at Eastbourne that she didn't want to change and switch to grass, prior to the grass season – but I think she has been proved wrong with her performances on grass since.
Her win at Eastbourne was a special moment, and then her superb showing at Wimbledon this year has shown that Cibulkova's future on grass does indeed look perky.
Her rise through the rounds at Wimbledon this year was a steady progression; in round three she beat Eugenie Bouchard in straight sets, and then came that thriller against Radwanska – but in the quarter-finals the Russian Elena Vesnina overpowered Cibulkova to advance to the semis.
Her record at Wimbledon has shown that she has been fairly consistent reaching the second or third rounds on multiple occasions. Like this year where she reached the last 8 she also done that in 2011 so the mindset is there for Cibulkova to reach the latter stages of the big Grand Slams, she just has to do it on a more regular basis.
But this grass season should now give her confidence that grass could potentially become a speciality of the Slovakian's. Hard and clay will always be her first and more importantly most comfortable surface, but hopefully her experiences on grass this season have enlightened the 27-year-old and shown her what could indeed be possible on the hallowed turf of Wimbledon in coming years.
Cibulkova more likely to be Slovakia's first Grand Slam winner
Slovakia might not be one of the most dominant nations in the women's tennis world; in-fact no Slovakian female player has ever won a Grand Slam – but there are a handful of players from the small nation that currently fly the flag.
Jana Cepelova, Daniela Hantuchova, and Anna Karolina Schemiedlova are all compatriots of Cibulkova; but if you look at their records it can be said that the 27-year-old could be the most likely of the four to taste success at a Grand Slam.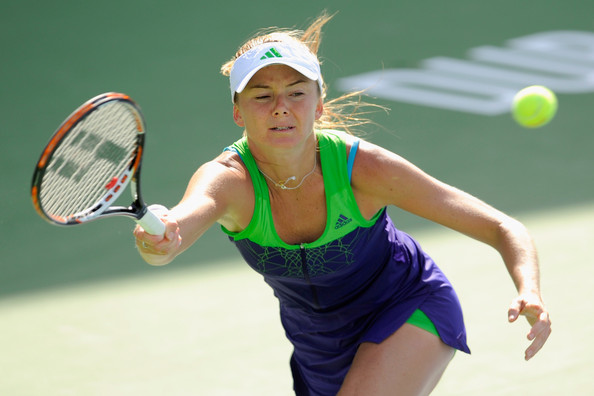 It would certainly be an historic achievement if a Slovakian could claim the famous Wimbledon trophy; but out of the four, it looks as though Cibulkova is the closest to achieving that feat.
The 27-year-old has never made it past the quarter-finals of Wimbledon, but if her game continues to improve on the grass, she will be a competitor not many people will want to go up against.
As mentioned Cibulkova has all the talent; she might not have the raw power of Serena Williams and co – but she has bundles of energy and a game that is unique, one that suits her down to the ground.
And if the Slovak dynamo can put it all together in the next couple of years, there is no doubt a Grand Slam victory is on the horizon.