Milos Raonic stormed into his first Grand Slam final after an enthralling five set victory over the great Roger Federer on Centre Court at Wimbledon.
He will face Britain's Andy Murray in Sunday's final, after coming back from two sets to one down to record a 6-3 6-7(3) 4-6 7-5 6-3 victory and becoming the first Canadian man to reach a major final.
Predictably, much will be said about Raonic's dominant serve, which was broken just once in this three hour 25 minute classic. However this was also the day that the Canadian's mental resolve and versatility from all areas of the court finally stood up to his lingering tag of potential Grand Slam champion. He is now just one match away from that title.
It may be a premature statement to say that this victory can be viewed as a changing of the guard in men's tennis. Murray will be the favourite in the final on home turf, while Novak Djokovic will still hold three of the four majors despite his early exit at the All England Club.
Even so, this was a more confident, fitter and steelier Raonic compared to the one which timidly lost to Federer in straight sets at the same stage here two years ago.
He was comfortable and imposing at the net. More vocal and animated towards his box. But most importantly he stayed resilient when Federer had him on the ropes, saving numerous break points in the fourth at two sets to one down, before recording a memorable Wimbledon comeback.
As for the seven times champion this was not a case of him losing his nerve or a lack of match sharpness. He showed plenty of those in his dramatic quarter-final triumph over Marin Cilic.
He did lose a pivotal game at 5-6 in the fourth, in which he served two double faults, to hand Raonic the set and the momentum. Though the Canadian deserves tremendous credit.
But with Djokovic gone, this was undoubtedly his best chance to add that illusive 18th major, especially on the verdant grass at SW 19.
Raonic impeccable on serve
Federer certainly wasn't short of returning practise after his previous five set epic with Cilic, who served 23 aces in their last eight encounter. At 6 ft 6 the Croatian has one of the biggest serves in the game, yet Raonic took things to another level.
In the third game of the match Raonic fired down his fastest serve of the tournament which clocked in at an ominous 143 mph.
A game later he broke Federer for the first time in the match to lead 3-1, after the eight times champion lost four points in a row from 30-0 and double faulted on the first break point.
The pair had met twice in Grand Slams before this match, in which Raonic had failed to win a set. However if the sixth seed was feeling any nerves they didn't show.
At 0-30 in the seventh game he served four firecrackers to hold for 4-2 and then went on to seal the set two games later.
He didn't face any break points until Federer threatened to pounce at 4-5 in the second set when he earn three set points at 0-40. Even then Raonic swatted them away with a coupled of gutsy second serves and measured forehands.
Federer begins to take control
The subsequent tie break went the way of the Swiss, as Raonic showed a rare chink in his armour by double faulting at 3-3 in the breaker.
In ruthless fashion, Federer made him pay by levelling the match at a set apiece, before breaking Raonic's monstrous serve for the first time at 3-3 in the third.
A couple of months ago, that would have probably been that. Federer had chipped away at the Canadian with his block returns and his dainty slice, yet Raonic simply wouldn't go away.
Raonic takes his chance
He continued to serve impeccably, saving break points at 2-2, then 4-4 in the fourth. Federer throw everything at his younger opponent, who continuously found himself at the net making volley after volley, yet he didn't buckle.
Then, at 5-6 with Federer serving the Swiss maestro surprisingly stuttered. At 40-0 and with a tie break looming, Federer served two double faults and abruptly faced set point.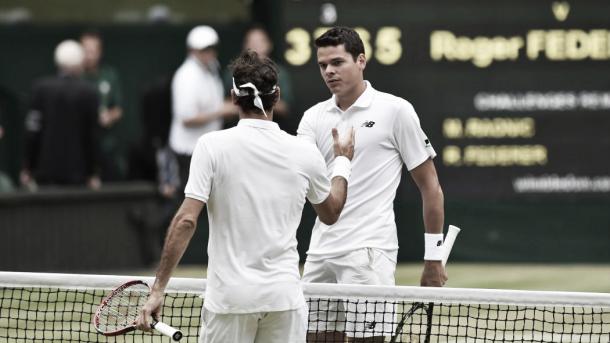 He duly saved it and then repelled another, however Raonic kept coming. A third set point then arose, prompting Federer to approach the net and punch a volley onto the Raonic backhand. Against the odds the Canadian fired a passing shot straight down the line, levelling the match at two sets all.
The momentum was now back in Raonic's corner and he made the decisive break through in the fourth game of the decider.
An enthralling cat and mouse exchange around the net was won by the Canadian to give him a significant 3-1 lead.
Federer may have forced Raonic to serve it out but he did so without losing a point. He has conquered the seven time champion, but if he wants to win the title on Sunday he will have to topple Britain's finest in the realms of his own backyard.