Serena Williams defended her Wimbledon crown with a performance of the finest calibre and gained vengeance of six months ago beating Germany's Angelique Kerber in straight sets on Centre Court.
Serena, becomes a seven-time champion in her ninth final at SW19, after producing a majestic and brutal display, winning 7-5, 6-3 in the face of an extremely game challenger.
The win sees the world number one and top seed equal Steffi Graf's grand slam record of 22 major titles.
In a replay of January's Australian Open Final where Kerber shocked the tennis world in beating defending champion Williams over three sets, with the American reversing the result this time around.
Serena edges tight opening set
With Serena also not having dropped a set since Round Two, the German was all too aware that a solid start was necessary, to prevent the Williams express being able to build up a head of steam. The psychology was in Kerber's court after her win in Melbourne, but Williams on grass is a formidable foe.
A stunning opening rally set the tone, with a firm Kerber lefty forehand racing away from Williams. The German's serve was under immediate threat from the immense power of Serena, but held strong to 5-5 in the opener after 40 minutes a cagey affair.
After a wobbly open service, Kerber had settled fully into the occasion and her retrieval skills were on full show, as Williams peppered the baseline. As the German sensed openings to break, repeatedly Serena pulled the rug from under her, with traction engine aces.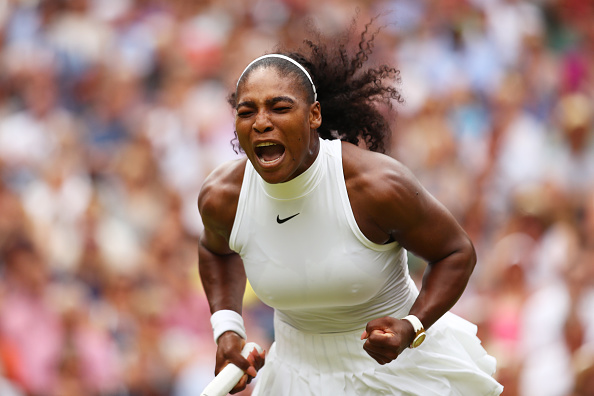 Kerber had dismissed her early nerves and held Williams at bay. With a breaker on the cards, Williams pounced in characteristic fashion. With the scoreboard advantage Kerber saved a set point, but the fight of the world number one won through at 30-40, pushing a ferocious backhand return to the ad court, which the German could only lob into the net, to concede her first set of the Championships. Williams celebrated exhultantly, knowing the points' potential significance on the match.
Williams times her moment to equal record
The second set began in similar fashion. Williams had the bit between her teeth and knew a quick break could swing the contest firmly in her favour. Kerber had yet to even attempt a break-point and was running out of time, with Serena winning 89% of points on her first serve. The American continued to bludgeon her opponent's returns, giving little room for manouvre. Serena's net game was becoming a feature of proceedings.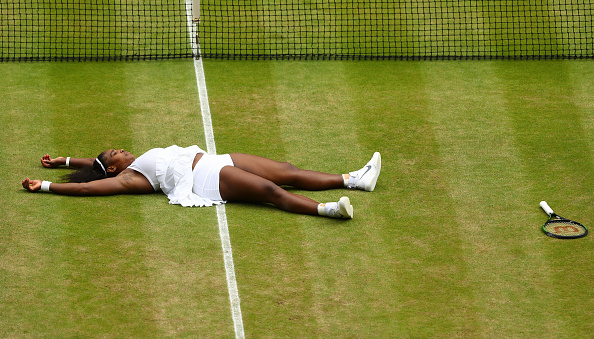 The quality of the match had soared as Williams could see the finish line, but Kerber's whipping forehand was winning a multitude of key points. At 3-3, Kerber finally had a chink at 30-40. But just as the very best have done in the men's and women's game, Serena rolled out a clutch-ace double - in true Pete Sampras style and held on for 4-3. Both were operating at incredibly high levels.
Serena sensed a moment in time and struck. In the following Kerber game, Williams looked to her reserves and pulled out one of her finest in the locker to leave Kerber reeling, to break and stand one game from the title once more.
In devastating fashion, Williams served out to love on winning yet another point at the net dropped to the scorched grass to win her eighth Wimbledon crown, avenging her loss to Kerber from January in straight sets, 7-5, 6-3.