On the 10th Anniversary of the Wheelchair Doubles at the All England Club, Britian has it's first Gentlemen doubles champions in Gordon Reid and Alfie Hewitt.
The pair won through in three sets after coming from behind, taking the match 4-6, 6-1, 7-6 (8-6).
It's not the longest wait for a Brit to win at Wimbledon, Andy Murray holds that record as when he won historically in 2013; there had not been a male champion for 77 years.
Strong start falls away
Grass is one of the hardest surfaces to play on in the Wheelchair event, as it requires more effort to keep the chair going. Reid has experienced Wimbledon before in the doubles, but this was his first final. Hewitt is the younger and less experienced on the big stage of the pairing.
Reid and Hewitt will be eyeing Rio, and as a possible doubles team are looking good. During the first set the Brits got off to a great start. Seeded second they were up against the French pair and top seeds, Stephane Houdet and Nicolas Peifer. The French lost serve and the Brits were up 2-0 very early, however they were soon pegged back level.
The more experience Houdet settled into the final first, and it showed as the top seeds broke the Brits again and soon had the set as they served it out.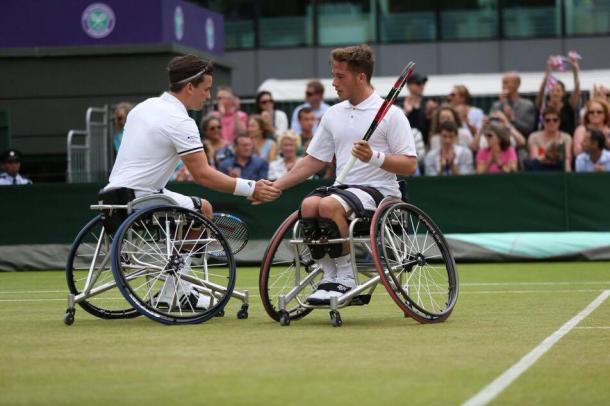 Simple second set
The second set started with a hold for each team but, with the crowd on Court 17 fully behind them, the Brits took charge. Suddenly everything they were doing was working, whilst the French were struggling to hold serve.
The second seeds were all over the French; the momentum with them the Brits dominated the second set, leaving no room for the top seeds.
Drama to the death but British pair triumph
Wheelchair tennis is best of three sets, so it was now a one-set shoot-out between the two top pairs teams at the event. Hewitt & Reid established a lead, and would serve for the match. On the Hewitt serve, the nerves were showing, and the Brit was missing shots that normally landed in. The French were coming back on terms.
Eventually the set was level at 6-6 as the Brits failed to serve out twice. Unlike other events at Wimbledon, there is a final set tiebreak. This would be how the champions were decided.
With the Brits racing out to a lead they were close to the end. However, yet again the French fought back and dragged the tiebreak level. After saving two match points against them the French were making the Brits work hard. Hewitt & Reid eventually overcame the top seeds to seal the win and take the title, and send out a warning for the Olympics.