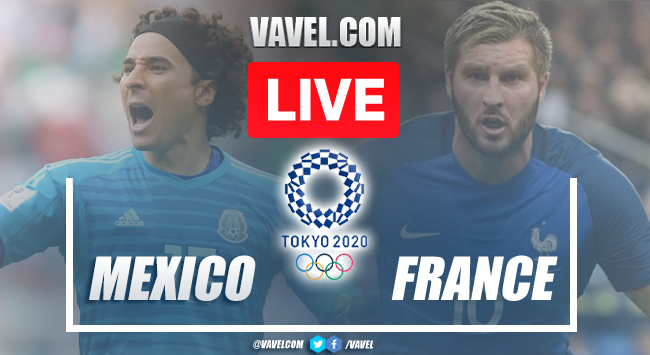 Highlights
Thanks
Great exhibition
End game
90'
90'
88'
Goal Mexico 3-1
86'
81'
70'
78'
Goal France 1-2
73'
71'
69'
67'
65'
65'
62'
60'
Goal Mexico 2-0
54'
52'
Goal Mexico 1-0
50'
48'
47'
46'
46'
They are back
Half time
45'
45'
41'
38'
36'
33'
32'
30'
28'
26'
23'
20'
19'
19'
17'
15'
12'
10'
9'
6'
5'
4'
2'
1'
0'
The referees
In this moments
They jump into the field
The other game
End of warm-up
The power of attack
How did Mexico arrive?
Great goals
Good memory
Already warming up
Match data
They come motivated
XI Francia
Banking in Mexico
Excited
XI Mexico
With the 10
They had problems
Motivated to move forward
The bad taste in the mouth
The complete list
He warmed up the game
Divided fans
Start
The importance of reinforcements
The following will not be present
Tune in here Mexico vs France Live Score
What time is Mexico vs France match for Olympic Games?
Last games
Key player France
Key player Mexico
Last Team France
Last Team Mexico
Mexico's last participation in the Olympic Games
With the mission of making a good participation
France's major reinforcements
Mexico's senior reinforcements
Group A kicks off
Kick-off time
Welcome to VAVEL.com's LIVE coverage of the 2020 Olympic Games: Mexico vs France!