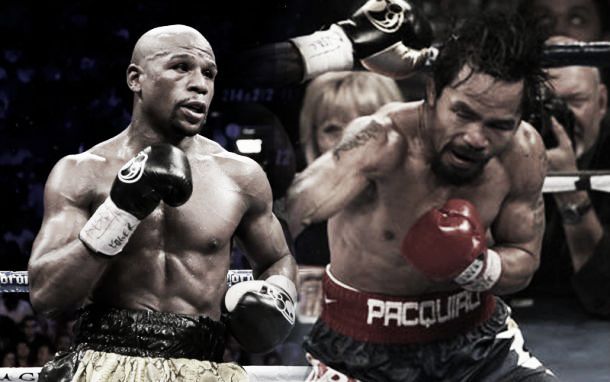 As the world eagerly awaits what is being billed as the fight of the century, the media circus and fan buzz that currently follows Manny Pacquiao and Floyd Mayweather has reached Las Vegas. But as both camps add the finishing touches to their pre-fight preparations, everyone seems to be giving their verdict.
With the WBC, WBA and WBO welterweight titles on the line, the fight is set to be the richest in history with both parties set to split a kitty rumoured to be near the £150 million mark.
Mayweather has never been beaten in 47 fights since turning pro in 1996, whereas Pacquiao has lost five of his 64 bouts. But with many expecting it to be a tight contest, which way do the big names in the boxing community think it will go.
Mike Tyson – Pacquiao
The legendary Iron Mike Tyson is backing the Filipino challenger Pacquiao on the basis that he throws more punches than the tactician Mayweather.
"Floyd doesn't throw anywhere near 100 punches a round. He is more of a scientific fighter, he really plots a lot, he poses whereas Pacquiao is feinting and moving. That's just my opinion; Pacquiao has perpetual motion he's all over the god damn place."
Ricky Hatton – Mayweather
The Hitman has branded the pair as "two of the greatest fighters that boxing has ever seen." He is also well placed to give a prediction having fought both Mayweather and Pacquiao, and he's tipping Mayweather to have his arm lifted at the end of it all.
"I think Manny will cause Floyd all sorts of problem with his southpaw stance and his hand speed, however there is a reason that one of the two are undefeated. Floyd knows how to win a fight in any situation and my head leans towards a Mayweather win."
George Foreman – Pacquiao
Former Heavyweight champion turned grilling entrepreneur George Foreman has gone for Pacquiao to finally defeat the man who cannot be beaten but he thinks the judges and points scoring will play a big part in the outcome.
"If we've got good judges, it has to be Pacman. Mayweather starts off looking for his timing and Pacquiao will pot shot him and get ahead on points, and then he'll stay ahead. I think Mayweather will get frustrated and become more aggressive towards the end of the fight but he doesn't have a right hand to beat Manny."
Kell Brook – Mayweather
The confident up and coming welterweight thinks that the money team will be celebrating come May the 2nd. Perhaps a future opponent of the winner?
"I'm leaning towards Mayweather. He's never lost before and knows how to get the job done, the fact that it's in Las Vegas too could give him an advantage. I think he will control the pace and he'll be too clever for Manny Pacquiao."
Amir Khan – Mayweather
The Bolton boy is another man who is chomping at the bit for a big money fight against the two big name fighters, but for the time being he is giving the nod to Mayweather.
"Mayweather will be smart and keep moving, so I think he will get a convincing unanimous win."